Kathryn Bigelow Targets Film on Bin Laden Mission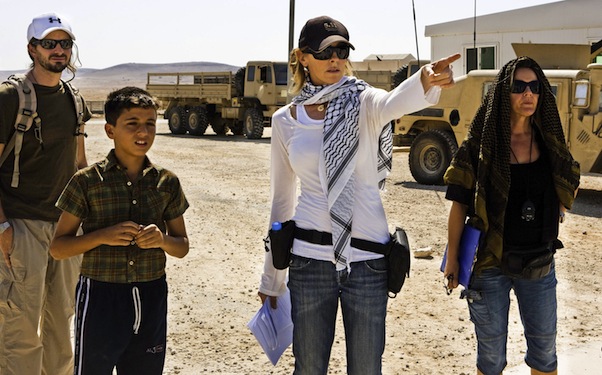 Posted by Matt Singer on
The New York Times reports that Columbia Pictures has acquired Academy Award winning director Kathryn Bigelow's upcoming film on the Navy SEAL mission to find Osama Bin Laden, with plans to release it in the fourth quarter of 2012. The film will be written by Mark Boal, who also wrote Bigelow's "The Hurt Locker."
Bigelow and Boal have actually been working on a project about a team hunting Bin Laden for years. Initially, they were planning to make a film about "an elite Black Ops team's attempt to assassinate bin Laden almost a decade ago, an effort that came very close to succeeding." (the tentative title of the project at that time? "Kill Bin Laden.") Obviously real world events have conspired to make that story somewhat less relevant, and a rewrite will be required. The
timing of events reminds me of the production the American film version of author Nick Hornby's "Fever Pitch," a romantic comedy set against the backdrop of yet another losing season for the Boston Red Sox. Of course "Fever Pitch" wound up being filmed in the summer of 2004, when the Sox finally broke the Curse of the Bambino and won the World Series, meaning the ending of the movie had to be changed, basically on the fly. In Bigelow and Boal's case, both the failed mission of a decade ago and this year's successful mission was undertaken by the same elite Black Ops team: SEAL Team 6, a connection that creates all sorts of obvious places for dramatic potential.
To me, this is a fascinating project and an even more fascinating combination of author and subject. On the one hand, everyone is curious about the lives of the men who killed Bin Laden and about their mission; on the other hand, we already have a pretty good handle on what happened in that mansion in Pakistan, meaning unless Boal and Bigelow play loose with the truth, ringing suspense out of the story will be an uphill battle. On the other hand, Bigelow and Boal's "The Hurt Locker" is still the best fiction film on the War on Terror; they've already proven they can make a thoughtful and exciting movie out of this kind of material. Even more importantly, most of Bigelow's best movies are about the relationships between men in these intensely dangerous, high-pressure situations, even, yes, the silly but totally sincere (and totally awesome) "Point Break." As a thriller, a movie about Bin Laden doesn't have a lot of weight. But as a macho character piece with the Bin Laden mission as a backdrop? That sounds right on target to me.