Jodie Foster Hands it to "The Beaver"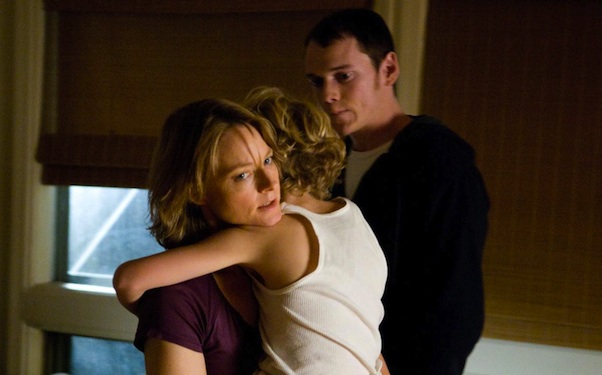 Posted by Matt Singer on
The movie Jodie Foster described to me as the "biggest challenge" of her professional career started with another movie, 1994's "Maverick." That's where she met, co-starred and became friends with Mel Gibson. Funny to think that such a lighthearted film about con men and women in the Old West could ultimately lead to such a dark film like "The Beaver," which is about similarly deceptive characters who build defense mechanisms to hide who they really are.
One of those characters is Walter Black, played by Gibson. For reasons that are never fully made clear, Walter is suffering from a major case of depression. To help him cope with the world, Walter begins speaking through a ratty beaver puppet he finds one night in a liquor store dumpster. Letting The Beaver make his decisions reaps immediate dividends for Walter's professional and private lives. But once The Beaver gets control of Walter, he doesn't want to give it up, as Walter's wife Meredith, played by Foster herself, soon realizes.
Even before the allegations of abuse and the release of angry phone calls between Gibson and his girlfriend Oksana Grigorieva, "The Beaver" wasn't a project with a lot of easy fixes. For several years, its screenplay by Kyle Killen was considered the best unproduced — and maybe unproduceable — script in Hollywood. The film is funny at times, but it's also a very honest look at a family in crisis and the legacies of pain and mental illness that fathers pass down to their sons, from Walter's suicidal father to him to his own son Porter (Anton Yelchin), who worries that he's too much like his crazy dad. "It was hard getting the tone right," Foster told me. "And hard to love something that's emerging but isn't quite there yet, and no one else gets it."
Then Gibson's problems went public, and Foster faced more challenges. After several delays, "The Beaver" finally opens this Friday. The end result is a personal film with a truly impressive performance from Gibson. Given its uncommercial subject matter and unconventional approach, you might even call it the work of a maverick director.
Here's my conversation with Foster about directing a puppet, what she considers most overlooked movie of her career, and why she chose to use clips from "Kung Fu" — a show she appeared on as a kid — in "The Beaver."
How long has it been since you finished the film?
It's usually a year between the time you finish and when you release. It's just kind of the way it works. Between post, getting the music together, maybe going to a festival, waiting for the right time to come out, it's usually a year. It was going to be a little less than a year from when we finished to our first release date. And from our first release date to the one now is about seven months.
In that time, did you go back in and change anything about the film? Or was there any outside pressure to change anything?
We did do reshoots, but that was before any change of date. After that, no, no changes at all. I mean, yeah, there were changes because that's what you do. But there wasn't any…
"You have to go back and change this!"
No, nothing like that.
Do you like directing yourself?
I'd rather not. I'd rather just direct. It's much more pleasant and it's a lot more joyful. You're able to enjoy the process of directing a lot more, instead of coming in at five in the morning, two hours before you need to be on set so you can go into makeup and hair. You're always being dragged out from behind the camera to do other things. It's much nicer not to have to do both.
How about directing actors who are also directors themselves, like Mel?
That's the easiest. They are the easiest people in the world to direct because they understand filmmaking. They know where you're headed and how to serve you. And because they make their own movies they don't feel the frustration of not creating their own voice. So they really get that it's the director's movie and they're there to serve you.
You've worked with so many amazing directors. When you're directing, do you ever think "I'm gonna do this the way Spike Lee did it," or "I'm gonna make sure I don't play this the way so-and-so would have done it?"
I never start out by saying I want to make a movie that looks like this. What I do use are movie references, as a quick way to let people know what I'm talking about. "You know in that movie where this happened?" or "You know that shot that they used in 'Philadelphia' where they do this and that at the same time?" It's just a language to help people know what you're looking for in a film. Because I'm an actor and I didn't come up as a director of photography or an editor, my first question is an actor's question: is it true or not true? That's always going to be the first thing that I ask.
I was really interested in the way you visually approached the scenes with the Beaver. Where we see him in the frame, where he is in space compared to Mel, whether he or Mel is in focus when he's talking. What was your strategy for shooting him?
We made a big bold choice up front to use anamorphic lenses. That gives you the wide frame and also that beautiful depth of field that allows you keep one person at the edge of the frame out of focus and one person at the center of the frame is in focus, which you can't do with regular lenses. There is a real formality to that, a real prosaic quality to it. It's very European, which I love. But it also allowed us to help the audience focus on who we're trying to get them to focus on.
It's got to be tough too, because you want to give Mel the freedom to do what he wants with the puppet, but where the Beaver is onscreen in relation to Mel tells us so much about their relationship. At first they appear mostly side-by-side as equals. Later in the film as The Beaver begins to exert more control over Walter, particularly in the big dinner scene between him and Meredith, the Beaver actually appears in front of Mel's face, completely obscuring him.
Yeah. I let most of that happen organically. But when I noticed it and it was working, I was like "Do that again!" And Mel, you mentioned that one moment in the dinner scene where he starts his speech and his face is obscured, and then by the end of the speech his face appears. And, yeah… that's why you work with an actor/director. He did that himself. And it was great. And he knew exactly where the camera was going to land and he knew when the cut was going to happen.
At the end of the film, one of the characters talks about the fact that for some people pain might just be in their DNA. I know someone else wrote this script, and that it's just a character speaking in a movie, but I wonder if that's something you personally believe.

That's Porter's big question in the film. What if pain is just in our DNA? What if tragedy is our birthright? And then his next question is: what if, in the spur of the moment, shit just happens? What if things are predestined and there's nothing you can do? I thought those were really interesting questions. We do know that depression has a real genetic predisposition and follows families. You have a very high chance of experiencing severe depression if someone in your family has had severe depression.
I saw the film for the second time last night. And one thing I noticed this time was not one but two appearances by the TV show "Kung Fu."
[laughs] Yeah.
Was that in the script? Because I know you were actually on "Kung Fu."
I was on "Kung Fu."


I was watching a clip of it last night on YouTube. You were playing the mandolin.
Yeah. In the original script, it was an episode of "Growing Pains." And it was some episode where Kirk Cameron says "Oh Dad, I love you!" or something. And we looked at the episode but it just wasn't good visually, it didn't really tell us anything we wanted and, I don't know, the mood was wrong. And so I said, "Okay, what '70s television show can we find? There's got to be one that has a father and son component to it." And we went through every show from that time period. And then I said, "What about 'Kung Fu?'" I was on the show and I remembered the whole thing with the bald guy and this and that. We knew we wanted it to play twice, once for the father and once for the son, to try to show that idea that they are experiencing the same thing.
Speaking of changing things, I read in the press notes that when you cast Jennifer Lawrence as Porter's love interest that you rewrote the character. But you didn't specify what exactly changed.
In the finished movie she is a valedictorian, a cheerleader, and she's beautiful. Three things already that are fantastic and she's very lucky to have. But in the original script she was also amazingly insightful, understood everything about herself, was fully versed in psychobabble, and did a lot of confessing about her true motivations about why she felt the things that she felt. And I realized that there was something unreal about that character and in a way almost annoying, because she was so self-knowledgeable that I just didn't buy it for an eighteen-year-old. I felt like it was much more interesting to see the smartest girl you ever met who's just completely dumb about herself and has no self-knowledge whatsoever, which is not unusual at eighteen.
Her issues had to feed into the larger issues in the movie and this idea of grief and shame and how when you go through a crisis, spiritual or otherwise, you have two options: you can face it head-on or you can pretend it didn't happen and go play volleyball. The person who faces it head-on has all the possibilities of evolving through it, and the person who runs and plays volleyball never will. They'll just come and revisit it, over and over.
How do you respond to the people who see the movie and want to read Mel's private life onto the film?
Well, it's human nature.
I mean on the one hand, the script was written years ago, you shot it before all of that became public. On the other hand, there are some really obvious parallels.
He's a man who really understands struggle from a very deep, painful place. It's why he was interested in the movie in the first place and it's why he brings such a raw and incredibly soulful performance. You don't find that performance if you don't understand that experience. So yeah, I understand it. And I think that it does give you an answer to the very trivializing and superficial reading of Mel Gibson that people who don't know him have. This film in some ways is a much deeper look at a complex man.
So I don't know. Does any of what's happened, having private conversations splashed all over YouTube help the film? No! [laughs] Not in any way! It doesn't help anyone. However, I do think that there's something on the audience's side to really learn about Mel that they can't know any other way than seeing this film. And on his side there's something very cathartic about inhabiting a character who struggles with something unsurvivable and emerges.
Last question. Besides your appearance on "Kung Fu," is there a film or a project from your career that you think deserves a second consideration?
I feel like one movie I made that I really believed in that for whatever reason people didn't respond to was "The Brave One." I think that is an extraordinary movie. I feel like it took me to such a different place in my life and I never would have gotten there any other way. But, y'know, it's not for everybody.