Jerry Seinfeld: Master of His Domain (Name)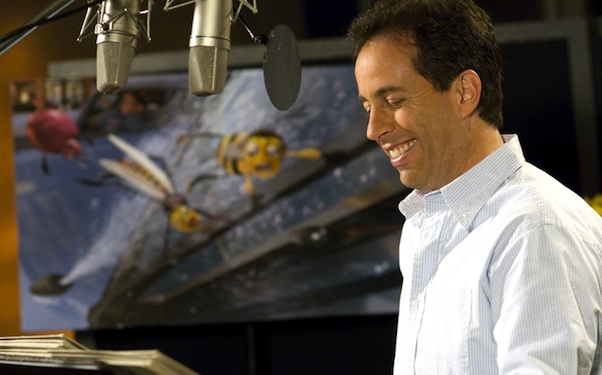 Posted by Matt Singer on
"Seinfeld." It was famously described as the show about nothing. But of course in that nothingness was the totality of modern life circa 1990s New York City. It was really the show about everything: friendship, dating, movies, sports, television, Snapple, parking spots, the post office, and masturbation.
Well, almost everything. One thing it wasn't about was the Internet, which was still in its infancy when the show went off the air in 1998 (I should know; I used to fight with my parents' old dial-up modem every Thursday night in order to postgame new episodes in AOL's Seinfeld chat room. This was right around the time my high school class voted me Most Likely To Die Alone). In the totality of "Seinfeld" there is barely even an acknowledgement of the existence of the Internet; Jerry's bit about calling people and hoping their answering machine would pick up was about as hi-tech as the show got. So it's with a great deal of excitement and curiosity that I'm telling you about Seinfeld's big debut in the world of the web, JerrySeinfeld.com.
Starting today, the site will host three clips a day from Seinfeld's more than thirty year standup career on television. According to a New York Times article about the site, each day's content is being hand selected by Seinfeld himself from a digital archive that contains more than 1,000 jokes. Why all the effort? In his personal message on the site, Seinfeld says that "somewhere out there are ten year olds just waiting to get hooked on this strange pursuit," and that "this is for them."
May 6 was the very first day, so it's a pretty small sample, but so far it looks like Jerry's programming for topicality: one of the first three videos and all of tomorrow's scheduled jokes are about horses, for example, in honor of this weekend's Kentucky Derby. As I write this, there's no index of material; you've got one day to watch the three clips each day before they're gone and replaced by three new ones. That's a smart way to drive regular traffic to the site, though it's not exactly ideal for scholars.
As something of an amateur "Seinfeld" academic myself, I'd be most interested in the site if it took a more philosophical approach to standup. I don't necessarily need to hear Jerry's thoughts on breakfast cereal (partly because I already know his thoughts on breakfast by heart). But I would love to watch the way Jerry's thoughts on breakfast cereal grew along with his skills as a comedian. It would be fantastic if one day was devoted to three different versions of a single joke, charting its evolution. It would better still to see three clips of an identical joke with three different crowds. With his great documentary "Comedian," Seinfeld proved he wasn't afraid to show us all of the effort that goes into creating a poised, polished performer. That's what I want more of.
That Times piece says that the site won't become a home for material from the "Seinfeld" sitcom, which is just as well since I own them every episode on DVD anyway. That said, it could also be incredibly interesting to see how original material from the clubs was edited for a wider, larger audience on television. But even if that never happens, this is a pretty exciting start. And it's better than nothing.