Jeff Bridges' Album Coming Out On Blue Note Records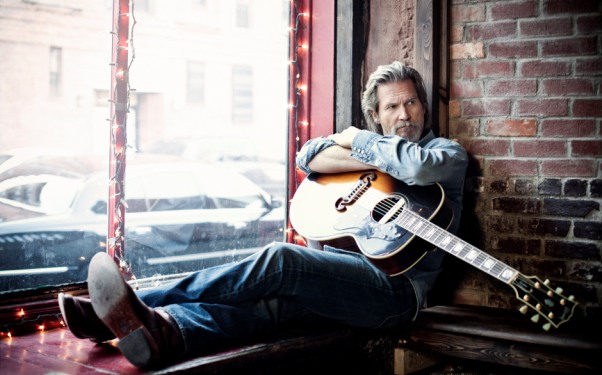 Posted by Brandon Kim on
The story of Jeff Bridges' self-titled major album debut goes back some 30 years — to when he first met his friend and Grammy winning producer, T Bone Burnett. The two were originally introduced to each other by actor/singer Kris Kristofferson in 1980, while the three were filming Michael Cimino's infamously disastrous western, "Heaven's Gate."
Bridges and Burnett would go on to collaborate on the film "Crazy Heart," garnering Oscars for the both of them, Best Actor and Best Song respectively. Bridges' character in the film,
Bad Blake, was heavily inspired by Kristofferson, whom Bridges uncannily resembles in the role. The collaboration inspired The Dude to return to his musical pursuits (he had a small release in 2000 on his own label), this time with Burnett's veteran helping hand.
Recorded in LA and Brooklyn, "Jeff Bridges" features some of the actor/songwriter's own compositions, some of which were written with Burnett, and several covers including Stephen Brutons "What A Little Bit of Love Can Do," John Goodwin's "Everything But Love" and Bo Ramsay's "Either Way."
Another "Crazy Heart" collaborator, songwriter Ryan Bingham, who wrote the film's hit song "The Weary Kind," with Burnett (and shares the Oscar with him) performs some guest vocals on the album, along with Rosanne Cash, Sam Phillips, and Benji Hughes. The album will arrive on Blue Note Records August 16th.
Here's a bit of Bridges' musical prowess, performing "The Weary Kind" (though this is not on this album, see track list below).
"Jeff Bridges" full track list:
"What A Little Bit Of Love Can Do"
"I Will Wait"
"Falling Short"
"Maybe I Missed The Point"
"Tumbling Vine"
"Nothing Yet"
"Blue Car"
"Slow Boat"
"Either Way"
"Everything But Love"
"The Quest"
For an intense amount of Jeff Bridges, head here.