IO Interactive Announces "Hitman: Absolution"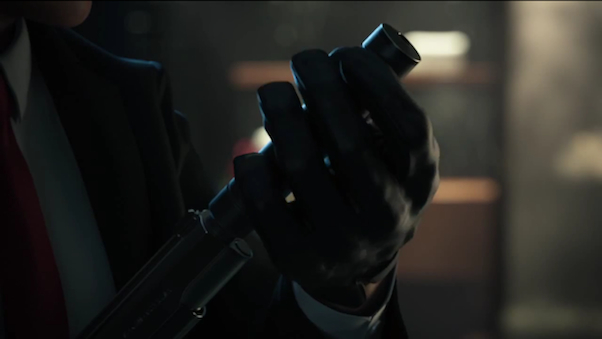 Posted by Evan Narcisse on
Lots of video games ask you to kill but few have allowed to do so as elegantly as the "Hitman" games. Series protagonist Agent 47 takes on assassination contracts where he needs to kill wealthy, weel-guarded and often depraved persons.You can generally go in guns blazing if you want, but stealth garners the most rewards, both in terms of in-game rewards and satisfaction. So, you can do things like poison a target's meals, force a heart attack by locking a target in a sauna or disguise yourself as a surgeon and screw up a life-saving operation. Unlike the "Splinter Cell" games, where you maintain a rigorous approach to stealth for national security, in the "Hitman" series, you're sticking to the shadows for money or, at best, revenge.
But, the newly revealed "Hitman: Absolution" may give the killer more intimate reasons for choking fools to death. From the press release:
HITMAN ABSOLUTION follows Agent 47™, a cold-blooded assassin, who takes on his most dangerous contract to date. Betrayed by those he once trusted — and now hunted by the police — he suddenly finds himself at the center of a dark conspiracy and must embark on a personal journey through a corrupt and twisted world.

"For the first time we are taking Agent 47 on a personal journey which allows us to explore other parts of the Hitman® fantasy," said Tore Blystad, game director, IO Interactive. "This is both a familiar and yet significantly different experience from other Hitman games; something our silent assassins will relish, as will all those new to the Hitman world."

Showcasing IO Interactive's new proprietary Glacier 2™ technology, the game has been built from the ground up. Boasting a cinematic story, distinctive art direction and highly original game design, HITMAN ABSOLUTION combines much-loved classic gameplay with completely new features never seen before in the Hitman franchise.
47's the result of genetic experiments to create the perfect assassin so "Absolution" may offer new insights to his backstory. Directed by Xavier Gens ("The Divide"), the 2007 "Hitman" movie diverged from this origin, instead having actor Timothy Olyphant ("Justified") play an orphan raised to be a killing machine. No word yet if the upcoming game means that the "Hitman 2" sequel supposedly in pre-production will actually see the light of day. Expect to hear more about what the game's going to be like at E3 in a month's time.