Interview with Rockstar Games' Rob Nelson, Part Two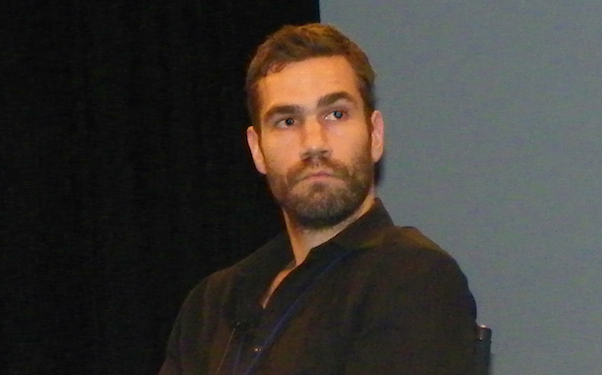 Posted by Evan Narcisse on
The continuation of my talk with Nelson pulls back the curtain on Rockstar's latest baby. Nelson offers up more insight on the particular brand of alchemy that going into Rockstar's successful games. Find Part 1 here.
We have to talk a bit about "L.A. Noire," right?

Sure.
I'll start off by being frank: I thought "Redemption" was a big dice roll for you guys. By the very nature of the game that you were making, a lot of the tools that you've mastered already–for creating this cacophonous, multilayered urban environment where it seems like anything can happen and anything does–you couldn't use that same tool set when you're making a western.
It seems like you guys are facing the same prospect with "L.A. Noire," where you can't deliver the kind of crazy, chaos-ready world in "L.A. Noire." Again, just by the very nature of the story that's trying to be told, the experience has to be different.
So, do you guys think about points of separation, like we could do this in a "GTA" game but we can't do this in "RDR" or we could do this in "RDR" but we can't do it in "L.A. Noire"?

I think we definitely think of that stuff but I don't think we think of it directly in relation to our other games. Obviously we made those games and so our experience of making those games is going to factor into the decisions that we make on others.
But we constantly think about what is appropriate in a game's world, and it's a tricky thing. Especially this game was a really new experience for us because you're playing sort of a cop and you're a good guy.
You have a problem even saying the word "cop".

[laughs] It definitely changed things. We don't make sandbox games, really. A sandbox game, I think, it's a game where you can do anything you want, anytime you want. That sort of world makes it very difficult to construct any sort of believable engaging narrative, I think.
We like believable engaging narratives and believable engaging worlds. We also like fun. And so constantly fighting to strike the right balance between those two things and not be too restrictive to players, and give them the freedom that they want but still construct a world that they can get lost in and believe in is what we strive for every time out.
The goal is that the world that we put you in makes sense and doesn't break down for you anywhere. So, it's not about points of separation between "L.A. Noire" and "GTA" or "GTA" and "Red Dead," it's just about whether or not the experience that we're creating feels authentic, and that the actions that you're carrying out are appropriate. That's the trick.
So you try as best as you can to start fresh each time?

Well, we try. We come up with ideas for how we're going to do things and what we're going to let you do, and sometimes they don't make it off of the drawing board. And sometimes they make it right into the game and they get cut. Sometimes they get cut two months before we ship.
It's a constant, ongoing thing, and there's no rulebook for it. I remember we made decisions at the end of "RDR" about how to handle the end, and whether the players would feel restricted or whether they would feel like this made sense for what his character was doing.
And we've been doing the same thing on "L.A Noire". It's been fun to be a detective. I actually don't have any problem with him being a cop. I definitely like to have some limitations placed on me when sort of trying to figure out what we're going to do, because I think you come up with interesting solutions that you maybe wouldn't have if it was just a free-for-all.
That's an interesting point because, with a free-for-all, then it becomes this huge unwieldy beast. If you wanted to direct some intent into the work, then you can't do that. At least, that's what I'm interpreting from what you're saying.

Yeah, if we wanted to make a game about a super-powered stunt man in a post-apocalyptic world or something, we would make sure that we did everything we could to fit that concept. We might. We wanted to make a game about a detective in the '40s. And we had to make sure that the vibe fit. The vibe in the field is everything to us. Do you believe where you are? Do you love it? That's sort of the most crucial thing to us, I think.
It seems like "L.A. Noire" is different in that regard, as well, because it's a lot slower and a lot more methodical. Brendan McNamara has talked about building the deduction engine and making the player feel like they are solving a crime. What were the important parts that you felt you had to nail there?

I think it's finding the right balance between not making it frustrating but also making it challenging, and making it feel plausible. So, with the branching stuff that we put in was really challenging to get the logic right. For example, if you go to a crime scene, it's entirely possible that you don't find all the clues.
You find three out of six possible clues that you could find or you interview somebody and you get two out of four questions right. That will give you different information than if you got all the questions right and found all the clues. And so, it might give you a different location to investigate.
So, it's creating a sense of consequence, then?

Exactly. If you don't find all the things that you need to find at a crime scene, you might have to do more work. You might actually end up going to more locations to end up solving that crime. And, so, it was writing all of that: the branching dialogue and then the branching cases where you could be going to different locations in different orders, and needing appropriate cutscenes for whether you go to the coroner's office, and you found the knife, or you go to the coroner's office and you didn't find it.
So lot's of alternate cutscenes. Lots of alternate endings and side things. The weird thing about it is you won't know if you missed them. Because, when it branches, it branches. It's like a choose-your-own-adventure book, you pick the next page you want to go to. At least with those books, I guess, you know that there's a branch.
But sometimes you'll choose between two locations. But sometimes if you don't find something you don't go somewhere. And you won't know until the next day you talk about that case with somebody else who's playing. And they tell you, "Yeah, I went to the coroner when I found the knife." And they're, like, what?
Yeah, that's kind of new territory for you guys.

Branching? Definitely this level of it, yeah.
You see it in BioWare's games all the time, and other companies that tell stories in different ways. But this is really different for you guys. Another different thing is the inclusion in the Tribeca Film Festival. It's obviously a great honor. Do you feel like that symbolizes anything?

Yeah. I mean, it's thrilling and really exciting to be included. I think it is appropriate in this case for this game, and it's fantastic that people are interested in it enough to do this sort of thing. But, I haven't thought too much or too deeply on what it means for games as an art form. I think we love the medium, and this way of telling a story, and creating an experience.
I don't know whether there's going to be more of it or not. If it feels right, I guess, and it makes sense, then cool. If people are interested to sort of talk about it in that sphere, I guess.
Well, now, if the next game doesn't make it to Cannes then people are going to be upset.

[laughs] Yeah.