Interview with Rockstar Games' Rob Nelson, Part 1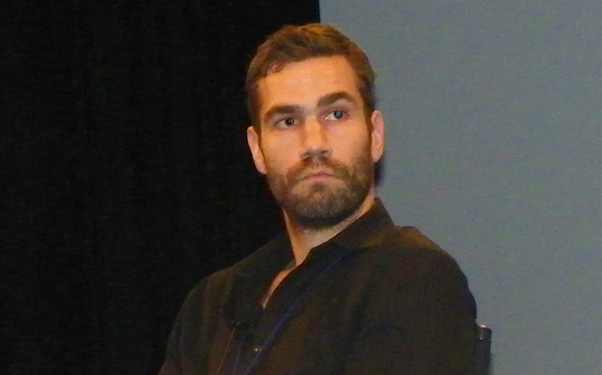 Posted by Evan Narcisse on
If you've played Rockstar Games' latest hit game, then you've probably marveled at the detail-oriented recreation of 1947 Los Angeles that "L.A. Noire" delivers. While the entire creative corps at Rockstar tends to focus on little touches, art director Rob Nelson gets the nod as the guy who holds the visual aesthetic in his head. Nelson's an industry veteran who's been with the company for eight years, with a hand in "L.A. Noire," of course, and last year's "Red Dead Redemption," too. The Canadian transplant spoke with me over the phone about bringing the aesthetics of cult movies, cowboys and cops to the controller set.
Rockstar's one of the most envied and respected developers in the games business. How long have you been with them and how did you get there?

I've been at the company since 2003. I started in our Toronto studio actually, after coming over from another game company called Silicon Knights. I had worked on a game called "Eternal Darkness" there.
Great game.

Yeah, it was a really fun one to work on. I remember when we finished, "GTA 3" came out, and I was as blown away as everybody was by it. I hadn't seen anything like that probably since I had seen a game for the first time. I was just really, really in shock by what they had done. And then I played "GTA: Vice City," and I don't know, something about what those guys were doing made me want to be there. Around that time they had a studio in Toronto, where I was living, and I just pushed really hard to get in.
I basically made them hire me. And it was actually [VP of Product Development] Jeronimo Barrett who hired me.
And now, you're both in New York, right?

Yeah, but he was at that Toronto studio at the time. They were doing the Warriors at that time, and were about a year in. And so, I had one interview with them and they didn't call me back. And then me and another guy that I worked with at Silicon Knights, made like a sort of New York-inspired environment. I wasn't even an environment artist. I was an animator! But we sent it to them anyway.
We sort of stayed up one long weekend and did it, and sent it to them just to say, "We're serious about this." They hired me. I worked as an animator for maybe a month and then Toronto decided that I would be a producer in that studio, and that's what I became, and that's what I was for about five years or so.
And we did "Warriors," and we did a couple things on the Wii. We did "Bully" for the Wii and "Manhunt 2" on the Wii. And we did "GTA IV" on the PC, and put a video editor in there, which was a lot of fun. And then an opportunity opened up in New York and they asked me to move to New York and work out of there on all the games with all the studios. So, I took it, and that was like in 2008.
So, Rob, how about the guy who helped you get the job? What happened to him?

He's still in Toronto. The guy that I worked with, yeah, he's still there. He's a lead designer there. I love him.
He's still at Silicon Knights?

No, he's at Rockstar Toronto. We both got hired.
Oh, OK, good. That's great, that's great.

He was like my roommate at the time and so we both sort of left at the same time. But he's still at the Rockstar Toronto studio.
In terms of schooling, what's your background? You were probably an art major, I'm assuming?

Yeah, I went through fine arts at the university and I also did like a classical animation diploma or degree, whatever you call it, at Sheridan College.
When you say classical, it's hand-drawn right?

Mm-hm. I wasn't computer illiterate when I came out of school, but it was the late '90s. So I was sort of one of the last classes to go through, before CG really took off in a major way. When I was animating, it was all hand drawn 2D, shooting on film and editing on these old, old, machines. We were using ancient PET computers–like older than I was–for programming complicated camera moves.
So, fast forward. You get to Rockstar in Toronto and the first game you're working on is "The Warriors." They were already in progress at the time?

Yep. About a year in maybe.
It seems that, as a work environment, it had to be different than everything you've done up until that point. At Silicon Knights, on "Eternal Darkness," you were creating your own world and its own history from scratch.
Whereas, on "The Warriors" you're trying to build out something that already existed as an idea in people's minds and on film as well. What was that like? And what was the approach at Rockstar insofar as thinking, "All right, we're going to build out this world around the movie and try not to violate anything?"

They picked up the license for "Warriors" a long time ago and were sort of sitting on it. [Rockstar Games founders] Sam and Dan [Houser] and everybody at Rockstar at that time loved the movie. It was sort of a big influence for them. They always knew they wanted to do something with it. I remember when we were working on it, people were like, "Yeah, it's a perfect movie to make into a game. It flows like a game. But when you actually break it down, they only really have a handful of encounters as they're trying to get home. And it's actually not enough to sustain the length that a game would require if you're going to do a linear narrative. We really didn't want to do like an arena brawler. We like telling stories, and we love the story in that film.
So we made the decision to expand on it and try to be as faithful to the characters and the story that already existed as we could. And we were really, really obsessed with the material and the characters, and spent so much time with it.
It seemed like a natural progression to have the climax of the game be the events of the film. The thinking was to take the three or four months leading up to the big summit that they have in the park, where the Riffs hold their big meeting and Cyrus gets shot. So, we just wrote a story around that about this gang that was sort of coming up in the city, and we were really, really obsessed with the characters and the material. It was a really incredible experience.
So, when you guys talk about crafting story, how does that start? It always seems like Sam and Dan are very central to whatever happens. But how does that process flow out like to the rest of the creatives?

It depends. It's different on different projects, I think. Those guys are the driving force behind everything that we do. I was already in love with the product, the game that they were making when I got there. But, the thing that kept me there and that I love about it is that there is no sort of single solitary creative genius who presides over the whole thing. We all sort of play to our strengths.
One person can only do so much, they can only write so much, they can only direct so much. So, it just depends. Sometimes they'll have a very, very specific vision for the whole thing. Sometimes it will be specific things that they want to hit and they ask us to sort of fill in the blanks.
It's a very collaborative process. For something like "The Warriors," we would definitely come up with a plan, the design team, and the writers, and talk to them about it. We go back and forth. And not just them, we talk to the heads of product development, like someone in Jeronimo's position or the art director at that time. It's a fairly democratic process figuring out what we're going to do. And then we sort of execute, and then we play and get feedback, and make adjustments, and play, and make adjustments. It's sort of an ongoing very organic process with us.
Would you describe it as a rapid prototyping model? Like a lot of video game development companies, they just try to get something playable down as soon as possible and get their hands dirty with it, and then trash whatever needs to be reworked, and go at it again. Is it that fast or is it more like, "OK, let's sit with it for a while?"

Yeah, it's fast. It's never as fast as we would like it to be. It just takes a long time to put these things together. But we try to turn things around as quickly as possible. You'll work up core mechanics at the same time as you are writing the story. Once you've got the rough story that you want, you maybe pick a few missions. You start roughing in all the scripting or the gameplay for things.
Then, you probably pick a couple of, whether it's missions or cases or levels, whatever it is, depending on the type of game it is. You really push those and work those out to try and get– I guess some people would call it like a vertical slice–but it's really just a good idea of the game you're making.
So we can all look at it and go, this needs adjusting, this is heading in the right direction. Whatever. And with one 10, 20, 30 minute chunk, you can really tell what the game is going to be once you start getting there. But sometimes it takes a long time for us to get to that. We're very hard on the games all the way through. So, it's fast but it's never fast enough.
When I talk to my peers about the work that Rockstar turns out, I think the one think that everybody homes in on, in a good way, is that you guys nail tone above everything else. Like, people can criticize a story element or a gameplay element. But, everybody feels like you get the tone of the milieu that you guys were trying to set up in your games really right. What goes into that? If it's a big stew, what are the ingredients?

We're just relentless about that stuff. First of all, we try to construct our teams so that they get that. Everybody that's working on the game gets what it's about. And that's supposed to just continue on up from the people making the assets or programming the AI, or writing the stories, to the leads in that studio to us in New York.
There's an understanding that that's what's expected, I think, of us. We do pretty well I think, for our first cracks at it. We always sort of know what the vibe is and what we want to hit. Then we keep working at it until we get it. We just keep turning things back that don't fit, the smallest details to the largest.
You can plan, and plan, and plan, and lay things out, and write design docs, and have meetings about it, and do all the Microsoft Project stuff you want to do, but we are really good at turning back things that could be seen as done.
You could ship a lot of the content that we turn away, but we just keep at it until it's right. That was one thing that was really good for me, I think, about art school. You just got the notion of being precious about your work, literally beat out of you. You would do something, and throw it away, or do something and go over it. You just got to understand that it was as much about the process as it was about the product. I loved the ways that we worked, because you work at it until it's right. There's not a lot of egos involved or hurt feelings. You chuck an idea or we chuck a whole piece of a map, or we cut a whole level. If it doesn't work, it doesn't work. We won't really accept it until it's right to all of us.
Is there a way to possibly co-ordinate that much brainstorming?

Probably. But, we don't stress that too much. Games are big, messy things with so many people touching them across different disciplines, and now for us, across different continents, too. And everyone is just slamming things into the build constantly. It's not without organization and direction, but we try not to micromanage the teams.
We want the teams to feel involved in what they're doing. And so, if you're in some kind of role where you're giving direction, we'll respond to the things that are working for us and the things that aren't. But we have to let people execute and let the content speak for itself.