Interview: My Morning Jacket on black metal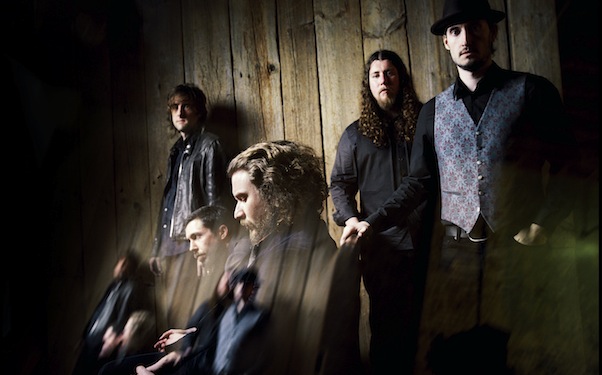 Posted by Grayson Currin on
Last week, My Morning Jacket released "Holdin' on to Black Metal," the second tease from the band's forthcoming sixth LP, Circuital. The song feels like soul music of the strangest sort, with a gnarled guitar line that jumps and swivels and horns that splash at the most surprising moments. In a falsetto coo, frontman Jim James sings like he's vying for a lover's attention, a sentiment that seems even more urgent when both an all-female choir and a distant baritone double his melody.
But this isn't a love song. Rather, James sings about catching waves and getting sustenance on "Lucifer's beach," images that make sense when considered alongside the title. Black metal, the vicious and infamous form of extreme metal that took root in Scandinavia more than 20 years ago, has often been considered an outlet for young, adolescent aggression, much like hardcore punk and hip-hop. Remember, Burzum's Varg Vikernes was still a teenager when he first set fire to Norwegian churches. "Holdin' on to Black Metal," then, questions whether or not we need to give up such music as an outlet for our anger in adulthood. According to My Morning Jacket's Two-Tone Tommy, the answer is definitively no.
ATO Records releases Circuital Tuesday, May 31. That same day, legendary filmmaker Todd Haynes will direct the live stream of My Morning Jacket's hometown, release-night show at the Palace Theater in Louisville, Kent. Stream "Holdin' on to Black Metal" above.
When's the first time you heard black metal? How did you hear it, and what did you think?
I showed up to the black metal party late. When I was 13, I got into whatever metal a small town Kentucky kid had access to–Obituary, Slayer, Metallica, etc., the standard metal fare. I somehow missed out on Venom. A few years ago, our business manager, the most metal of accountants, turned me on to Ruun by Enslaved, and that same year we checked out 1349 at a SXSW showcase. Wouldn't say I fell in love with the genre right away, but I was definitely fascinated by the imagery and history. The speed reminded me of the thrash that I devoured in middle school.
Also, there had been so many disappointing "huge" metal releases over the past decade and change that made the discovery of black metal more significant. It didn't feel too referential or bored with itself or trying to be relevant, like those albums did. Especially seeing these bands live, the show felt real, like the theatrics of the corpse paint wasn't for entertainment's sake but was vital to the musical expression itself. But maybe that's because I want to believe it's real?
My dad used to play this album Black Mass by Lucifer when I was about five or six years old just to see how I'd react to it. It was an all-electronic album from the early '70s with a two-points-up pentagram and goat's head on the back cover. Hilariously, the band Lucifer was just one guy with a synthesizer–a guy named Mort. But it was the heaviest and scariest experience of my young life every time that album came off the bookcase. I think some part of my fascination with metal in general is wanting to experience that fearful thrill again and again, wanting to believe in it just enough that it feels real for a moment.
Do you or did you ever consider yourself a fan of black metal? Does anyone else in the band?
I don't know about the other guys, but I own a handful of black metal albums that I really love. The new Krallice record is amazing! So I'm a fan, but it's not the only genre of music I listen to, or listen to every day.
I may be hearing the song incorrectly, but you seem to be expressing skepticism about adults holding on to things as absolutely bleak and dark as black metal. Almost like punk rock, you need it when you're a kid and everything sucks; but as an adult, that sort of darkness might not allow you to function in the world. Does this interpretation hold for you at all? When did you realize that?
It's always felt more like a tongue-in-check acknowledgement of that particular viewpoint, one that the general public certainly has about metal as a whole–or punk rock or science fiction or comic books, like these are things that you should leave in the past so you can join the real world.
There's no doubt that an obsession with anything–even a genre of music or a TV show or a movie or collectibles–can be a distraction from what's really going on or a way to hang on to the past in a way that keeps the responsibilities of life/ adulthood at bay. But there are also things that can only be expressed, or are easier to express, through escapism and especially through music, so much so that its importance should never be discounted. How difficult would adolescence have been without the music that helped carry us through it? No one enters adulthood feeling none of the emotions they did when they were 16.
Do you see any correlation between that idea and gangsta rap?
Absolutely, though I've never understood why misogynistic lyrics and violence towards women was such a part of it lyrically, or why it was so accepted. Maybe hearing Biggie say "shoot your daughter in the calf muscle" is funny to someone, but it sounds pretty fucked to me.
Tell me about the children's choir. Who are they, and when did you decide they made sense on this track?
The children's choir is actually a group of women we're friends with. They were recorded in a funeral home in Louisville, which makes it more metal?
Is there any music you've outgrown completely as a person and listener?
Some of the hardcore/punk I listened to in high school. It can be beautiful when instruments are played badly with passion, and really unlistenable when they're just played badly.
What can you tell me about recording this song as a band?
Jim's demo was built on a loop he had made from a Thai pop song called "E-Saew Tam Punha Huajai" by Kwan Jai & Kwan Jit Sriprajan. His mission to the band was to perform the loop like child soldiers roaming the streets. We recorded several takes but the first one–where we're all just getting a feel for playing the loop together–was the keeper.