Interview: Liturgy's Hunter Hunt-Hendrix on the death and rebirth of black metal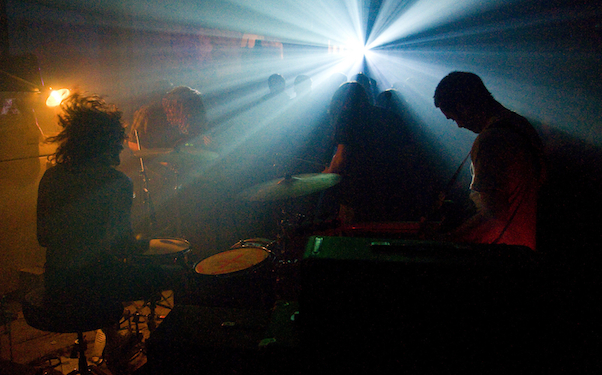 Posted by Grayson Currin on
My favorite record of the year might be Aesthethica, the second album from Brooklyn black metal quartet Liturgy. At once, Aesthethica is a clear continuation of and break from black metal orthodoxy, the sort of record that has devoured the lessons of the past while vowing to build something new from them.
That said, one of my favorite new musicians of the past few years might be Liturgy's frontman and sole composer, Hunter Hunt-Hendrix. To say that members of the metal community loathe Liturgy would be to understate it; these "Brooklyn black metal hipsters" are handled like pariahs, heavy metal infidels that aren't beholden to the sacrosanct nature of the music they make. But Hunt-Hendrix holds true, not only writing an involved manifesto called Transcendental Black Metal but also going on at length in interviews about his interest in music that's not of the fold.
We spoke with Hunt-Hendrix by phone. Before you read the interview, download three tracks off of Aesthethica, and enjoy as you read: "High Gold," "Returner," and "Generation."
You just returned from a European tour. How did the audiences greet the new material?
The tour went really well. It went awesomely well. We were a little surprised by how positive our reception in Europe was, and how easy it was to go back and forth between more metal shows and more experimental shows. Symbolically, we played the Roadburn Fest earlier on, which is the mecca of metal festivals. Then we played the Donau Festival in Vienna, which was a totally different environment. It was curated by Ben Frost, and we met Rhys Chatham. That was awesome, too. A lot of the bullshit that alienates people from our band in the States doesn't have the same effect in Europe, for whatever reason.
It's funny: I was just speaking with Altar of Plagues, another black metal band, and they said the exact opposite, that America seemed more open to their interpretation of black metal.
They're from Ireland, right? Maybe it just has to do with crossing the Atlantic, regardless of which side you're coming from or going to. I think there is something to that: When you play in a different country, people are just more respectful. It's like, "Wow, you came all the way over here. You're serious." If you just drive to Richmond or something, people are like, "I could have driven to Richmond." You're just one of a billion bands. Maybe people are more willing to accept what you're doing if you come from far away.
Does playing Europe make you nervous at all? After all, you're disassembling and reassembling the version of black metal that they created. Are you worried that they'll interpret it as sacrilege?
That is what we're doing. I think that black metal is dead. What I call Hyperborean black metal is over. But I think a lot of Europeans agree with that. We didn't go to Scandinavia this past tour, but we did play in Scandinavia last fall, in September. People in Scandinavia don't care about black metal at all. They're totally sick of black metal. The second wave was really getting going in the early '90s, even the late '80s. I think people are tired of that stuff and excited to see a band trying to build something new out of the ashes of the past. I'm sure there are people who are critical, too. Those people probably didn't come to our shows, so I didn't have a chance to really talk to them.
This album, Aesthethica, is such a step forward in terms of ideas and execution from Renihilation. At what point did these changes and risks become clear?
Yeah, the musical logic develops on its own. I'm writing the music. That's not always totally clear to journalists, but I write it all in advance. There was no way we were going to remake Renihilation again. That record was so intense throughout the entire time, it was, "Why would you make another one of those?" That would be a failure, to repeat something like that. I wanted to be able to write a longer record, first of all, and incorporate really long, hypnotic segments to contrast with the bursting-at-the-seams, really climactic segments. To me, the development felt pretty organic. From my perspective, this is what the band has been leading up to, from the start, as opposed to it being some kind of left turn, some big surprise. It's just that we weren't quite able to get there.
There was an awareness that it would alienate more black metal fans than the last record, but we didn't have those black metal fans until the last record. It's definitely bad news if you're thinking about which fans you're going to satisfy and which fans you're going to alienate, or which audiences you're going to reach. Good music comes when you really have a strong urge to make some kind of sound, and then you obsessively make it. You just throw it out there, and let the reactions happen in whatever way they're gonna. That's sort of the organic, real way to make music. I am a little bit surprised by the Internet firestorm that's been going on for the past month or two about our band. I am surprised by how much people hate Liturgy. It's a little more than expected.
What's been the most shocking aspect of that so far? What has someone said that's surprised you the most?
It's easy to answer that question. What's most surprising is the degree to which homosexuality figures into the slander. That was never the case for the last record. For the last record, it was just kind of, "Well, this doesn't take too many risks," or "They're boring," or "Too hyped" or "They're from Brooklyn." It was something like that. Now, it's like, "These guys are fags. These guys deserved to get fucked in the ass–to death." It's this violent, gay, rape stuff. It's all over the place, and it freaks me out a little bit. Somehow, some threshold was crossed. It's less dismissive, and more, like, really, really angry. But this gay thing comes out of nowhere. It underscores the disconnect between me and my world and my group of friends and the people who are blogging. We would never think to use homophobic language and imagery to insult somebody, at all. It weirds me out because I feel disconnected from the community of people who are taking the time to do this. I wouldn't want to be friends with them.
Obviously, we're dealing in a form where dark, sometimes vile things are pretty commonplace. Do you think it's just a result of that, or is it out of defense for the form?
Well, that's kind of a good question. There's such a fine line but also an enormous difference between bypassing or ignoring or not commenting on something you don't like versus writing a whole lot of angry stuff about somebody you don't like. Maybe it's repressed homosexual tendencies.
I doubt that statement will ameliorate the situation.
Oh, right. Maybe that should be off the record, but I don't know. (Laughs.) I don't know how many black metal fans will be going to the IFC blog, anyway. The blogosphere scandal stuff for me is just fun, in a way. It's so weird to do an interview and know that in a couple of hours or days, there's going to be this building pool of text that shows up on the same website. It's a very eerie thing.
It's always been curious to me that your Transcendental Black Metal manifesto exists as a book and not just a massive Internet essay.
I was just asked to publish it. That was originally delivered as a lecture at the Hideous Gnosis: Black Metal Theory Symposium, you know? Then it was published in a journal, and then they ended up making a book out of that black metal symposium. It was published there again, and now it's a stand-alone thing because Rich Loren, the Pyramids and Handmade Birds guy, asked me to publish it. I was glad, because I wanted to publish it. But your question is why on paper instead of on the Internet?
Exactly. Did you want to try to create real conversation among people about it, instead of simple online bickering?
That's really interesting. I never really thought about that, but I guess it's pretty true. I took the manifesto pretty seriously. I spent a long time writing it, and I do want it to be in a forum where people might read and re-read it, not just glance at it and judge it. I wanted to put it in a forum for sound discourse. It's so funny because so much of the reaction to the manifesto–well, in some cases, that has happened. There were reviews of the Hideous Gnosis book in various academic journals, but most of the comments still are on the Internet. They're always just complaints about the fact of having written the manifesto. I've never seen anyone engage with what's actually written, with what the argument is. People think it's so absurd to write something about that at all, that I think I saw one blog post that made the point that there's content inside the manifesto that one might consider and react to, rather than just react to the performative act of putting the manifesto out there. It's as though any manifesto is the same as any other.
In a way, that applies to your music, right? The kids calling you names care less about what you stand for and how you look than, you know, how you might sound.
There is a parallel there, that people react a lot more to our look a lot more than they react to the music itself. I understand. It begs the question of why people listen to music. In defense of people who react to our look and hate us just based on that, especially kids and teenagers, one of the reasons you listen to music is not because you just want to hear the sequence of sounds that makes you feel the best. There are subcultures and communities. "I dress like you. We get along. We are enemies with this other subculture. Our politics are the same." For rock music, especially, that is half of what loving music is, identifying with a scene. I certainly felt that way when I was in high school. I was a hardcore kid. There's no rule that people have to overlook all of that stuff and just focus on the sounds, because that's not how it works anyway. A lot of musicians don't think about that or talk about that exclusively, but it's true.
That is one thing I disagree with Krallice about–the ideas behind music. I've talked to Colin [Marston, Krallice guitarist] about that stuff. He thinks it's all about the music, that the ideas don't matter, or he doesn't care what you call it or who makes it. Especially with non-classical music, looks and ideas and opinions and symbols are a really big part of it. I can understand people being angry.
If there were a scene built around Liturgy, what would it ideally look like?
I definitely don't know how to answer that question. It would have to be a scene of… Well, I'm happy for it to be a smattering of people from all different scenes, I guess. The only way it could be one scene is if there ended up being a whole lot of other bands in the same vein as Liturgy. I don't think that's realistic. I think we have to snipe people away from different existing scenes. That's an interesting question, not one that I've thought about enough to have an answer for.
You implied that this band wasn't ready to make this sort of album the first time around, that this is the progression. Why weren't you ready?
One of the biggest challenges of this band is just getting people to show up to practice and to agree to go on tour. You see a band that's out there doing it, and it just seems like it must have just fallen into place easily. But there's a long period of time, I think, in any band if it's one person who really wants to do it, where the other people don't see what's going to happen. "Well, this isn't worth my time. I don't want to go to practice. I want to go to a show or hang out." Renihilation was put together so, so quickly. We barely had any time because people were so busy with other stuff. This is the first record where we had the time and commitment from people to sit down and really do it, work hard on all the stuff.
Was there any more collaboration on Aesthethica than on Renihilation?
No. It's weird that people usually don't have that sense that there's really no collaboration at all. I demo the songs, and I send out the demos. We go through stuff. There are things that change as that process happens. Maybe if something doesn't work as well live for some reason. It's more carefully composed than people might think, because it sounds so chaotic and so free. But it sounds the exact same way each time.
How important for you has it been to retain that one-man control?
It's not something I've ever had to fight for. This isn't the kind of band where it's like, "Who has creative control?" It's not like Bernard [Gann, Liturgy guitarist] would ever come in and say, "I have this song I think we should play." There's no discussion like that. For me, it's always been a matter of getting people to spend the time to play the songs. Everyone else is interested in their other projects, and those are their creative outlets.
Thrill Jockey, your new record label, includes no other metal bands. Why go with a label that's more known for indie rock and experimental music when metal fans already pan you?
When the opportunity came up, it just felt kind of perfect. It felt more like a comfortable community that made sense to be a part of. It certainly eased a lot of anxieties, because the less we're a part of the metal institutions, the more comfortable we are. It's just where we belong, I guess. Whether that alienates people or not, you can't think like that.