Interview: Death Cab for Cutie's Ben Gibbard on muscle dudes, set lists and the influence of country music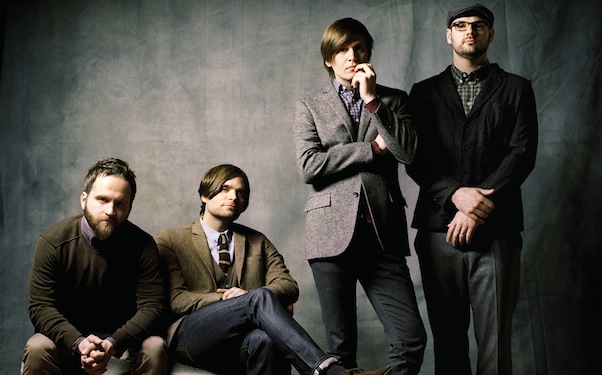 Posted by Grayson Currin on
"Unobstructed Views" is the longest track on Codes and Keys, the seventh disc by Seattle band Death Cab for Cutie and their third for Atlantic Records. It's the centerpiece, too, sitting exactly in the middle of the 11-track album as an anchor and an epic. As such, it unfurls gradually, throbs of keyboard bass bulging against sheets of noise and swelling piano glissandi. After three minutes of glacial, considered movement, Ben Gibbard finally cuts over the sound, his voice confident and clear, as though emerging from the din with a newfound clarity.
That moment is not only one of the best on Codes and Keys–another imperfect but rewarding album from Death Cab–but also one of the most telling: Gibbard says he delved into country music before recording Codes and Keys, using it to reconsider his voice as an instrument. What's more, guitarist and producer Chris Walla had been exploring Bowie's Berlin Trilogy, sweeping electronic albums that presage the vista of "Unobstructed Views." We caught up with Gibbard in Calgary to discuss those influences and the growing audience of the band.
How are the new songs translating live? Texturally, they're so rich, relative to some of the earlier Death Cab for Cutie material.
It's good. I think we're playing five or six new songs tonight, within a set of 25 songs. When I make a set list, I always try to be very cognizant of the fact that we have a pretty wide catalog of material that people want to hear, so I don't want to make that rookie mistake of saying, 'We're going to play the whole record start to finish, and then play 10 other songs.' As proud as I am of this record, I think it's important to play what people want to hear.
Have you seen shows like that in the past, where you go as a fan in hopes of hearing a few favorites, only to leave disappointed?
Oh yeah, absolutely. I don't want to name any names because some of the bands are still playing. I can remember seeing one of my favorite bands in college that had just put out a record that I was absolutely in love with. I went to go see them, and by that point, they were already playing stuff from the record they hadn't recorded yet, the newest record.
I feel that it's really important in playing live shows to recognize that people are paying good money to see you play music, and while you certainly can't play everything they want to hear, and everybody wants to hear something different, at least in our case, there are 10 or 12 songs that everybody wants to hear us play. You don't play shows for yourself; you go out and play shows for the crowd.
I've seen you grow from a band that used to play for 100 people in a tiny bar to a band that's playing huge theaters and amphitheaters. What's the biggest lesson that you've learned for playing shows in general, wherever or for whomever they might be?
Obviously over the years, the audience has changed pretty drastically. In the past, we were playing to a lot of people who are in the same kind of culture that we came up with. We're playing for the indie kids, you know, the kids who go and buy 7-inches. We're playing to audiences who look like us.
Over the years, as the band became more popular, we started seeing how the audiences are changing, and they are becoming a lot more diverse. I genuinely enjoyed watching that transition. There have been times where our bus will be parked in front of a venue, and we'll see people filing into the show, and the vast majority of the people who are coming to see us play were never the people I thought in a million years would be coming to see us. The songs on the first couple records weren't being written for a particular audience or certainly with the expectation of what that audience would look like. When you see a shirtless muscle dude singing along with "Company Calls," I think it's strangely a beautiful thing to see happen, because I never thought this music would connect with some of these people.
Secondly, I find that a great show in a small club is as wonderful as a great show in a huge amphitheater. The nights that you're playing and you feel you're on, and the audience is with you, one is not better than the other. And the same goes for a bad show–if you're having a bad show it doesn't matter where you are, you still feel the same feeling of hopelessness that performers feel when things aren't going their way.
Does an awareness of that shifting demographic for Death Cab for Cutie fans affect the songs, or at least the way they're produced?
When we're in the studio making a record, our primary goal is to make something that we would want to listen to ourselves and feels like a logical expansion of who we are and the kind of sound we want to make. So we never make theorizations for where this music is going to end up any more than when we're checking a mix. You always have to listen through a Mac or something like that, because a lot of people are going to be listening to this stuff on a computer, or in a car, or a home stereo. I think the only time those considerations are made is when you're mixing a song and you have to hear what it sounds like in different formats and different settings.
The four of us are focused on making things that appeal to us. I feel that we would be doing a disservice to our own catalog–and to ourselves as musicians and a band–if we started taking into consideration who the audience was or what that audience wanted to hear. As we've moved through the chapters in this band, we've always tried to get better at our craft in our individual ways and collectively. Where that's taken us has been as much a surprise to me as it's been to anybody else.
There are a lot of interesting and surprising sounds on Codes and Keys–keyboards and layers and electronics that you maybe don't expect on a Death Cab for Cutie album. How did the sound of this album develop?
We took about a six or seven month break from doing band stuff. I'd been working on songs, and Chris was making a couple of records. We all found ourselves in our own little corners of the world, being inspired by different types of music and different tools that we happened to be falling in love with at the time.
Over the course of the last few years, Chris has been finding an incredible palate of sounds that he was able to pull out of these old '70s analog keyboards and synths. I think that when we get in the studio, we're kind of just getting reacquainted and feeling each other out about, "Oh yeah, you've been listening to this, I've been listening to that," putting on music and listening to stuff.
As Chris started producing the first track, "Codes and Keys," he immediately pulled up a MS-20, an old Korg keyboard, and started going, "I think the bass should be coming through this keyboard." All of a sudden, this particular palate started making its way into this song, and we all started recognizing the patterns within the lyrics, and the structure, and the tools that Chris is using. Every record at some point kind of just shows itself to us.
Really, it just comes out of wanting to make something new. We don't have to sit down and a have a discussion about how we need to move in a particular direction. It just happens naturally. When we were making Codes and Keys, there were six records worth of material that we had already made and didn't want to repeat. Naturally, because we are ostensibly the four same people making records, there are patterns within our records and things that we lean on. I think with this record, we are leaning on those things less than we have in the past.
A few years ago, I believe with Plans, Chris said he thought he was finally figuring out how to make records. Do you think he's still learning, still evolving as a producer? It sounds that way on Codes & Keys.
Oh, absolutely. Whenever I'm away from Chris for some time and he's been working on records, I come in and there's always something new that he's selling us. I mean that in a good way. He's got some set of equipment that he's learned how to use and he's really inspired by, or a particular modus operandi. For me, as a member of the band, there's this period where I'm adjusting to what this new aesthetic is going to be. I'm a little bit trepid, and I'm kind of like, "OK, what are we doing here? Oh, I see we're going to record everything live in a room. OK, I'm cool with that." This is the first record we've done with this recording program called Logic. Because he's such a passionate musician and so dedicated to continuing to push his own envelope, I think the sky's the limit for what he's able to do as long as he remains invested in it.
You mentioned conversations in the band where you discuss what you've been listening to and how those might shape an album. What had people been listening to for Codes & Keys?
Chris had been really inspired in the past year by David Bowie's Low, or that period of mid-'70s Bowie and Eno records. I found myself for the first time as a songwriter and a musician really kind of paying attention to singers. I listened to more Louvin Brothers and George Jones, very old-fashioned country music, than I did any indie rock in the last couple years. I was really taken by the enunciation and the lyricism; I finally started to appreciate the human voice as an instrument. I always felt that I treated my singing voice as a vehicle to get the words and the melodies to the listener, and not so much as an instrument in and of itself. Over the last couple of years, I've tried to develop my singing voice as more of an instrument, but at the same time, trying not to obscure it so much that it's unrecognizable to me. I never attempted that back in the day, as much out of insecurity and probably aesthetic.
What country music inspired you, and why?
Especially with the Louvin Brothers, there's so much emotion and expression in the way that they sang together, and it's just the two voices. They weren't doubling the harmonies or anything; it was just these two brothers who both had incredible singing voices, and the intervals in which they harmonized are so foreign to my ear. I would never write things like that. I wouldn't even know how. The lyrics are very simple, in the style of the time, and the arrangements are very simple, in the style of the time, but their voices are just so emotive, and pitch-perfect, and they slide in and out in a really effective and beautiful way. To do that in tandem with another singer is a very difficult thing to do.
I don't want to sound like, "Kids these days," but I really think that, certainly in pop culture, we've lost touch with what it means to be a good singer. We have so many ways to "fix" and "perfect" the sound of the human voice. What gives our voices humanity is all of the imperfections and the way we slide into notes and slide out. For me, when I listen to them sing, it's all about the sound of the voices. I'm not going to start singing with a twang or anything like that anytime soon.