How "Soul Calibur" Keeps Its Boobs Breast in Show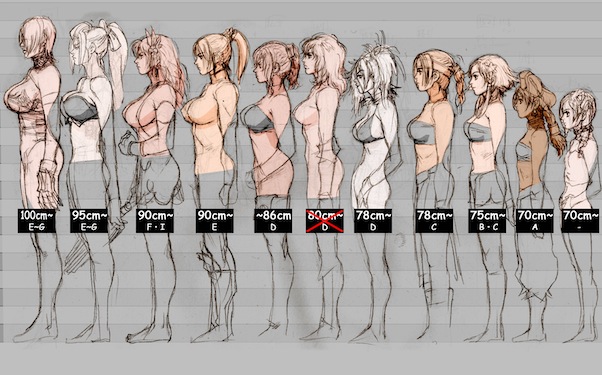 Posted by Evan Narcisse on
"Soul Calibur" represents a near-perfect Platonic ideal for fighting game fans. Namco's medieval martial arts series boasts a deep level of complexity with hundreds of moves, counters and specials for dozens of characters yet remains accessible enough for new players to have fun and be competitive.
But there's another thing that "Soul Calibur" is known for and that's the magical undulation of its female characters' mammaries. Video games get justifiably knocked on their objectification of the female form but "Soul Calibur" has always been particularly egregious. I remember playing the earliest version of the fighting franchise (in its incarnation as "Soul Edge" on the first PlayStation) and marveling at the action in female ninja Taki's balcony. There's nothing very stealthy about that, I thought then.
It's not just "Soul Calibur," either. Breast physics are a THING in the fighting game category, for some odd reason. Just look at Tecmo's "Dead or Alive" games.) Maybe the ability to focus past the breast acrobatics separates men from the boys. Or, it's a way to show off how programmers implement the processing power of a particular platform. Shiny textures and dynamic lighting are one thing, but boobs that move like they're on a perpetual trampoline?! That's technical know-how!
Anyway, no matter how offended or pleasured you've felt watching Ivy's knockers bounce as she beats your ass with a whip-sword, it never seemed like there was any rhyme or reason to the size or attributes of girl characters' chests. Clearly, the collective lizard brain of the mostly male development teams kicked in and locked in on the uncomplicated idea of 'big and bouncy.' But, a tweet today from a member of the "Soul Calibur" dev team reveals that there is in fact A SYSTEM WITH RULES. This changes everything. A breast size canon means that it's not just casual repressed-male objectification at work. No, the idea that there's something systemic about boob physics makes the whole thing feel less grindhouse and more programmatically sleazy. Like, "Make sure Sophitia's rack is no more than 86 CM."
The worst part about this stuff isn't how it undercuts video games' grasp at respectability. That's a fool's errand. No, boob physics fetish make otherwise great, well-tuned games feel trashier than they should. And, in a world where the web's made adult entertainment more accessible, anyone who's interested knows that breasts don't move like they do in such video games. Virtual fake boobs can't really do anything for anyone, can they?