Budget Cuts Threaten the "Ghostbusters" Firehouse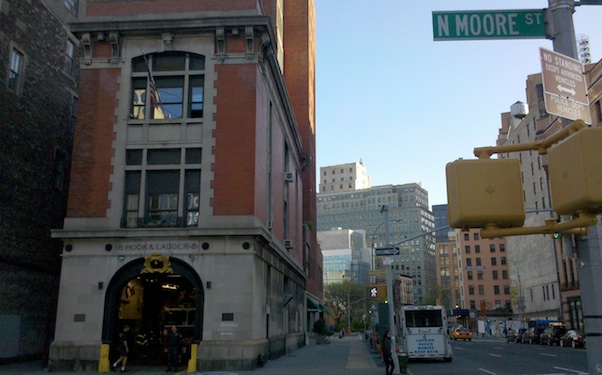 Posted by Matt Singer on
No! The New York Post reported yesterday that New York City is considering a proposal from Mayor Bloomberg to close 20 firehouses because of budget cuts. Among the firehouses slated for elimination is the one at 133 John Street in Tribeca. Officially, it's known as Ladder 8. But movie lovers around the world call it the "Ghostbusters" firehouse.
For any fan of "Ghostbusters" — which, as far as I'm concerned, includes any rational thinking human on Planet Earth — Ladder 8 is one of the coolest places in New York, if not the entire world. To this day, it looks almost exactly as it did in the movies, and they even have the actual prop sign from "Ghostbusters II" hanging on the wall inside. Plus, they've got the coolest official T-shirt of any firehouse in existence. If the FDNY eliminates Ladder 8 and — GOD FORBID — tears down a piece of movie history, I will be inconsolable. I mean we could be in for a meltdown of Biblical proportions: Old Testament, real wrath of God type stuff. Human sacrifice, dogs and cats living together: mass hysteria!
So what can we do to save this place (besides buying a crapload of those awesome shirts)? Well it couldn't hurt to contact Mayor Bloomberg and tell him what you think of the idea. You could remind him of how the Ghostbusters saved the city when Gozer took over Central Park West, or point how how he could be saving the pop cultural memories of millions of registered voters. Maybe you could point out that there's a high voltage laser containment system in the basement, and that simply turning it off would be like dropping a bomb on the city. I guess you could even point out how important Ladder 8 is to its neighborhood and what a bad idea it is to eliminate much needed firefighters, especially in areas like Lower Manhattan, but what's the fun in that?
Anyway, if you want to send Mayor Bloomberg a letter his address is:
Mayor Michael R. Bloomberg
City Hall
New York, NY 10007
You can also send him an email here. Let's show that prehistoric Mayor how we do things downtown.
If the worst happens, there's one conceivable upside. Let's say the FDNY does shut down Ladder 8. Now you've got an empty firehouse. That opens the door to paranormal investigators buying the property from the city — after sleeping in it, y'know, to try it out — and then opening their own business. Or, maybe more realistically, some rich dude who loves "Ghostbusters" even more than I do just turns it into a tourist attraction. I don't care who owns it as long as the building still stands and it doesn't fall into the hands of the EPA.
[H/T Movieline]