Hooray For Earth "True Loves" And "No Love"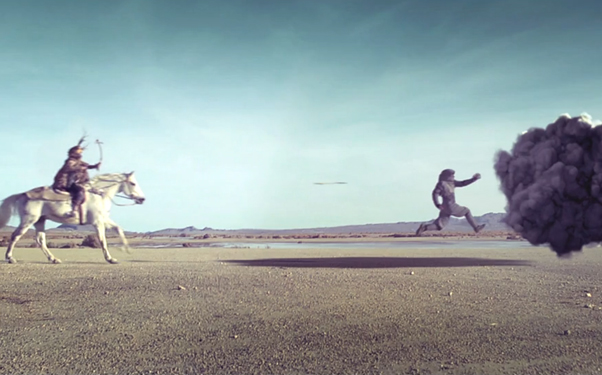 Posted by Brandon Kim on
In this exploration of a lovelorn inner mindscape, a man in a tattered space suit runs from a crazy on horseback shooting arrows at him, towards some kind of portal, and emerges on a beach with the ruins of his past just off shore, "Planet of the Apes" style. Then things get weird. Hooray For Earth's "True Loves" was done by directorial team Young Replicant (Alex Takacs and Joe Nankin) who shot the beautiful video for Baths' "Lovely Blood Flow" last year.
"The video is an homage to our favorite Russian and eastern-european cult sci-fi. French artist Moebius and early Metal Hurlant were also big visual influences," Alex Takacs explained. "It's about mindscapes and the memory of true love."
The band just released another track (below) off the coming album, called "No Love," featuring the girls from Zambri, which singer Noel Heroux says was inspired by "Yuengling Black & Tan in the can." Hooray For Earth's debut LP, "True Loves," arrives June on June 7th on Dovecote Records.
Download: Hooray For Earth's "No Love"