Seattle Film Fest 2011: "High Road," Reviewed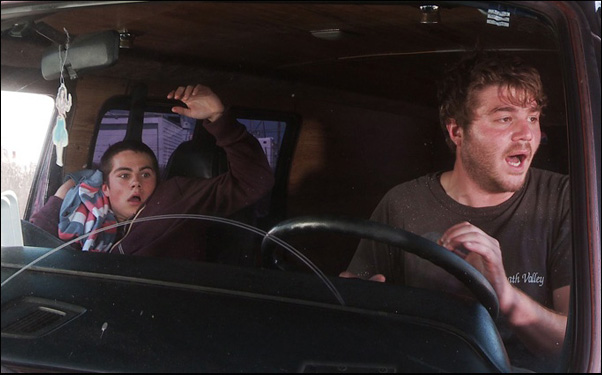 Posted by Stephen Saito on
"Maybe we could make a drinking game out of this," Matt Walsh told the crowd at the Seattle Film Festival. "Every time you see a comedian onscreen you like, drink a beer."
No one could legally take the Upright Citizens Brigade co-founder and Todd Phillips regular up on his offer, as the Neptune Theater doesn't serve alcohol, but if they did, they'd be well past the legal limit about five minutes into Walsh's directorial debut "High Road." A comedy that Walsh admitted featured only one actor who wasn't a good friend beforehand, the film surrounds its central character Fitz (James Pumphrey) with a cast of Ed Helms, Abby Elliott, "The Office"'s Zach Woods, Lizzy Caplan, Joe Lo Truglio and Rob Riggle.
Before you ask, they all appear for longer than you might think for a low-budget endeavor such as this, ostensibly a road movie once Fitz, an aimless twentysomething drummer turns to dealing pot part-time after his band breaks up and heads to Oakland to see his father once he believes he's being chased by the cops. He's joined by Jimmy (Dylan O'Brien), a 16-year-old runaway from the next home over who fears his own father's threats of military school. Despite there being no police cars in sight, Fitz's paranoia is justified as Jimmy's dad (Riggle) and a gym buddy named Fogerty (Lo Truglio) posing as a sheriff's deputy follows them from pit stop to pit stop while a phone call home to his girlfriend (Elliott) who announces she's expecting results in Fitz running away from more than just the law.
Throughout "High Road," there's no doubt that the film's heart is in the right place even if its focus isn't necessarily all the time. During the post-screening Q & A, Walsh explained that he developed a script over a number of years, but abandoned the dialogue he and Josh Weiner wrote once he started shooting, instead giving the actors a paragraph prompt for each of the film's 70 scenes and letting them loose.
Of course, there are probably fewer improv comics more gifted than the UCB, SNL and The State alumni on display here, yet the energy of the performances doesn't always escape from between the actors as it might during a live performance. For every wonderful digression like Fogerty's exhaustive knowledge of Gary Glitter's history of pedophilia or Fitz's bizarre encounter with a hooker firmly in denial of what she does at a roadside diner, there are scenes where the banter doesn't quite add up to much more than a few non sequiturs and an awkward transition to whatever's next.
In his first feature, Walsh actually sidesteps the trap of most improv-heavy films with a determined pace and little to no slack, but with a predictable destination for Fitz and Jimmy, the workman-like approach to storytelling feels even more pronounced and comes at the expense of developing its characters beyond the gags they can pay off. Still, being funny can forgive quite a bit and here, it's in the service of something sweet, if slight, and promising enough to look forward to Walsh's next film, which he suggested after the screening could be a really "f'd up take on 'A Christmas Carol.'"
"High Road" currently does not have U.S. distribution. It will play once more at the Seattle Film Festival on June 7th.