Here's What A Game Made by a Five-Year-Old Looks Like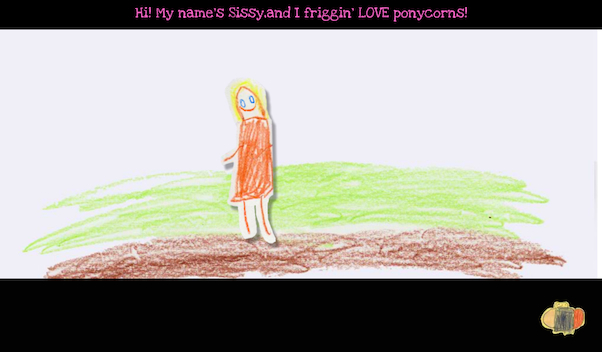 Posted by Evan Narcisse on
The problem with adulthood is that you can no longer summon up the insane anti-logic of how childhood creativity unfolds. There's powerful energy there and, if you're lucky and/or vigilant, you can hold onto it in your head or in a box in your parents' garage.
Game developer Ryan Henson Creighton had another idea, though. He brought his kindergarten age daughter Cassie to TOJam, an indie dev gathering in where attendees meet, greet and crank out games on the quick. Creighton then tapped into the clearly brilliant imagination of her fertile mind and together they produced a marvel of the modern age called "Sissy's Magical Ponycorn Adventure."
Creighton, who's the founder of kid-friendly studio Untold Entertainment, details the father-daughter creative journey on his blog, noting that Cassie even designed one of the game's puzzles herself. Here, their tense negotiations:
Me: Remember, you're the first little girl who's ever made a game at TOJam. And everyone's worried you're going to run around screaming and making noise and wrecking things.

Cassie: (shocked face) No i won't!

Me: *i* know you won't. (totally lying here – i was as nervous about it as anyone) But you have to prove to everyone that little girls can make video games too. If you're very well behaved, then next year if another little girl wants to come and make a game, the TOJam people will say "the little girl who made a game last year was SO wonderful, we'd LOVE to see more little girls making games."

Cassie: i'll be have. i will!
The game's a point-and-click adventure in the classic style and almost every level's got a funny moment of discovery, if you click enough to find it. The loopy logic of "SMPA" comes to life via Cassie's voiceover and artwork and will melt your heart right away.
"Sissy's Magical Ponycorn Adventure" is a short playthrough but well worth it if you want to remember what being a kid was like. When you're done playing this free game, consider clicking on the Donate button to add some dollars to an educational find for Cassie. After a debut like this, she certainly needs to find her way to making more games.