Harry Potter and the Real World Terrorism Parallels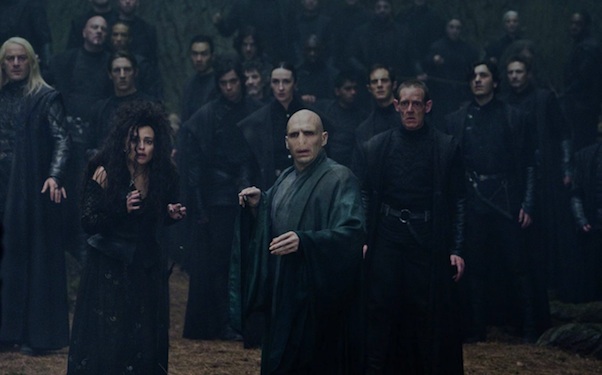 Posted by Matt Singer on
Gregg Kilday from The Hollywood Reporter isn't the first writer to observe possible similarities between "Harry Potter" big bad Voldemort and terrorist mastermind Osama Bin Laden. But in the immediate wake of Bin Laden's death at the hands of U.S. Special Forces troops, Kilday wrote "Eerie Links Between 'Harry Potter,' Osama Bin Laden; Why Movie May Benefit" which lays out the connections between the two figures of evil and what they mean for the upcoming final film in the "Harry Potter" franchise, which is due out from Warner Brothers Pictures on July 15. According to Kilday:
"For a generation of kids who grew up reading Rowling's books and watching Hollywood's big-screen adaptations in the shadows of 9/11, there have been inevitable echoes of the real world in Harry's sometimes reluctant quest to defeat Voldemort… just as Harry is known in the books as 'the anointed one,' a number of President Obama's critics like Rush Limbaugh have frequently dismissed the president by disparagingly referring to him as 'the anointed one' as well.
As Kilday notes, the "Harry Potter" book series predates the events of 9/11 by almost five years, but that doesn't necessarily negate the parallels — particularly since the "Potter" films didn't begin to appear until late 2001. And even if the parallels weren't intended by the filmmakers, that doesn't negate them either; an audience's interpretation of a film is just as valid as its creator's. Sometimes the most interesting things about a movie are the things that wound up in them subconsciously.
I've only seen two "Harry Potter" movies, so I'm not particularly qualified to weigh in on the subject. But I firmly believe the real world invades popular culture more often than many realize. A big, poppy summer blockbuster opening this Friday, for example, contains some significant metaphors for the war in Iraq and the George W. Bush presidency. But we'll talk about those in a few days.