Happy Monday: The Coen Brothers' "The Ladykillers"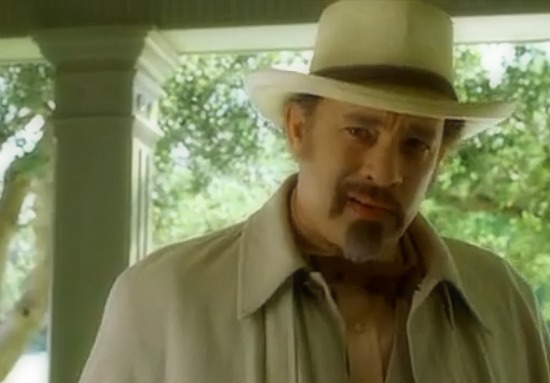 Posted by Melissa Locker on
It's no secret that we love Joel and Ethan Coen a.k.a. the Coen Brothers. From "Blood Simple" to "True Grit" we are founding members of their fan club. Naturally we are excited to show their film "The Ladykillers" at 3:45 p.m. ET today. The film is an update of the Ealing Pictures classic and the Coen Brothers do the idiosyncratic British film studio justice.
"The Ladykillers" stars Marva Munson (Irma P. Hall) as a spry, elderly woman who is looking for a tenant for the spare room in her house. Enter Goldthwait Higginson Dorr (Tom Hanks), a silver-tongued college professor with a fake "medieval music ensemble" and a real life criminal plan. The new mastermind wants to rob a riverboat casino, and he's assembled a crew to pull off the job: foul-mouthed "inside man" Gawain (Marlon Wayans), clumsy demolitions expert Pancake (J.K. Simmons), quiet strong-arm man Lump (Ryan Hurst), and logistical expert The General (Tzi Ma). Despite the best efforts of Dorr and his cohorts (which aren't very impressive), Munson finds out about their scheme, and when she refuses to accept a share of the take in exchange for her silence, Dorr decides the best solution is to silence her permanently.
As with most Coen Brothers' films, the soundtrack to "The Ladykillers" is a killer in itself. The compilation of old-time gospel tunes and soulful songs was put together by T-Bone Burnett who also helped assemble the acclaimed song score for the Coens' "O Brother, Where Art Thou?" Featuring songs ranging from The Soul Stirrers' "Come, Let Us Go Back To God" to the Nappy Roots' "Another Day, Another Dollar" to Donnie McClurkin's "Come, Let Us Go Back To God," the soundtrack has something for music fans of all stripes.
The gospel group, The Soul Stirrers featured a young Sam Cooke. Here's their song, "Jesus I'll Never Forget," which is also on "The Ladykillers" soundtrack:
Here's Blind Willie Johnson doing "Let Your Light Shine On Me":