Seattle Film Fest 2011: "Happy, Happy," Reviewed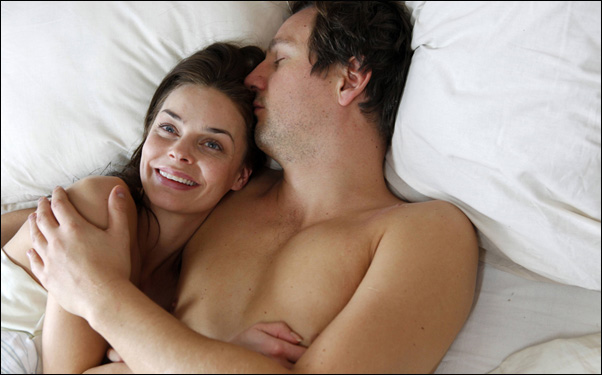 Posted by Stephen Saito on
Not to paint the good people of Norway with the same brush, but if the country's recent films are any indication, the problem of sexual dissatisfaction amongst women is making it frostier for some in the country than the usual climate in winter. Only weeks ago at the Tribeca Film Fest, Jannicke Systad Jacobsen's "Turn Me On, Goddammit" won a screenplay prize for the story of a young woman whose openness about her horniness leads her to be ostracized from her small village, and then there's "Happy, Happy," Anne Sewitsky's Sundance winner which contrary to its title deals with the discontent of two married couples in Norwegian wilderness and in particular, the sexual awakening of Kaja, a cheery housewife who, upon tiring of her husband's rejection of her advances, winds up in the arms of another.
Although the logline may sound like it may come from the Ingmar Bergman wing of Scandinavian cinema, "Happy, Happy" leans more towards the Aki Kaurismaki corner, punctuated with musical interludes from a quartet of vocalists singing American gospel music and dispatching a gentle sense of humor throughout even if what's happened to poor, naïve Kaja is quite tragic. A foster child who married too young after high school, Kaja is stuck in a loveless marriage to a husband (Joaquin Rafaelsen) far more interested in hunting moose and a young son who clearly prefers his pa's company when he's not torturing the newly arrived adopted black child of Elisabeth (Maibritt Saerens) and Sigve (Henrik Rafaelsen), the couple that's moved in next door from the big city.
Kaja clearly admires the couple's sophistication — upon discovering Elisabeth is an attorney, she asks in awe, "Isn't that hard?" But she's far more taken with the excitement they bring since her own enthusiasm has waned significantly with a family that rarely speaks to her about anything. In fact, they even have a game in the morning to drive her out of the house by staring at her intently. It's actually during a nighttime game with Elisabeth and Sigve where Kaja's able to exact some small revenge on her husband, confessing during an after-dinner "Couples Game" that she hasn't had sex in a year, which combined with Elisabeth and Sigve's admission that they'd accept their partner having an affair, sets off an interesting chain of events for both pairs.
Even without the unexpected jolts of the brightly-attired men's chorus that pops up periodically, "Happy, Happy" shines when its lead Agnes Kittelsen is on screen. As Kaja, she'd be hard to dislike as an overeager woman who simply let a bad choice metastasize into a life she only now realizes she doesn't want, but to play the role with a dimmer switch as the light slowly drains from her eyes is much more of an accomplishment than one would think.
Yet even as Kittelsen is allowed the room to dial down her performance, Sewitsky doesn't exactly do herself the same favor as the film makes a sharp right turn from light comedy in the first half to a more serious relationship drama in the second when infidelity rears its ugly head while trying to keep some of the more lighthearted elements in place. Instead of adding a sense of realism, the tonal shift takes something away from the loose, entertaining vibe that's effortlessly established from the beginning, making a running gag involving Kaja's son acting as a slavemaster to Elizabeth and Sigve's adopted child deeply troubling, especially when there's no real payoff, and the film's resolution stumbles towards poignancy, though it seems as though Sewitsky felt the need to say something important to counterbalance the film's silliness.
Cultural differences may contribute to the film's feeling of unevenness as it travels abroad, but it's interesting to note that both "Happy, Happy" and the aforementioned "Turn Me On, Goddammit" were directed by first-time directors who may overcompensate with quirk to sneak in some genuinely provocative heroines who take control over their own destiny. In both cases, it's arguable that the filmmakers share the confidence issues of their protagonists, a product of inexperience and wispy plotting, though likewise, each claims a small victory in simply breaking away from the pack. Clearly, coming out of the cold means more than just the snow outside in "Happy, Happy" and the warmth of Sewitsky's debut drifts in as a welcome breeze.
"Happy, Happy" currently does not have U.S. distribution. It will play the Seattle Film Festival tonight at 8:30.