Hans Zimmer And Rodrigo y Gabriela On "Stranger Tides" Soundtrack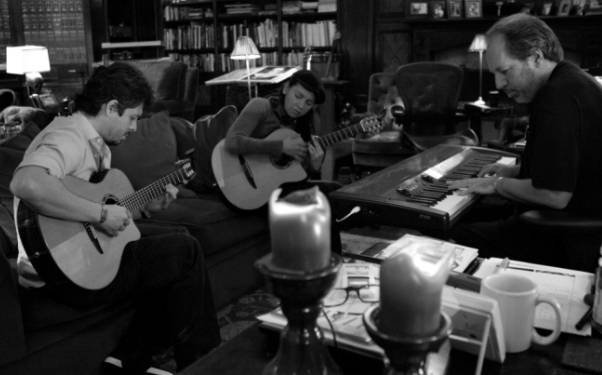 Posted by Brandon Kim on
For his latest "Pirates of the Caribbean" score, Hans Zimmer, who has scored all four, turned to Rodrigo y Gabriela for some Flamenco inspired, action guitar work. KCRW has premiered a track the three of them created for the "Pirates of the Caribbean: On Stranger Tides" soundtrack called "The Pirate That Should Not Be," thick with dueling Spanish guitars.
"The way we are working is, three of us sitting in the room and I play average keyboards and they play brilliant guitars, and we're writing cues together," Zimmer told KCRW's Jason Bentley earlier this year. "You know, there is a force and a ferocity about their sound.
You know my life is really about sequels at the moment, I have 'Pirates' four into 'Kung Fu Panda' two, into 'Sherlock Holmes' two and of course Chris is working on another 'Batman' movie. So that's really my life, so what I'm trying to do is, I'm trying to go and figure out how we can bring something new to the party each time," he added in that amazing Frankfurt lisp.
Zimmer was inspired to bring the Latin flavor to the soundtrack because of Penelope Cruz, who stars in "On Stranger Tides," due to hit theaters later this month. Rodrigo y Gabriela collaborated with Zimmer on five tracks — including "The Pirate That Should Not Be" which you can listen to here.