Hands-On Preview: "Green Lantern: Rise of the Manhunters"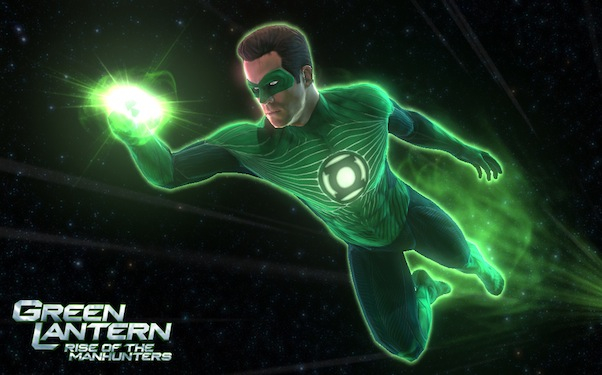 Posted by Evan Narcisse on
The thing you may not get from the trailers for inbound summer blockbuster Green Lantern is how big the mythos surrounding the DC Comics' character is. Hal Jordan's publishing history stretches back the 1960s and the Ryan Reynolds vehicle taps into more recent storylines about the willpower-wielding space cop. In case you're not up on this particular superhero, fighter pilot Hal Jordan becomes a Green Lantern–one of thousands of ring-wearing cosmic policemen–after the alien responsible for Earth's sector crashes near his test site. The ring Jordan inherits lets him channel his willpower into energy constructs and force blasts, which he uses to battle threats on Earth and in outer space.
Developed by Double Helix, the game tethered to "Green Lantern" veers away from the plot of the movie and uses another piece of GL lore as the basis for its action. The Manhunters in the title were the first attempt at a galactic peace-keeping force by the enigmatic Guardians of the Universe. Problem with that is the all-robot army concluded they needed to destroy all organic life to eradicate evil. Efficient, that. In the game, the Manhunters mount an invasion of Oa, the planet which serves as the Green Lantern Corps home base. The "Green Lantern" game supports co-operative play, meaning you and a friend can tear through it at the same time.
"Rise of the Manhunters" plays as a hybrid between third-person brawler and on-rails shooter. Your flying only happens in specific levels where you dodge oncoming asteroids and Manhunter attacks while blasting away at enemy ships. You can select multiple targets while in this mode and release the button to unleash streams of energy that will obliterate enemies onscreen. The ground combat shows off some familiar uses of the power ring's energy, as you could summon constructs of oversized pincers, machine guns and fists. I especially had fun with the giant green baseball bat I could whack at enemies with. As you level up, your Green Lantern can unlock new constructs to wield in battle.
Based on the breezy, robot-smashing fun I had with it, "Green Lantern: Rise of the Manhunters" might even be the class of the tie-in games attached to superhero movies this summer. Fans of the comics and the upcoming movie will get their chance to go green when the game hits on June 7th.