Gritty First-Person Shooter Being Built in Cuddly Ol' "LittleBigPlanet 2"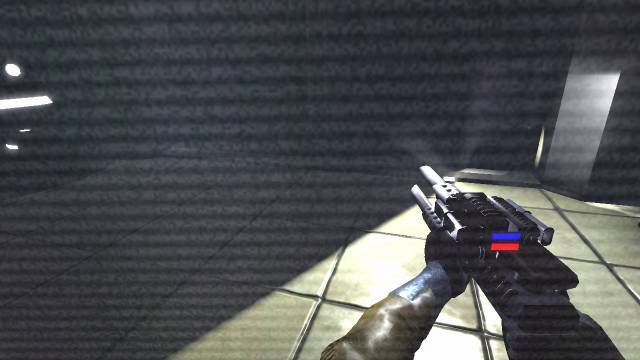 Posted by Evan Narcisse on
"LittleBigPlanet 2." It's the game that keeps on giving. First, the game on the disc gives you a cute, inventive adventure to romp through that also serves as a paean to creativity. Second, "LBP2" offers a robust suite of tools to execute your own ideas and–via the PlayStation Network–easy access to a robust community doing the same. Since the game came out late last year, developer Media Molecule's claim has been that talented users could use it to not just make new levels but whole new games as well.
"LBP2″'s spawned a lot of homages to other games and even to the work of artist Mathew Barney. But they've all had a certain level of commonality. The structure of these–side-scrolling platformers–was similar to "LBP2" story mode and the tone of inspired-by levels homes in on a cute-for-cute's sake vibe that tracks back to the "LBP" aesthetic, too.
User Steve_Big_Guns is going for something different. A freshly released trailer for a level he's working on reveals a brooding, first-person shooter experience vastly different than the majority of the hippy-dippy levels. Though you can access it through "LittleBigPlanet 2," "Massive Epic Raging Destruction" isn't playable yet. It just gives a glimpse of work-in-progress but still generates a bit of ideological whiplash when you think about it being made in one of the most non-threatening games around. "LBP2" allows for some playing around with depth-of-field, but most user-generated levels hew to the 2D side-scroller template. The big innovation with Steve_Big_Guns' work in "M.E.R.D." is that it appears to be taking place in a 3D environment. If you've ever tried to build even a 2D sequence in an "LBP" game, then you know that the level of crafting here must be mind-boggling.
FPSes are some of the most cliché-ridden games around, full of recycled gameplay ideas, settings and plots. Who knows if "M.E.R.D." will try to work around any of these when it's done, but the action it contains might feel fresher simply by virtue of its provenance. There's going to be a little voice in the back of your head that will keep saying, "I can't believe this was made with LittleBigPlanet 2." No matter how Steve_Big_Guns' efforts shape up, the building of a thing with another thing that wasn't made to create it seems like reward enough.