Get Ready For "The Exorcist" On Stage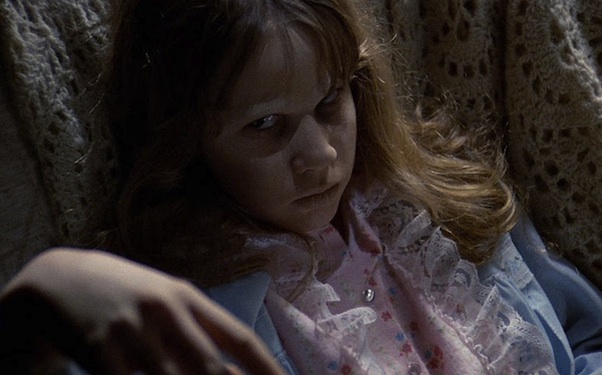 Posted by Matt Singer on
Tragedy tomorrow, pea soup tonight! The New York Times' ArtsBeat reports that the classic 1973 film "The Exorcist" — or at least the classic 1971 novel "The Exorcist" that inspired the 1973 film "The Exorcist" — is being mounted as a stage play for the first time at Los Angeles' Geffen Playhouse.
Now before you get all "Ah! 'Carrie: The Musical!' Unclean!" on me, let's be clear: "The Exorcist" is not a musical (thank God, or in this case Satan). So cast any thoughts of Father Merrin doing a soft shoe as he sprinkles Regan with holy water out of our mind. Actually wait, before you cast any thoughts out of your mind: what song would you rather hear from an "Exorcist" musical: "The Power of Christ Compels You!" or
"Your Mother Sucks It In Hell (Regan's Lament)?" Yeah, me too.
At this point I'd like to encourage you to get all "Ah! 'Carrie: The Musical!' Unclean!" by reading a post I wrote a few months ago about weird Broadway musical adaptations in honor of "Spider-Man: Turn Off the Dark" which, coincidence of coincidences, is reopening in its new less Taymory version tonight at the Foxwoods Theater. I'm being very silly here, but as Giffen managing director Ken Novice explains The Times' Erik Piepenburg, they're planning a very dark show based on the original vision of author William Peter Blatty:
"The novel has a different take than the movie," he said. "There's a focus on the psychological aspects and questions of faith. The idea is to focus on those two elements as opposed to big special effects, or trying to create horror on stage in the way you would do for a movie."
Sounds like bad news for folks hoping to sit in the pea soup splash zone ("I think it's going to be more powerful than green pudding and spinning heads," says Novice). The play does have a good pedigree, though: it's being adapted by "Agnes of God" writer John Pielmeier and directed by John Doyle. The show opens in Los Angeles on July 3 of next year. And presumably, if it's successful, we'll get "The Exorcist On Ice!" sometime in 2013.