"Florent: Queen of the Meat Market," Reviewed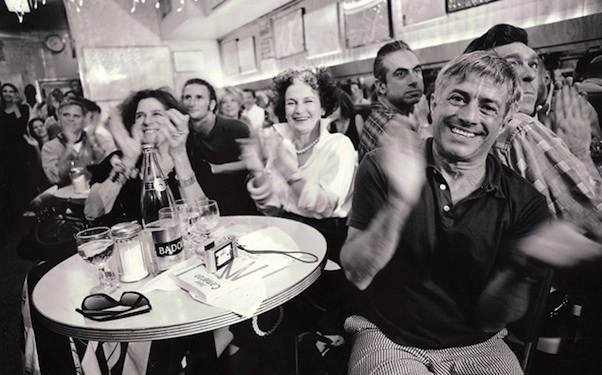 Posted by Matt Singer on
Jeez, this is one hell of a restaurant.
Restaurant Florent, to be exact, a funky diner-slash-brasserie-slash-bistro in New York's Meatpacking District. Owned and operated by French transplant Florent Morellet since the mid-1980s, the place was a haven for artists, eccentrics, outsiders, and regular neighborhood folks for several decades. As the documentary "Florent: Queen of the Meat Market" opens, all sorts of celebrities and cultural elites pay homage to the place, many of them standing right in front of the restaurant. That's where we see the stencil on the window: "Serving 24/7 until the bitter(sweet) end: June 29." And then below it in all capital letters: "AU REVOIR." So we know this movie does not have a happy ending.
The story of "Florent" is a story of New York City; in other words, a story of change. When Morellet moved to the Meatpacking District it was still a working meat market. Almost singlehandedly, according to this film and the people in it, Morellet turned the area into the coolest place in town. Whether that is overstating the case, it's clear that Morellet is a true renaissance man: a restauranteur, a political advocate, a cartographer, an artist, a philanthropist, even a children's book author. He's also got at least a few contradictions at his core: he loves preserving and restoring old things (like his diner, which he bought from its original owners, or the largest fireboat on the eastern seaboard, which he bought from the FDNY), but he hates nostalgia in all its forms. Given how intensely nostalgic this film is for his restaurant and for the days when the Meat Packing District was a haven for artists instead of yuppies, I wonder how he feels about it.
Yes, here's yet another disaster we can blame on yuppies. Morellet was ultimately a victim of his own success; the transformation he helped create in the neighborhood eventually priced him out of his own restaurant. It's a familiar story these days. Earlier this week the Upper East Side institution Elaine's announced it, too, was closing after decades in the business. These amazing, unique places make it safe for banks and stores and cupcake bakeries; once they've brought in the money, they're given the boot.
Director David Sigal lets his affection for Florent shine through, and he's assembled a truly impressive list of celebrity testimonials, from Julianne Moore to Diane von Furstenberg to Isaac Mizrahi. His one mistake, I think, is to backload all of the actual narrative in the film — Morellet's struggle to renew his expiring lease, his eventual decision to close, and his six week celebration of the artists and customers who made his restaurant special — into his documentary's final 20 minutes. The rest of "Florent" is one endless series of talking heads and quirky anecdotes. It may have made more sense to organize the entire film around the closing, which then becomes the impetus to journey through the place's history. It also would have been nice to see more of Morellet living his day to day life, rather than just constantly explaining what his day to day life is like. For documentary about such an unusual man, this is not a very unusual film.
Still, it is a fairly entertaining one, and for New Yorkers, a good conversation starter on the state of our city. Should we preserve places like the Meat Packing District? Or do we let progress and prosperity take their course? Maybe the most interesting thing about "Florent" is the fact that the film and its subject might have totally different answers to these questions.