Five Movie Franchises That Deserve the Lego Game Treatment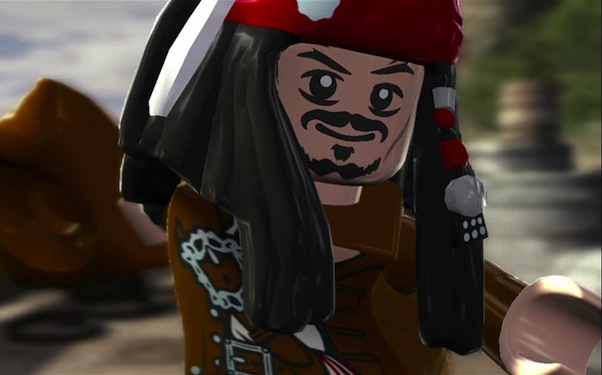 Posted by Evan Narcisse on
Anyone who's ever brought and played through a licensed property or movie tie-in game–especially the ones aimed at kids–knows that they are the devil's own coding. The shoehorned sensibilities, unoriginal design and general trying-to-hard vibe not only make you want to smash whatever console you play them on, they drain any enthusiasm you might have had for the movie they're based on.
However, the glowing exception to this experience has been the various Lego action/adventure titles of the last few years. Development studio Travelers Tales has made winning games out of the mythos of Batman, Harry Potter Indiana Jones, both "Star Wars" trilogies and the "Star Wars Clone Wars" cartoon series. They've all been fun, pick-up-and-play experiences that turn the worlds of the central characters into hilarious, breakaway brick playgrounds. The characters don't talk so they act out pivotal moments in the mythos with mime-like physical action. For example, when Darth Vader has to tell that he's his father, the Dark Lord of the Sith whips out a Polaroid of him-as-Anakin and Padme.
Like any good Lego experience, you get to collect bricks and build things in the assorted Travelers Tales games. Usually, the buildables are vehicles or gadgets but "Lego Indy 2" had a deep crafting system that let you play with the environment, too.
To celebrate the release of "Lego Pirates of the Caribbean" this week, a few humble suggestions follow as to what other entertainment franchises would make great Lego games. One big caveat: Travelers Tales was brought by Warner Bros. a few years back, meaning that the majority of their future work will likely be WB prperties. Still, a gamer can dream, can't he?
"The Fast & the Furious"
Let's face it, for all the too-cool street racing drama, the "F&F" movies are basically superhero films where driving is the superpower. A Lego version of the NOS-fueled films would maintain the car fetish that runs through all of them, with players collecting Lego studs to build blocky versions of the high-powered autos. Best of all, crashed cars wouldn't be a tragedy in "Lego F&F;" they'd just get rebuilt with a few button presses.
"Karate Kid"
There've been four wildly different movies that have borne the Karate Kid name and The Lego games so far have been mostly platformers, with run-jump-shoot action. "Lego KK" would give players a chance to see what a fighting game with the snap-together sensibilities would look and play like. Punching somebody's head off would literally be punching somebody's head off. And the laughs to be had in translating the various training sequences and big showdowns would surely be comedic gold. I'm guessing the Sweep the Leg, Johnny scene would have to involve a broom.
"James Bond"
If the Lego games specialize in one thing, it's cheeky humor. Excepting the deadly grimness of the current Daniel Craig incarnation, all of the onscreen incarnations of Ian Fleming's superspy have had healthy doses of sarcasm. That's right in line with the Traveller's Tales Lego vibe. The gadgets and fantastic vehicles of 007's world would fit perfectly in the established template, not to mention all the exotic lairs, locales and hideouts of the various Bond villains. The often racy antics of James Bond would have to be toned down but who doesn't want to face off against a Lego Jaws or Chop Chop?
"Zorro"
Traveller's Tales always manages to put in a lot of visual flourish to the animation of their stubby-limbed Lego-fied characters and they'd put that to good use in a game starring the 19th Century masked swordsman. The developers could mix and match the best parts of the many interpretations of Don Diego's swashbuckling alter ego, with levels built around horseback riding, swordfighting and whip-wielding. Carving that 'Z' into the blocky torso of an old-timey Spaniard bad guy would be too much fun.
"Howl's Moving Castle"
Real-world Lego play always involves copious amounts of imagination and the oeuvre of animation maestro Hayao Miyazaki sports the same wild-eyed dreaming as that of a kid playing with those timeless colored bricks. In particular, "Howl's Moving Castle" offers the kind of grand sweep that Traveller's Tales have gotten really good at portraying in their games, with "Lego Star Wars III: The Clone Wars" as the best recent example. The modernized fairytale aesthetic of "Howl's" would give TT a chance to stretch their legs artistically and the darker textures of the movie would be great for slightly older kids to gobble up in playable form.