First Taste of Hotly Anticipated PS3 Exclusive "Resistance 3" Arrives on "Battle: Los Angeles" Blu-ray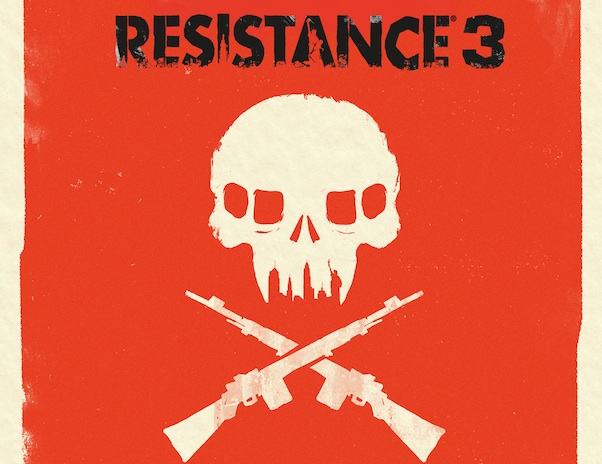 Posted by Evan Narcisse on
As much as I love seeing Michelle Rodriguez reprise her tough-gal shtick anyplace or anytime, I didn't see "Battle: Los Angeles" in theaters. The Jonathan Liebsman-directed action flick seemed to be applying a huge slathering of special effects to the "District 9" template, but without the charm of the sci-fi indie darling. Having said that, I'm looking forward to the film's home video release on June 14th.
That's because the Blu-ray version of "Battle: LA" will include a playable demo of upcoming PS3 game "Resistance 3." The very existence of the threequel was outed way back in October 2009, when principal photography for the Sony Pictures project was happening. A huge billboard bearing the name "Resistance 3" were spotted by set-watchers long before anything official came down the pike.
Months later, the game was announced with this awesomely bluesy trailer you see before you. Sony's nurtured the "Resistance" series ever since the launch of the PS3 in 2006. Developed by acclaimed studio Insomniac Games, the FPS games take place in an alternate reality where WWII never happened and a viral alien invasion sweeps through Europe. They're known for their inventive weaponry– which mixes human and alien tech for some really fun-to-use capabilities–and for giving players a horror-inflected tour of 1950s Americana gone horribly wrong as the extraterrestrial Chimera overrun the United States.
"Resistance 3" introduces a new protagonist, dishonorably discharged soldier Joseph Capelli. Capelli's been hiding out away from the front lines with his family, but crosses the heartland from from Oklahoma to New York City to deliver a new scientific breakthrough arrives that could change the tide of the war. The 30-minute demo on the Blu-ray takes Capelli on a boat ride under attack by the Chimera, but offers players power-ups that won't be available during that part of the final game. The difficulty's turned down, too, so don't go thinking that the game's going to be a cakewalk.
So, the thematic similarities–ordinary lives upended by alien invasion–do make placing a demo of "Resistance 3" on the a natural fit, along with the fact that Sony's film and game divisions are part of the same big family. I'm not going to offer opinions on which plain-folks-vs.-bug-uglies saga will be more entertaining, but will say that only one will let me wield a gun with bullets that track its targets behind cover. And only one of this discs will be adorned by the distinctive art of British artist Olly Moss. Advantage: "Resistance 3,"
methinks.