"Everything Must Go," Reviewed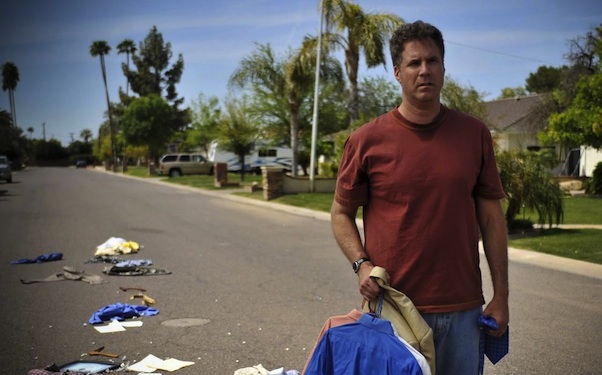 Posted by Matt Singer on
There is a scene in every Will Ferrell movie where Ferrell's character hits rock bottom and all the puffed-up narcissism gets stripped away to reveal the pathetic loser underneath. Ron Burgundy gets fired, grows a beard, and drinks milk in the hot San Diego sun. Ricky Bobby loses his wife to his best friend, becomes terrified of his race car, and watches a French driver replace him as NASCAR's hottest star. Brennan Huff is forced to get a job, wear a tie, and plan the largest helicopter leasing event in the Western hemisphere. Ferrell's new movie, "Everything Must Go," is that scene stretched out to feature length. In one terrible day, Ferrell's Nick Halsey gets fired from his job, left by his wife, and locked out of his house. With no money — his wife has cancelled his credit cards and frozen their joint bank account — and nowhere to go, he reacquaints himself with his alcoholism and hangs out on his lawn, where his wife has dumped all his earthly possessions.
All the earlier Ferrell movies I mentioned above were comedies. "Everything Must Go" is certainly funny, but it's more a sensitive drama with the occasional jolt of humor by Ferrell, who's playing a man a lot closer to the "I drive a Dodge Stratus!" dude than Robert Goulet. The biggest joke in the movie isn't a joke at all, it's a simple, wordless look Ferrell gives to another man after he's been caught with his pants down. That single look really sums up what sort of film "Everything Must Go" is in a nutshell: quiet and knowing.
I do not subscribe to the theory that drama is more valuable than comedy, or that quote-unquote serious actors are more important than comedic ones. As a well-established Ferrell apologist, I would be quite content to watch him do bread-and-butter broad comedies until the end of time, and to be perfectly honest if he's going to make me cry, I'd rather he was doing it by making me laugh so hard that I can't breathe. But nevertheless, Ferrell gives a very good performance here, sad without being saccharine and never showy in that "Look at me! I'm an actor now!" sort of way. I hope we don't lose Papa Burgundy. But I wouldn't mind seeing more of Nick Halsey occasionally as well.
Halsey's neighbors aren't too keen to watch a guy drink himself into oblivion on his front lawn, but fortunately for Nick his AA sponsor Frank (Michael Peña) works for the local police department. He finds a loophole in the law that says anyone can operate a yard sale for five straight days before the police can shut them down. Which means Nick now has five days to get rid of the crap on his lawn, get himself together, and find something to do with his life. With no car, no phone, and no house that won't be easy.
Besides Frank, Nick's only human connections are two other lonely members of the Phoenix suburbs. There's Samantha (Rebecca Hall), a pregnant woman who's moved out West without her husband to get their house in order while he finishes up some business back in New York City. And then there's Kenny (Christopher Jordan Wallace, son of the Notorious B.I.G. and Faith Evans), who's alone all day while his mother works as a nurse. You might think you know what to expect from these relationships, but the screenplay by first-time director Dan Rush from a short story by Raymond Carver, might surprise you.
There are some exchanges in "Everything Must Go" that are big and dramatic in a way that feels more like beats from a screenwriting manual than conversations pulled from real life; we definitely didn't need to hear Nick scream "I'm no different than any of you, I just don't hide in my house!" to his neighbors, for example. The movie works much better in minor keys, letting Ferrell plaintively riff on his established persona while bouncing off his fine supporting cast. The finest sequence is perhaps the least consequential to the narrative. Nick finds a sweet dedication in his high school yearbook and seeks out the woman who wrote it. The friend, a single mother who lives nearby, is played wonderfully by Laura Dern. Their scene, about life's adventures and disappointments, is awkward and tender and beautifully melancholy.
Dern's character says that good without bad ain't no good at all. So perhaps "Everything Must Go"'s minor flaws serve to accentuate just how precise and moving the rest of it is. It begins where most Will Ferrell movies end. It could be the beginning of a whole new phase of his career.