Ebertfest, Days Three and Four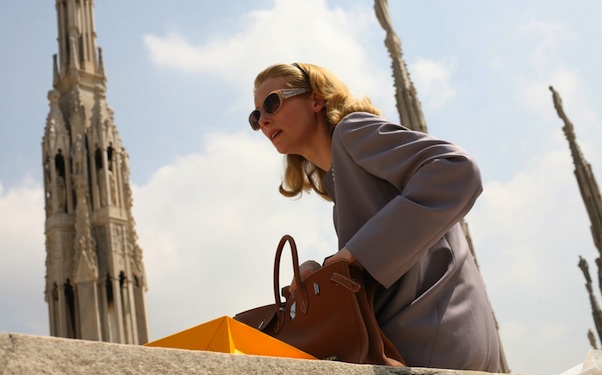 Posted by Matt Singer on
The movie beat can be a lonely job. Even in a theater with hundreds of people, the film critic is alone in the dark. But personally, I find that the real joy of movies come from sharing them with others. Host Chaz Ebert asserted several times from the stage of the Virginia Theatre that Ebertfest is "all about the movies." But after my first trip to the festival, I would say it's an event as much about a community of movie lovers as the movies themselves.
As Tilda Swinton, star of Ebertfest selection "I Am Love" noted during her Q&A, festivals are about "the collective experience." It's even more true at Ebertfest than at most other film festivals I've attended. Bigger festivals sprawl over numerous venues with dozens of movies: two people could spend the same amount of time at Sundance or Toronto and have two entirely different experiences. At Ebertfest everyone from the filmmakers to the critics to the fans spend the entire week in one room watching the same movies. At night, you go to a bar or a restaurant or somebody's house and talk about what you've watched. Maybe ironically, maybe intentionally, the ideas of loneliness and community were present in many of this year's Ebertfest lineup. Several were about isolated characters on literal or metaphorical journeys of self-discovery, like "Natural Selection," "Umberto D.," "Only You," and "Tiny Furniture."
Swinton's "I Am Love" is another perfect example. She plays Emma, the matriarch of a wealthy Italian family. Emma comes from Russia where she met her husband Tancredi (Pippo Delbono), who brought her back with him to Milan. Many years later the couple has three children and an impossibly opulent mansion (for fans of pocket doors, this movie is borderline pornographic). But Emma's life, though well-appointed, is cold and hollow. That changes when she meets Antonio (Edoardo Gabbriellini), a talented young chef who's a friend of her son. His cuisine kickstarts her long dormant passions, and reconnects her with the glorious people and natural beauty of Italy.
Emma's transformation is similar to the one undertaken by Edward Norton in "Leaves of Grass," which preceded "I Am Love" on Saturday night at Eberfest. Norton actually plays two roles, twin brothers who lead vastly different lives; classics professor Bill has the Emma-ish part. Bill's dedicated himself to a life of temperance of the kind advocated by the ancient philosophers he studies. But when his pot dealing brother Brady calls him back to their hometown in Oklahoma, Bill is forced to confront many of his ideas about the correct way to life your life.
I'd seen both "I Am Love" and "Leaves of Grass" before Ebertfest and I admit I wasn't the biggest fan of either film. Of the two, "I Am Love" improved the most on second viewing. During the Q&A, Swinton joked that she believes cinema went downhill when people in movies started talking to one another. That emphasis on visual storytelling is clearly present in the film; now that I knew the essential outline of its plot, I found myself paying less attention to the subtitles. I still remain dubious about some of the twists in the final act — a character receives an implausible death as a convenient way of pushing Emma to complete her metamorphosis from rigid Italian housewife to free-spirited lover — but that feels like less of a weakness after you stop thinking about the words and simply give in to the film's dreamlike atmosphere.
"Leaves of Grass" is a more curious film. On second viewing, it's clear how frequently and how early writer/director Tim Blake Nelson foreshadows the shocking developments that suddenly flip the film from genial Southern comedy to dark crime story (you can read my original review here). The word that comes up a lot about Brady's pot growing business is "hybridization," because he's created this amazingly potent hybrid pot varietal. Obviously "Leaves of Grass" is a hybridization as well. But Brady also makes mention that his pot is the seventh generation of that hybrid; it's gone through this lengthy and rigorous trial and error process to arrive at this THC masterpiece. Maybe the problem with "Leaves of Grass" is that it doesn't feel like it's been tested quite so rigorously. There are prominent subplots about Judaism and anti-Semitism that don't really connect in any way to the rest of the film, other than the fact that Nelson himself is Jewish and was speaking from a personal place about his life experiences. Everything he feels deeply about, from poetry to marijuana to crossbows, is in this movie, for better and for worse. If ever a film could be too personal for its own good, "Leaves of Grass" might be it.
Also personal in a far more profound way was my favorite film of Ebertfest, the documentary "45365" from brothers Bill and Turner Ross. A modern, small-town version of the city symphonies of the 1920s, it's a survey of the people of the Ross' home of Sidney, Ohio. The cops and criminals, the elderly and the young, they're all presented in incredibly detail. There's no narrative, just a series of small observational sketches about the various constituents of Sidney, all connected through brilliant visual and aural transitions like trains and music played on various car stereos from the local radio station. Though this is a film about a community, loneliness plays a role here as well, most movingly in the scenes about a high school girl who spends all of her time on the phone with a jealous boyfriend who never seems to be around when she needs him.
"45365" uses unlicensed music from Sidney's local radio station, which means the film can only play at non-profits, museums, and festivals like Ebertfest. It is a shame the movie can't reach a wider audience, since it is one of the most beautiful and relatable films about small town life that I've ever seen. At least we lucky few at Ebertfest were able to see it and share it with one another, discussing it after the screening and comparing our own stories of life in our own hometowns. I hope I get to go back to future iterations of Ebertfest, both for the great films and the great people. The films are there to restore out faith in cinema; the people are there to restore our faith in the love of cinema.