Double Fine's "Trenched" Blows Stuff Up on June 22nd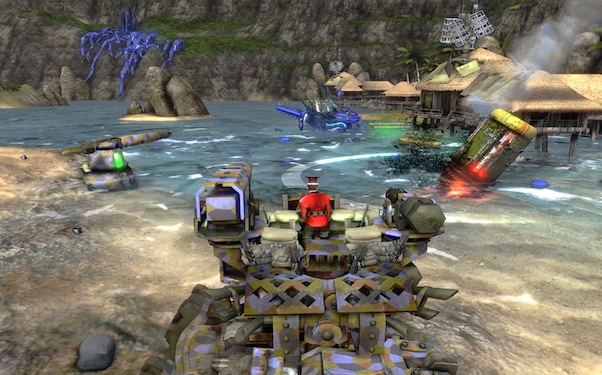 Posted by Evan Narcisse on
On the whole, the games produced by Double Fine can be generally categorized as sweet, even poignant experiences. "Psychonauts" uses the interior landscapes of peoples' minds as a setting for adventure and coming-of-age, "Costume Quest" evokes the childhood fun of Halloween dress-up and imaginative play and the Russian doll tomfoolery of "Stacked" hid a family drama inside of one of its layers. Even heavy-metal homage "Brutal Legend" was about Eddie Riggs finding an alternate universe where a roadie could be a hero.
But there's nothing sweet about "Trenched." The latest game by the studio founder by Tim Schafer puts players inside a grinding war of attrition where only explosive firepower and strategic cunning can win the day. You play as a member of the Mobile Trench Brigade, soldiers who pilot gigantic mech suits on an old-timey battlefield against the threat of Monovision. You can see the game's first cutscene, which sets up the story and the world, below:
The game seems to be taking on a what-if narrative where, in this case, advanced technology arrives before humanity's necessarily ready to handle it. The monovision appears to be riffing on television, making real the fears that new-fangled invention would rot our brains and run riot over the world. Brad Muir's the game's project lead and "Trenched"'s game mechanics combine tank-like combat and the careful placement of automatic armaments who do some of the enemy killing for you.
So, yeah: manliness from Double Fine. The other great thing about "Trenched" is that it's the indie studio's third game in less than twelve months, an impressive feat of productivity designed to take advantage of download services like Steam, Xbox Live and PlayStation Network. A different studio member led development in each case, resulting in wildly different experiences that nevertheless all have that signature Double Fine whimsy. "Trenched" comes out on June 22. Get ready to enlist, son.