David O. Russell Leaves "Uncharted" Movie Project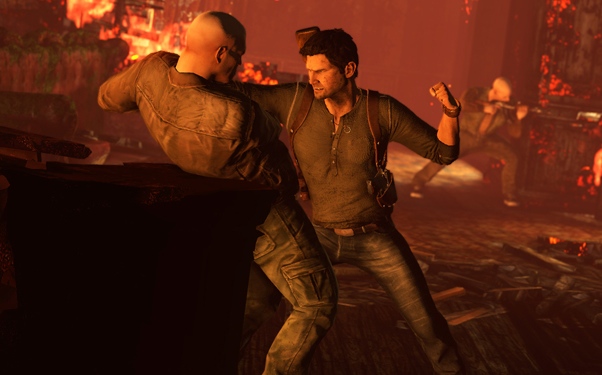 Posted by Evan Narcisse on
It's hard to really say that fans of the "Uncharted" games were looking forward to the in-development film adaptation of the adventures of Nathan Drake.
There's been a two-fold controversy surrounding the project. Nerd darling Nathan Fillion's name had been bandied about and fantasized as an on-screen version of Drake for a while. He'd won hearts both male and female in various Joss Whedon productions and in ABC's "Castle." Fillion's strapping, charming and an avid gamer, too. So, when the one-of-us campaign got derailed by reports that Mark Wahlberg would get the nod as the treasure hunter, geek enthusiasm for an "Uncharted" movie took a big hit.
Then, word got out about the take that David O. Russell's take on the "Uncharted" mythos. Russell supposedly wanted to turn the devil-may-care adventurer's saga in to a family drama–with Robert DeNiro and Joe Pesci as fellow Drakes?–about a secret cadre of enforcers amongst the antiquities and elite classes. Not that the plots of the "Uncharted" games have ever been more than straightforward action narrative, but Russell's take seemed to care nothing about even nodding at the source material. Cue a second round of nerd inferno.
Thankfully, PS3 fans can break out the fire hoses and extinguish their smoldering resentment. Variety reports that Russell's leaving the yet-to-lens project over "creative differences" with Sony Pictures. The write-up speculates that "Uncharted" may go all the way back to the drawing board, jettisoning the previous script and the likelihood that Wahlberg, DeNiro or Pesci will be sticking around for another director's vision.
While gamers may be breathing a sigh of relief, it's worth considering that Russell isn't exactly a horrible filmmaker. His sin seems to be not being interested in making the movie "Uncharted" fans want to see. Better still, if pressed, those fans probably couldn't tell what kind of movie they'd want. A standard response might be something more like the games, but movies that ape games–and vice versa–can't make use of the inherent strengths of each medium. Anyway, whether you want a "Uncharted" movie or not, the game franchise is in robust health with "Uncharted 3: Drake's Deception" due out this November. Chances are, no one's going complain about the creative direction on that project.