Cronenberg's "A Dangerous Method" To Play Venice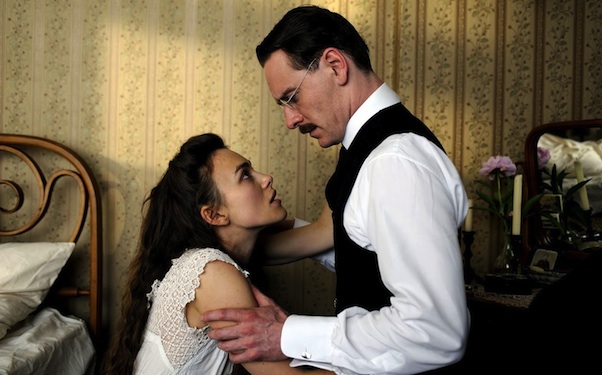 Posted by Matt Singer on
Variety reports that David Cronenberg's "A Dangerous Method" will premiere at the 68th Venice Film Festival, which begins on August 31. The film, Cronenberg's first since 2007's "Eastern Promises," stars his frequent collaborator Viggo Mortensen as Sigmund Freud, Michael Fassbender as Carl Jung, and Keira Knightley as the woman they both want. I can't decide; do I go with the "Paging Dr. Freud" joke or the "Tell me about your mother" joke here? Decisions, decisions…
According to Variety, the Venice lineup will also include Roman Polanski's "Carnage" (based on the Tony Award-winning play "God of Carnage"), Aleksandr Sokurov's "Faust," Cameron Crowe's documentary on Pearl Jam, Jonathan Demme's doc on Hurricane Katrina, Yorgos Lanthimos' "Dogtooth" follow-up "Alps," Steve McQueen's "Hunger" follow-up "Shame," and the latest from Todd Solondz, "Dark Horse." It's the first I've heard of that one, so here's the plot summary per Wikipedia:
"Abe, a 30-something who lives with his parents, reluctantly works for his father and avidly collects toys. When Abe isn't playing backgammon with his mother, he's trying to romance Miranda, another 30-something who has moved back in with her parents after a failed literary/academic career. Out of desperation, Miranda agrees to marry Abe, and the two begin to plan their life together. But just when it looks like things are starting to go right for Abe, everything goes horribly wrong."
Sounds appropriately Solondzian, as does the cast, which includes Selma Blair, Mia Farrow, and Christopher Walken.
The final Venice lineup may also include one of two upcoming films by Steven Soderbergh — either his action thriller "Haywire" or his disease thriller "Contagion," both of which sport, ahem, sick casts — and one of two new movies from Steven Spielberg: the drama "War Horse" or his first animated film, "The Adventures of Tintin: Secret of the Unicorn," which just debuted its first teaser trailer earlier this week. My hunch tells me to bet on the latter movie for each director.
By the by, if Soderbergh's "Haywire" does get selected that would make three films featuring Michael Fassbender at the festival; besides his aforementioned role in "A Dangerous Method," he's also the star of McQueen's "Shame." And, hey, it could be still four; c'mon "X-Men: First Class!"
The 68th Venice jury will be lead by "Black Swan" director Darren Aronofsky. The rest of the movies he'll be judging will be formally announced in July.