Can't Be At Cannes 2011, Wednesday Edition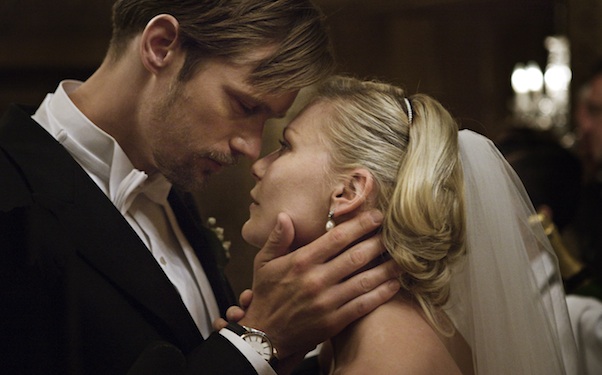 Posted by Matt Singer on
It sucks not being at the Cannes Film Festival. To keep you up-to-speed on all the latest developments with the minimum amount of pain and jealousy, we'll be providing frequent roundups of all the biggest news and best reviews. This is the third; for additional installments, along with all our Cannes coverage, can be found here.
So today at Cannes, Lars von Trier called himself a Nazi and said he sympathized with Hitler. But it's all okay, because he was joking. Oh, that hilarious rapscallion!
The comments came at the press conference after von Trier's new film "Melancholia." According to The Hollywood Reporter, von Trier was asked a question about his German roots, when the director opened his mouth and shoved his entire leg and part of his lower torso into it. But surely the whole thing was taken out of context, right? Right?
"For a long time I thought I was a Jew and I was happy to be a Jew… Then I met (Danish and Jewish director) Susanne Bier and I wasn't so happy. But then I found out I was actually a Nazi. My family were German. And that also gave me some pleasure. What can I say? I understand Hitler…I sympathize with him a bit… I don't mean I'm in favor of World War II and I'm not against Jews, not even Susanne Bier… In fact I'm very much in favor of them. All Jews. Well, Israel is a pain in the ass but… now how can I get out of this sentence? Ok. I'm a Nazi."
I, um, oh. So, not out of context. All righty then.
You do have to take anything von Trier says with a grain of salt — a grain of hateful, anti-Semitic salt. von Trier loves to mess with the press with provocative and borderline crazy statements — at his last trip to Cannes, with the film "Antichrist" in 2009, von Trier infamously boasted that he was "the best filmmaker in the world" — but this is excessive even by his batshit standards. Even if they weren't meant seriously, these comments are pretty horrible (and I didn't even include the part where von Trier "jokingly" suggested he might make a film version of "The Final Solution." This guy's a regular Jonathan Swift!). Hopefully at some point in the near future von Trier will realize what he's done, and offer a clarification (I wouldn't hold my breath for an apology). Chaos is supposed to reign, Lars, not stupidity.
So while its director has me in a melancholy mood, let's turn to the reaction to "Melancholia." A lot of comparisons are being drawn to Malick's "The Tree of Life," with their similar conflations of family and cosmic dramas, and the divisive reactions they're drawing from critics. It kind of looks like battle lines are being drawn: Team Malick and Team LVT. THR's Todd McCarthy, a major "Tree of Life" partisan, dismissed "Melancholia," saying it turns "the end of the world into a bit of a bore," while Jim Hoberman from The Village Voice, a major "Tree of Life" hater, says that von Trier's apocalyptic film made him feel "light, rejuvenated and unconscionably happy."
Reviews look split about 65-35 in von Trier's favor, but everyone seems to agree the movie looks amazing. Movieline's Stephanie Zacharek:
"These are somber, glorious images: They incite both dread and shivery anticipation — the effect is that of gazing deep into the sugar Easter Egg of doom. What, exactly, is von Trier trying to say here? 'Antichrist' was a scream of pain; 'Melancholia' is more like a heavy sigh, a gasp at the horrible wonder of it all. It isn't nearly as somber as its title would lead you to believe, and it's so beautiful to look at that it feels decadent, almost luxurious."
Decadent, luxurious and, no doubt, very German.
UPDATE: The Film Society of Lincoln Center's blog has a statement on von Trier from the Cannes Film Festival, which also includes an apology. It reads:
"The Festival de Cannes was disturbed about the statements made by Lars von Trier in his press conference this morning in Cannes. Therefore the Festival asked him to provide an explanation for his comments. The director states that he let himself be egged on by a provocation. He presents his apology. The direction of the Festival acknowledges this and is passing on Lars von Trier's apology. The Festival is adamant that it would never allow the event to become the forum for such pronouncements on such subjects."