Can't Be At Cannes 2011, Tuesday Edition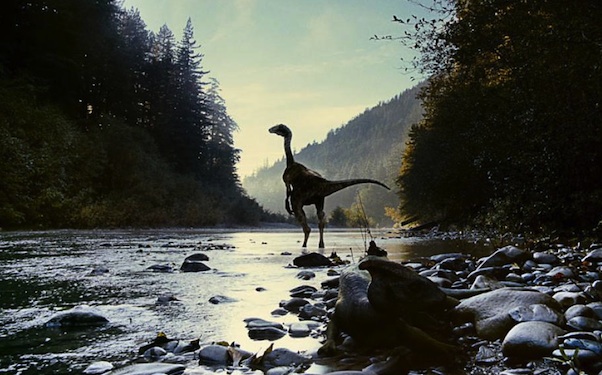 Posted by Matt Singer on
It sucks not being at the Cannes Film Festival. To keep you up-to-speed on all the latest developments with the minimum amount of pain and jealousy, we'll be providing frequent roundups of all the biggest news and best reviews. This is the third; for additional installments, along with all our Cannes coverage, can be found here.
Drew McWeeny's lead to his review of Terrence Malick's "The Tree of Life" on HitFix is a perfect summary of the press corps' reaction to the long-awaited, deified-before-it-was-even-released film:
"This is what happens when we turn our filmmakers into religious figures."
Indeed, critical response to Malick's fifth film has divided Cannes into true believers and atheists. McWeeny falls into the later category, describing "Tree of Life" as "a pretty crushing disappointment" that's "a beautiful, at times infuriating, undeniably indulgent new effort that comes dangerously close to self-parody." He is not alone either. J. Hoberman from The Village Voice wrote one of the earliest and harshest critiques of the film so far:
"'The Tree of Life' has plenty of incident but, despite Pitt's memorably bullying performance, very little human interest. (The best bit has a bunch of boys launching a frog in a bottle rocket.) Malick's craftsmanship may be everywhere evident but, however flashy and intermittently beautiful, his filmmaking can be shockingly banal. Inspired scenes (a toddler relating to a baby) or shots (a mega close-up of a can kicked out of the frame) arrive as morsels floating in the movie's primeval soup… 'The Tree of Life' is less profound than profoundly eccentric, while too solemn, pompous, and genteel to be truly crazy. The movie disengages the mind, even as it dulls the senses."
All the the religious metaphors are particularly apt here because the film itself is apparently something of a cinematic prayer. In The New York Times, Manohla Dargis says Malick "seeks to affirm the beauty of a world in which God is present in all things." She also gives us more of a plot description without encroaching into too many specifics.
"Running 2 hours 18 minutes, it is a personal, impressionistic work — beautiful, nonlinear, trippy, flawed — that unfolds largely in fragmented flashbacks, tracing not only the arc of a single life but also that of creation itself. As the title suggests, Mr. Malick has nothing less in mind than the origin of life, a beginning (or Beginning) in which vaporous swirls, gurgling lava and fiery explosions give way to the sight of a meteor hitting a planet (presumably Earth), an explosive vision that Mr. Malick audaciously, riskily, joins with the image of a pregnant woman's belly."
Given the intensity of people's excitement, vitriol was inevitable. Salon's Andrew O'Hehir has one of the more refreshingly measured responses to the film, which includes an acknowledgement that "'Tree of Life' was bid up way too high in pre-Cannes speculation, and was bound to disappoint many people." He also addresses the film's parallels to Stanley Kubrick's "2001: A Space Odyssey," which has been a point of comparison in many early reviews:
"One of the many reasons to admire Malick is that he is far less reliant than other major directors on other people's movies. I mean, I'm sure he's seen plenty of them, but he never seems obsessed with quoting obscure genre films or sequences out of Eisenstein or Michael Powell, or making work aimed at fellow directors and their legions of fans and followers. So the fact that 'The Tree of Life' clearly has a relationship to Stanley Kubrick's '2001: A Space Odyssey' feels both deliberate and carefully considered. You could almost call it a remake or a reverse-engineered version of Kubrick's massive head-trip, one in which humanity begins in space and then returns to Earth. I'd put it this way: If the cosmic astronaut God-baby from the end of '2001' came back to earth and made a movie, this would be it."
As O'Hehir also notes, it's not just the film itself that's being fiercely debated. Immediately following the screening, the conversation shifted to exactly how the press reacted to the film. O'Hehir says that first press screening was met "by a small but lustful chorus of booing… which was then drowned out by applause." Hoberman's piece mentions boos, as does David Fear's in Time Out New York: "A symphony of loud boos, emanating from somewhere along the right side of the Théâtre Lumière's orchestra section. A round of shushing followed, then more boos, then sporadic applause." McWeeny, though tweeted earlier today his own perspective on the crowd's response: "When people say "Cannes booed 'The Tree Of Life," that's not true. I was in that screening. ONE GUY at Cannes booed the movie."
Having attended controversial screenings at the Lumiere Theatre in Cannes, I can say from experience that there is often a surprising amount of disagreement about crowd reactions to movies. After "Antichrist"'s first Cannes screening, people compared what they heard — smatterings of boos or applause or laughter — like they were examining the Zapruder film for a second gunman. And because that theater is so large, where you sit can influence the sort of reaction you hear (or have, I would argue, but that's a conversation for another time).
Let's get back to McWeeny's intro, because I think he summed the whole thing up so well. People revere Terrence Malick in a way I find slightly crazy; I spoke with several colleagues in recent months who told me, in all seriousness, that they had already pencilled in "The Tree of Life" as their favorite movie of the year. With that attitude, anything less than an absolutely masterpiece becomes a disaster.
After you wait as feverishly for a film as these Malick partisans have for "The Tree of Life," there's only a few possible reactions: genuine love; convincing yourself you loved it because you've expended so much energy in anticipation (see: many geek's initial reaction to "Star Wars: Episode I"); or disappointment at the film not living up to expectations. Though it's slightly soul-crushing not to get to be at the Cannes Film Festival, I'm kind of glad I'm getting to see "Tree of Life" after this first wave of backlash. Now that the discourse has evened out I get to see "Tree of Life" as a movie, not the movie.
Back with more tomorrow because, contrary to what Twitter might have you believe, other films have screened at Cannes in the last few days.