Can't Be At Cannes 2011, Thursday Edition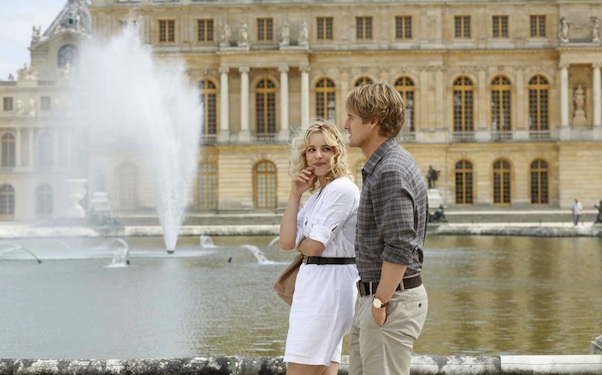 Posted by Matt Singer on
It sucks not being at the Cannes Film Festival. To keep you up-to-speed on all the latest developments with the minimum amount of pain and jealousy, we'll be providing frequent roundups of all the biggest news and best reviews. This is the first; future installments, along with all our Cannes coverage, can be found here.
Woody Allen's 458th film (estimated), "Midnight in Paris," kicked off this year's Cannes Film Festival with the best reviews of any movie the legendary auteur has made since 2005's "Match Point." Todd McCarthy from The Hollywood Reporter says the film, about a screenwriter (Owen Wilson) vacationing in Paris who discovers a way to journey back to the city circa the 1920s, has "the concision and snappy pace of Allen's best work." Stephanie Zacharek went even further over at Movieline, where she calls it "the best Allen movie in 10 years, or maybe even close to 20." What what whaaaat? I will let Stephanie explain further:
"Allen has often made a practice of pouring himself into his lead characters, sometimes with embarrassing, unwatchable results (as in the case of the aspiring comedy writer played by Jason Biggs in 'Anything Else'). Wilson is an unlikely vessel for this sort of thing — and yet he's the perfect one, illuminating some aspects of Allen's persona that have often lain dormant and others that, perhaps, Allen only wishes he had. "
If you want to spark your own Woody Allen career consideration of the sort surely going on up and down the Croisette today, you can find excerpts from the "Midnight in Paris" press conference over at Anne Thompson's blog or pour over Scott Foundas' lengthy interview with the director in LA Weekly. Foundas is on the "Midnight in Paris" bandwagon too, by the way, calling his new work "as sublimely enchanting as any Allen film since 1985's 'The Purple Rose of Cairo.'"
The one big dissenting voice on "Midnight in Paris" I've read online so far comes from Mike D'Angelo over at The A.V. Club. He wasn't a fan:
"Frankly, the Bill and Ted movies demonstrated more creativity than Allen manages here; as is often the case with his late work, I had the distinct impression that I was watching a first draft. But maybe I was just thrown off by the hideously uncharitable portrait of McAdams' anti-imaginative fiancée. Literally everything she says or does makes her out to be the world's pre-eminent killjoy (the better to drive Wilson into a romance with '20s flapper Marion Cotillard). Thirty years ago, Woody was capable of introducing Diane Keaton as an insufferable know-it-all (in 'Manhattan'), then revealing the credible human being underneath the amusing caricature. Now, not only is he content with a single dimension, he can't even be bothered to give his shrewish Wrong Gal any first-class zingers."
D'Angelo also weighs in one of the other two early heavy-hitters at Cannes, Julia Leigh's "Sleeping Beauty." We previously covered the film's intriguing trailer on IFC.com, and though D'Angelo isn't completely won over by Leigh's work (he grades it a C+ on the A.V. Club's scale) his description of its story about a sex worker played by "Sucker Punch"'s Emily Browning who "agrees to be repeatedly drugged into unconsciousness and left naked in a bed, where elderly men can use her in any way that doesn't involve penetration" is certainly an attention grabber. Peter Bradshaw namechecks all kinds of cinematic heavy-hitters in his review for The Guardian, comparing the film to everyone from Kubrick to Buñuel to Haneke, a fascinating stew of influences if I've ever heard one. Meanwhile The Telegraph compares it to a hybrid of Jane Campion (who is credited as a presenter of the film) and Lars von Trier:
"Browning's performance is utterly fearless, suffused with mystery, cold as ice. Leigh's spare screenplay trusts the audience to fill in the imaginative spaces, and her framing is precise and economical. Fast-rising composer Ben Frost contributes a potent score. What a strange, ensnaring achievement, not least for a first-time feature, 'Sleeping Beauty' is: no male director could have made it."
Last but not least there's "We Need to Talk About Kevin," from "Ratcatcher" director Lynne Ramsay and based on a novel by Lionel Shriver. The film stars Tilda Swinton as the mother to the titular troubled character played by Ezra Miller, the talented teenage star of recent indie films like "Afterschool." At indieWIRE, Eric Kohn says Swinton is "breathtakingly fragile" in "a sensationally moving evocation of the ultimate dysfunctional family." Brad Brevet from Rope of Silicon says "the sound design, the editing, the cinematography, the direction and Swinton's performance are Oscar caliber."
I'm going to be very careful not to say too much more here because I already feel like I've had some of the film spoiled by a few loose lipped critics. Keep your own inclinations toward spoilers in mind as you link over to those articles. We need to talk about Kevin, guys, but maybe we should be just a little bit less specific about it.