Can't Be At Cannes 2011, Friday Edition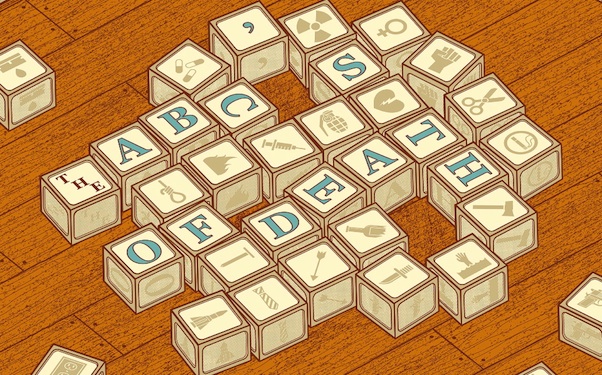 Posted by Matt Singer on
It sucks not being at the Cannes Film Festival. To keep you up-to-speed on all the latest developments with the minimum amount of pain and jealousy, we'll be providing frequent roundups of all the biggest news and best reviews. This is the second; for additional installments, along with all our Cannes coverage, can be found here.
We start on this fine Friday with that bastard Tim League, creator of the Alamo Drafthouse and founder of Fantastic Fest, who has a seemingly endless supply of awesome, I-sold-my-soul-to-the-devil-at-a-crossroads-in-Mississippi-caliber ideas. His latest, announced yesterday at Cannes, is an anthology film he's producing with Ant Timpson of Timpson Films and Magnet Releasing called "The ABCs of Death." It's just a concept at this point, but what a concept: twenty-six short films by twenty-six horror directors each about a different method of killing, one for every letter of the alphabet. So a is for asphyxiation, b is for blugeoning, c for cranial leakage, and so on. If you've ever been to Fantastic Fest or you're a fan of indie horror, you'll know a lot of the names signed up for shorts: "Timecrimes"' Nacho Vigalando, "Kill List"'s Ben Wheatley, "Red White and Blue"'s Simon Rumley, "The House of the Devil"'s Ti West, and many more. Production's scheduled to begin next month and conclude by January of next year. For more info, and a better look at that great poster I've sampled above, you can go to TheABCsofDeath.com.
But "The ABCs of Death" wasn't the only bit of absurdly cool movie news emanating from the south of France last night. Screen Daily, reported that Lars von Trier, he of "Antichrist," "Dogville" and assorted other batshit crazy/beautiful movies fame, is teaming with Martin Scorsese, he of movies so famous they needn't be mentioned fame, to remake von Trier's 2003 film "The Five Obstructions." In the original film, von Trier challenged one of his filmmaking inspirations, Jørgen Leth, to recreation his 1967 film "The Perfect Human" five different times, each with a different set of "obstructions." So, for example, in one version he couldn't have use any shot that lasts longer than half a second; in another he had to remake it as a cartoon and so on. If the collaboration alone isn't exciting enough, Screen reports that "it is believed that 'Taxi Driver' will be the film that von Trier asks Scorsese to revisit." In other news, I have already declared "The Five Obstructions 2: You Talking to Me?" the best film of 2012.
Back in the world of completed movies, the big release that's ran the critical juggernaut since yesterday is director Gus Van Sant's "Restless," which opened Cannes' Un Certain Regard sidebar. Here's Karina Longworth in The Village Voice with an excerpt from her less than positive review:
"The story of the doomed romance between a funeral-crashing rebel dreamboat (Henry Hopper, son of Dennis) and the terminally ill sprite (Mia Wasikowska) whose calm (if highly affected) stroll towards death teaches him a little something about life, is essentially a Nicolas Sparks flick given a Van Sant aesthetic makeover… It's also a film with absolutely nothing on its mind, and sub-teen-TV quality dialogue (the script is the first produced screenplay by Jason Lew) that elicited chortles from some critics in Thursday morning's screening."
Ouch. Kevin Jagernauth has a similar take over on The Playlist, saying it's "easily the first hard flop of the Cannes Film Festival" and that "almost every element of 'Restless' feels like the script needed another pass." This seems to be the early consensus on the film, though a couple reviews I've read online were a little kinder; Simon Gallagher from Film School Rejects compared his reaction to the film to his discovery of "Blue Valentine" at Cannes last year, calling it "a tender and touching portrait of a fleeting love affair tempered by, and leading towards tragedy." But unfortunately the majority of critics weren't impressed and by the end of the film were, y'know getting, uh, what's the word for when you're bored by something, and you're uncomfortable, and you're like fidgeting in your seat and stuff? Eh, it'll come to me.