Can't Be At Cannes 2011, Awards Edition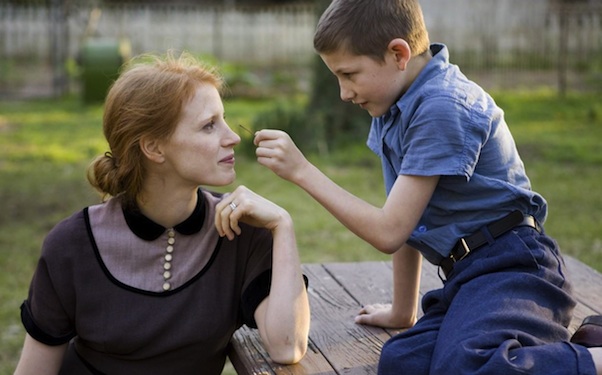 Posted by Matt Singer on
Terrence Malick's "The Tree of Life" was a front-runner to make last year's Cannes Film Festival but the film wasn't finished in time. This year's Cannes jury decided it was worth the wait, as it gave "The Tree of Life" the festival's biggest prize, the Palme d'Or at the annual Cannes awards ceremony (the film opens in limited release this Friday). The jury, which included filmmakers Olivier Assayas and Johnnie To, actors Jude Law and Uma Thurman, and jury president Robert De Niro, also gave an award to controversial director Lars von Trier's film "Melancholia," though not to the director himself. Instead they bestowed Best Actress honors on his actress, Kirsten Dunst.
Other big winners were "Bronson" director Nicolas Winding Refn, who took home the Best Director prize for his new film "Drive," a crime film starring Ryan Gosling as a movie stuntman-turned-wheelman, and the Dardennes Brothers, whose "The Kid With a Bike," shared the festival's second place Grand Prix award with Nuri Bilge Ceylan's "Once Upon a Time in Anatolia."
The film I read and heard the most positive word of mouth about from colleagues at the festival was the French film "The Artist," which earned a Best Actor award for star Jean Dujardin. The film is an old-fashioned silent picture set in Hollywood during the transition to sound cinema, and also features American stars like John Goodman and James Cromwell. Look for it in US theaters in the near future; the film was acquired by The Weinstein Company at Cannes.
Here's the full list of winners.
FEATURE FILMS
Palme d'Or
"The Tree of Life," Directed by Terrence Malick
Grand Prix (tie)
"Once Upon a Time in Anatolia," directed by Nuri Bilge Ceylan
and "The Kid With a Bike," Directed by Jean-Pierre and Luc Dardenne
Best Director
Nicolas Winding Refn, "Drive"
Best Screenplay
Joseph Cedar, "Footnote"
Best Actress
Kirsten Dunst, "Melancholia"
Best Actor
Jean Dujardin, "The Artist"
Jury Prize
"Polisse," Directed by Maiwenn
SHORT FILMS
Palme d'Or – Short Film
"Cross (Cross – Country)," Directed by Maryna Vroda
Jury Prize – Short Film
"SWIMSUIT 46," Directed by Wannes Destoop
UN CERTAIN REGARD
Prize of Un Certain Regard (tie)
"Arirang," Directed by KIM Ki-Duk
and "Stopped On Track," Directed by Andreas Dresen
Un Certain Regard Special Jury Prize
"Elena," Directed by Andrey Zvyagintsev
Directing Prize of Un Certain Regard
"Be Omid E Didar," Directed by Mohammad Rasoulof
CINEFONDATION
1st Prize Cinéfondation
"The Letter," directed by Doroteya Droumeva
2nd Prize – Cinéfondation
"Drari," Directed by Kamal Lazraq
3rd Prize Cinéfondation
"Fly By Night," Directed by Son Tae-gyum
Caméra d'or (Best First Feature)
"Las Acacias," Directed by Pablo Giorgelli