Seattle Film Fest 2011: "Black Venus," Reviewed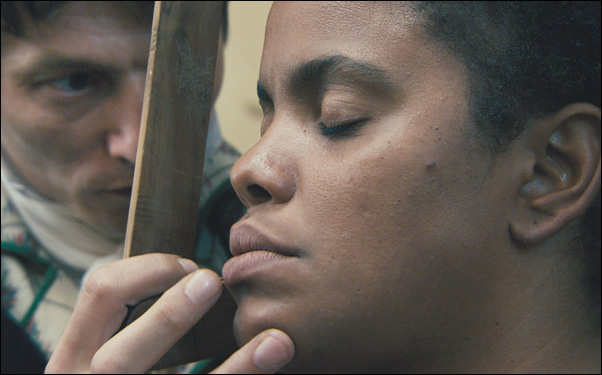 Posted by Stephen Saito on
Words like "punishing" and "challenging" have been following around Abdellatif Kechiche's "Black Venus" ever since it premiered at the Venice and New York Film Festivals last year, adjectives that could be considered misleading when the film's greatest flaw is it's too simple. The true story of Saartjie "Sarah" Baartman, an African woman exploited for her shapely figure by freak shows in Europe and coveted by perverts and scientists alike in 1815 for an unusually elongated labia, it offers the chance for Kechiche to apply the largely observational, unemotional style that he employed for the 2008 modern masterpiece "The Secret of the Grain" in a historical context.
Whereas "The Secret of the Grain" was full of rich characters we would come to know throughout its course, "Black Venus" features just two varieties: black and white, not only in the color of their skin, but in their behavior as the film is populated only by the Europeans who seek to exploit Saartjie (Yahima Torres), the exotic foreign export whose gradual acceptance of being exploited makes her an inconvenient martyr. For the audience, she is also a mostly unsympathetic one as she downs alcohol nearly nonstop to dull her senses and wears a blank expression, save for the occasional tear that rolls down her cheek.
"I'm not a harlot," she says plainly to Hendrick Caezar (Andre Jacobs), the man who takes her from Cape Town and convinces her she would make money by dancing and showing a little skin. But by the time we see the act in London, Saaterje is growling from a wooden cage to the delight of audiences who excitedly rush the stage when Caezar encourages them to feel her considerable derriere. A woman of limited intellect, even she knows this is the beginning of a slippery slope and in subsequent performances, mopes around the stage like a sad elephant, which feels only natural when she's treated literally like a caged animal.
As "Black Venus" progresses, Saartjie seems resigned to such conditions, drifting off the stage to perform in front of common folk to the kinky private parties of the French bourgeoisie and eventually into the laboratories of Paris Royal Academy of Medicine where she's poked, prodded and sketched, with her last bits of dignity being stripped away alongside the few skimpy bits of clothing she's been able to cling onto. It's Kechiche's great strength that he doesn't insist on the audience's empathy, allowing the accumulation of small compromises, if they can even be called that in Saartjie's dire situation, to pile up towards a tragic conclusion that doesn't feel forced or manipulative. However, as a dramatic narrative, "Black Venus" never entirely adds up, existing like its main protagonist as an object of intrigue resigned not to speak up for itself.
Yet it is also not a film to be written off, either because its bleak nature or its refusal to engage in the traditional comforts often employed to let the audience for such films as these breathe. There are people who come to Saartjie's aid — an all-white contingency from the African Institution of England bring her first manager Caezar in front of the courts and she's shown some kindness by the assistant (Elina Löwensohn) of her second (Olivier Gourmet) – but their limited attempts at help only illuminate the horrors of the society around her at which she can only stare in frustration. A stoic Torres, who is making her feature debut, says few words throughout "Black Venus"'s two-and-a-half-hour running time, but remains enough of an enigma to keep the film compelling, even when its only direction is a downward spiral.
For Kechiche, "Black Venus" may be a better example of running in place, a film that though immaculately designed from its muted color palette to its grand sets doesn't feel as though it's doing much of anything but recounting a painful history that for most would be best left in the past. One could argue its cycle of degradation gets old quickly — charges that the exploitation of Saartjie (and the actress playing her) extend beyond the story to the filmmakers have been leveled by some — but that would ignore the cycle of far more interest to Kechiche of not letting history repeat itself. That he succeeds even partially makes it worthwhile viewing.
"Black Venus" currently does not have distribution in the U.S. It will play at the Seattle Film Festival once more on May 29th.