Author Harold Goldberg Explains How "All Your Base Are Belong to Us"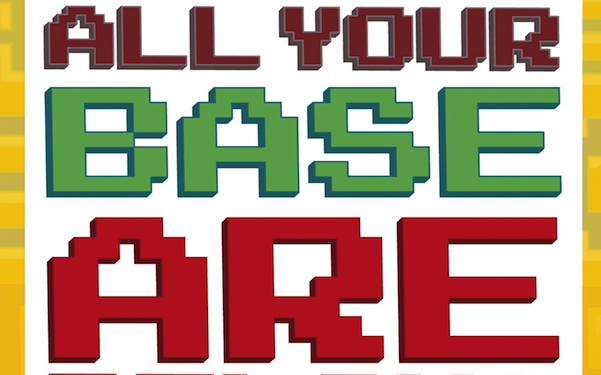 Posted by Evan Narcisse on
There's no denying the level of cultural impact video games have had in the last decade or so. Movies ache to look like them, businesses want to ape game mechanics for loyalty and profit and even book publishing's trying to tap into the creative energy of a medium once derided as disposable.
So, how did video game get to be such an electric vector in our lives and imaginations? That's exactly the question that Harold Goldberg sets out to answer in his new book, "All Your Base Are Belong to Us." Goldberg's worked on both the game-making and critic sides of the medium and he digs deep into video game history to draw out the personalities responsible for the culture's seismic shifts. Whether it's the brashness of the early Atari days to the many unsung teenage geniuses that turned ideas into experience to the MMO revolution, Goldberg shows how the incandescent passion stoked by video games can warm hearts and burn lives.
Goldberg–also a music journalist and poet–answered some question about his book and how video games' past may influence the medium's future.
Do you think there's more or less hucksterism than in the early days of the medium? Or is it just that the nature of the salesmanship has changed? Do you hink video games as a medium still need people like Atari co-founder Nolan Bushnell or EA founder Trip Hawkins to proselytize about video games?

There's much more hucksterism in today's industry. But it's far more refined, savvier, sometime subtler and occasionally more insidious. In the early days, there was bloviating on the parts of a handful of wild-west-style, self-made entrepreneurs. They'd stretch the truth. They'd lie. Those who worked for them said they sold their souls. Today, the hucksterism trickles down to journalists and fans from the producers who demo games, from the tightly controlled release of snippets of games, like trailers. And tweets, too. It's somehow less soulful that the supposedly soulless snake oil salesmen in the early days. Yet it's more informative and more effective and often more annoying.
It seems like part of your goal in "All Your Base" is to illuminate some of the personalities who've created and continue to create powerful gaming experiences. Do you feel like perception of the medium would've been different if names and faces were attached to the early systems and games?

I think it's always important to attach a human face to a creative work. Marketing departments made Bill Gates the creative genius behind something as boring as an operating system. Nintendo did bring out Miyamoto to talk about Mario and Zelda games. But they brought him to gaming magazines, not to general interest magazines. And, while he tells a brilliant story, there was a language problem as well. The medium back then was considered one step up from being toys. That's changing only now. And it's still a long hard slog. Anecdotally, as a journalist, it's much easier to get an assignment about music or movies than it is about games. Games still frighten the media elite just as comics did a couple of generations ago.
What was the most surprising anecdote or bit of research you came across in working on the book?

There were so many. I loved the fact that "Crash Bandicoot"'s working title Sonic's Ass. Oh, and Dan Houser almost came to blows with Burt Reynolds during the taping of an audio segment for "Grand Theft Auto: Vice City." But what was most surprising was that Ralph Baer, the maker of the Magnavox Odyssey, envisioned nearly all the kinds of games we have today, including downloadable games and wireless gaming — back in the 1970s.
Even today, in an age where creatives of all stripes are so media-savvy, lots of game designers eschew the spotlight. Why do you think that is?

If you're the sensitive type, what people might ask you and what people might say to you could be devastating. It could cause a block, the inability to finish work on a project. It's important sometimes to let the work speak for itself.
Is it fair to say there hasn't been a lot of mentorship in the games business? Why not?

I think I do see mentorship. I certainly saw it when I worked at Sony Online. Jade Raymond and Ben Bell and I learned a lot about games from the people who had been in the industry before us. Of course, there were some real jerks there, too. There always are jerks. But the powers that are need to do more to mentor. They need to get into the schools. At the very least, they need to tell kids of the opportunities. Even making the informative videos on the Game Developers Conference site known to far more people would be a step in the right direction.
Do you think it was Shigeru Miyamoto's fascination with the natural world that fueled his creativity?

He was influenced by manga, films like "Alice in Wonderland" and cartoons like "Popeye." But he was utterly entranced by the wonders and curiosities of nature–lakes, caves, mountains, insects, horses, all animals. He retains that childlike sense of wonder to this day.
I've always felt that Rockstar Games is one of the few auteurs in the video game business. What do you feel it is about that particular collective of people that makes their games feel so well directed?

They seem to care passionately about every detail. And they care about putting a lot of game on a disk for the $60 you spend. Certainly, Sam Houser does. And it trickles down from him to the rest of the company. Even more, they have a deep curiosity about all other forms of culture, low and high. You can see it in "Red Dead Redemption." In the New York Times, Fred Armisen called "Red Dead" a form of art. I have to agree. I was recently called 'illiterate' by a writer for espousing that point of view. But if you can call some film art and if you can call some forms of pop music art, why can't you call "Red Dead" or "BioShock" or "Mass Effect 2" artful? They certainly capture the very essence of film and music — and give you much more.
What lessons do you think game creators and larger business entities have learned about the medium? What do you think they've ignored at their peril?

After 1983's great gaming recession, game makers and game publishers learned to be more agile. They've learned to make games that are easy to play but hard to master. But some still haven't learned that licensing a product from another industry won't necessarily guarantee success. A great game may guarantee success. And sometimes, even that isn't the case. Finally, there's publisher hubris. I have yet to see a publisher that also makes hardware that was on top of the heap that didn't somehow believe that they could never fail. And once they believe that, the fall is often quick and painful.
Do you see any links between the explosion of the games industry into the home and arcade markets of yesteryear and the proliferation of indie games hitting mobile devices today?

Yes! I see the same entrepreneurial spirit and the same genius and creativity in games like "Papa Sangre," "Angry Birds" and "Infinity Blade." And there are so many more, as you well know.
At 50 years old, video games still struggle at tapping into the psychic energy around big existential motivators like death, sex and parenthood? What games do you feel tackle them in interesting ways?

I think they do deal with them. "The Sims" does. "Undead Nightmare" DLC for "Red Dead Redemption" dealt with death through a lowly Sasquatch, a fantasy beast, in a real way that nearly moved me to tears. And I bet the people who cared about "Babysitting Mama" (it wasn't me), would say that was a kind of semi-salient parenting experience. But I know what you're really getting at. Games deal well with emotions that are black and white. It's the grey areas, the subtleties of relationships and daily circumstances that are more complex than merely comic or tragic, that they really need to work on.