Arnold Schwarzenegger and Maria Shriver Separate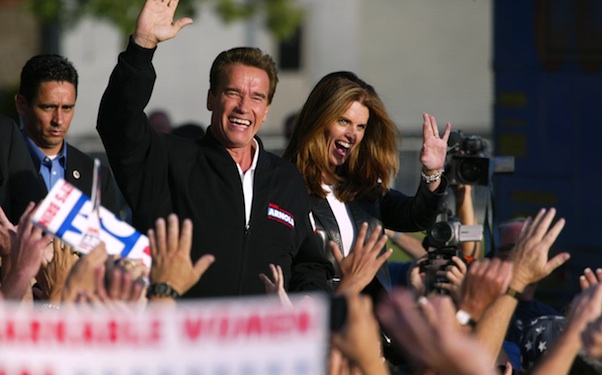 Posted by Matt Singer on
All right, let's get all the lame jokes out of the way first. No, they might not be back. Yes, we can consider that a divorce. Jeez, I thought that Sad Arnold site was just a clever goof. Did the guy who built it have some insider info or something?
The Los Angeles Times reports that Arnold Schwarzenegger and Maria Shriver have separated after 25 years of marriage. In a statement the coupled provided to The Times, they said:
"This has been a time of great personal and professional transition for each of us. After a great deal of thought, reflection, discussion and prayer, we came to this decision together. At this time, we are living apart while we work on the future of our relationship. We are continuing to parent our four children together. They are the light and the center of both of our lives. We consider this a private matter and neither we nor any of our friends or family will have further comment. We ask for compassion and respect from the media and the public."
Normally, I wouldn't post something about a story like this, even with my well-established obsession with all things Arnold. But this is a major development in Schwarzenegger's dramatic return to Hollywood. After the couple married in 1986, Schwarzenegger credited Shriver with helping him broaden his acting choices beyond the so-called "genocide-flicks" that were his bread and butter through the mid-1980s. In 1990, right around the time Shriver's influence was becoming evident in movies like "Kindergarten Cop," Schwarzenegger told Time's Richard Corliss, "Maria has very good instincts. She reads fast, she analyzes and — boom! — she has notes. Like an agent." In fact, the "Kindergaten Cop" script was a Shriver discovery. According to Schwarzenegger on the film's press tour, "[Maria] is instrumental in everything that I do… the script came to my home when I was in Mexico filming "Total Recall." She told me that she loved it and that it would be the perfect family film for me to make. I agreed."
Schwarzenegger's marriage to Shriver, and the birth of their first daughter Katherine in 1989, had a major impact on his career. All of the action films he made before that time were about men separated from their families, a reflection of a personal filmmaking ethos that Schwarzenegger summed up in Playboy in 1988 by saying "In most action movies, women are in the way." So Schwarzenegger played guys like "Raw Deal"'s Mark Kaminsky, who fakes his death to get away from his drunken wife and go undercover in the mob, or "Commando"'s John Matrix, who only goes on a kill spree after his daughter is kidnapped. Sometimes his characters had no private lives whatsoever, and their films were set far away from so-called civilized society in jungles, private islands, and futuristic prisons (where women couldn't get in the way, you see).
After one last bachelor's hurrah with "Total Recall" — a sci-fi fantasy in which a man remembers a past life as a secret agent, saves the world, and kills his wife so he can live happily ever after with a foxy prostitute — things changed quickly. "Kindergarten Cop," "Terminator 2: Judgement Day," "Last Action Hero," and "True Lies" all came between 1990 and 1994. Now the guy who once said "I have a love interest in every one of my films: a gun," was playing opposite stronger female leads like Penelope Ann Miller, a newly buff Linda Hamilton, and especially Jamie Lee Curtis in "True Lies." These women weren't in the way: they were kicking ass right alongside their man.
These movies were mainstream entertainments, but for Schwarzenegger they were also deeply personal and oftentimes ambivalent reflections on his transition from killing machine to family man. The physical and emotional transformation Schwarzenegger's John Kimble undergoes in "Kindergarten Cop," from gun fetishizing supercop to warmhearted kindergarten teacher, was essentially the same transformation the star was undergoing in his private life. The fact that the transition wasn't always easy — in many ways "True Lies" is a film about guy who is reluctant to let women in the homosocial world of superspies — is a big part of what made those movies so interesting.
Schwarzenegger and Shriver's separation suggests that crucial voice guiding his choices and expanding his horizons is gone, at least for now. Does that mean he'll go back to "genocide-flicks?" Maybe, although his first confirmed movie, "Cry Macho," sounds like a project Shriver would have approved. Today's news is an unfortunate development for the couple and their family, and a fascinating one for the actor's fans. Because Schwarzenegger will be back in Hollywood. But the question still remains how exactly he'll do it.