Andrew Ross Sorkin's "Too Big To Fail" Premieres on HBO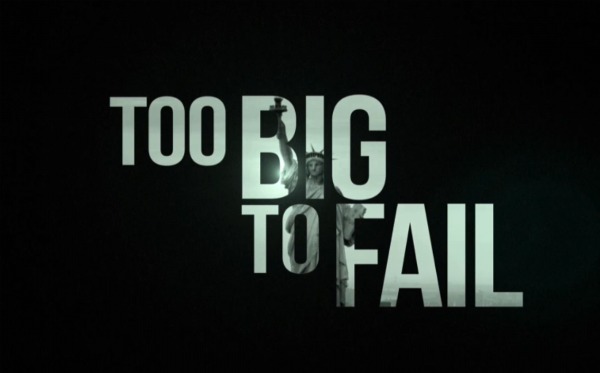 Posted by Melissa Locker on
When New York Times reporter Andrew Ross Sorkin penned his book "Too Big To Fail" on the U.S. government's decision to bail out the big banks in 2008, it's unlikely he was thinking that William Hurt would make a great Treasury Secretary Henry Paulson. And yet, he does. Last night, HBO aired a dramatic historical reenactment of the tense days chronicled in Sorkin's book, "Too Big To Fail." The made-for-TV movie stars Hurt as Paulson and Paul Giamatti as a dead ringer for Federal Reserve Chairman Ben Bernanke as they attempt to revive the American economy as it teeters on the brink of collapse in light of bad debt, over lending, and greed. It's like a modern day Cuban Missile Crisis, with banks standing in for Russia and mortgage-backed securities standing in for missiles. There's a lot less smoking, though. And, unfortunately, a lot less drama.
There is no doubt that writing a thriller based on the world of credit default swaps and Congressional oversight meetings is tough going. Toxic assets are far less compelling than the Toxic Avenger and billion-dollar banks aren't exactly the grieving widows of melodramas. However, when adapting the book, the movie seems to have taken its cues from a "Law & Order" episode, with bank owners and public employees standing in for the district attorneys. Except minus an actual body, the action seems unnecessarily dramatic. There's a lot of staring out windows meaningfully, thumping music, and the number of times some variation of the phrase, "If we do nothing, the economy will be dead by morning," made it feel like the screenwriters were relying on "The Secret" to sell the drama. If they say the story is dramatic often enough, then it will be. Unfortunately, it's not. However, If watching white men in suits arguing with other white men in suits gets you on the edge of your seat, this movie is for you.
Not to say the story isn't compelling. The U.S. economy was on the brink of collapse and seeing a somewhat fictionalized account of the behind-the-scenes machinations of the U.S. government and the symbiotic relationship with Wall Street is both fascinating and horrifying. Additionally, the acting by the star-studded cast (Ed Asner! Billy Crudup! Topher Grace! James Woods! Bill Pullman! Cynthia Nixon!) is phenomenal and there is no doubt this will dominate the appropriate categories at the Emmy Awards. However, it's also just a tetch dull and ends up feeling like you're sitting through a high production value civics class run by a really cool professor. However if you are interested in learning about the near collapse of the economy and the bailout, your time may be better spent listening to This American's Life's fascinating story, "The Giant Pool of Money".