A Round Up of "The Hitchhiker's Guide to the Galaxy" Finds On Etsy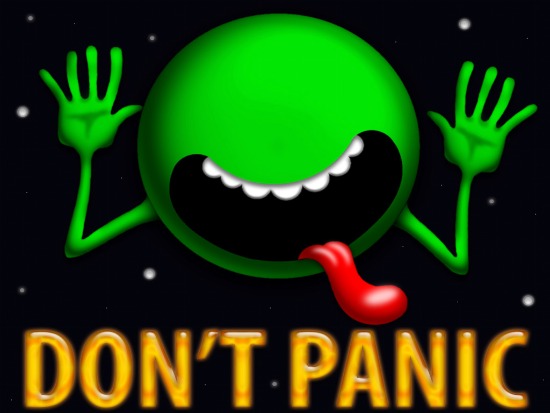 Posted by Melissa Locker on
Sometimes you think you're having a bad day, but at least you never wake up to find that your best friend is an alien and the universal powers that be are destroying your planet to put up a hyperspace bypass. That's exactly what happens to Arthur Dent, the humble and often confused protagonist, of Douglas Adam's "The Hitchhiker's Guide to the Galaxy," which is airing today at 3:45 p.m. ET.
The fantastic books have been adapted into almost every format possible by its eager fans. In the film version that we are showing today, when the Earth is destroyed, Arthur's best friend Ford (Mos Def) does him a favor — he first gets him a ride on a spaceship passing by, and then presents him with a guidebook that will tell a beginner everything he needs to know as he hitchhikes through outer space. Along the way, Arthur (Martin Freeman) meets the Galaxy president Zaphod Beebelbrox (Sam Rockwell), the girl of his dreams Tricia McMillan (Zooey Deschanel), perpetually glum robot Marvin (voiced by Alan Rickman), interplanetary construction magnate Slartibartfast (Bill Nighy), and cult leader Humma Kavula (John Malkovich).
In honor of one of the best, if not only, five-book trilogies ever to be written, here are some ways fans can show their love for "The Hitchhiker's Guide to the Galaxy" courtesy of craft site, Etsy.
Let the back of your car declare your fandom for you with this vinyl decal. Also can be used to cover up computer trademarks in movies if the company hasn't paid for product placement:
Here's a Hitchhiker's Guide to the Galaxy wallet:
Ever wonder what the answer to life, the universe, and everything is? These earrings will remind you and your loved ones in a stylish manner:
If anxiety gives you the sniffles, use these "Don't Panic" handkerchiefs to remind yourself of the basic rule:
Give your favorite cross-stitch Hitchhiker's fan this pattern emblazoned with one of the best quotes from the five-book, ahem, trilogy that makes up the Hitchhiker's series:
If you want to re-enact scenes from the book while you are waiting for your lunch order, these peg dolls of Arthur Dent and Ford Prefect are the perfect size to pack in your pocket or cuddle with while you sleep:
"The Hitchhiker's Guide to the Galaxy" airs on IFC at 3:45 p.m. ET; Tuesday, May. 17 at 11:00 a.m. ET; Friday, May. 27 at 5:45 p.m. ET; and Saturday, May. 28 at 8:05 a.m. ET