A Brief Interview With The Whitest Kids U'Know's Sam Brown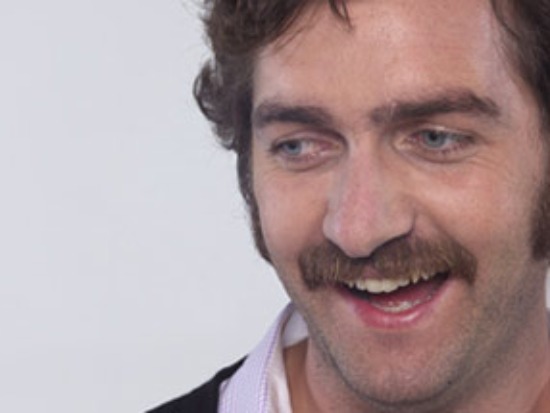 Posted by Melissa Locker on
The fifth and final season of everyone's favorite sketch comedy show The Whitest Kids U'Know is underway at IFC. We are showing new episodes of one of the wackiest, crassest, and funniest show around every Friday at 10:30 p.m. ET. As an added bonus each episode has another chapter of The Civil War on Drugs, the historical drama that the Kids made to document the journey to legalize marijuana during the war between the states.
As we bid farewell to the Whitest Kids, we are taking some time to chat with each member of the troupe and to get their thoughts on comedy, their favorite moments from the five seasons the series ran on IFC, and the Civil War on Drugs. Today, we talk to Sam Brown. Sam met Trevor and Zach at the School of Visual Arts in New York City. The trio started The Whitest Kids U' Know during Sam's first semester at college.
How did you start in comedy?
Really it was when I met Trevor at the Upright Citizens Brigade. I was just watching a show and I got brought up to do one of the interviews that they base their improv on and he saw me and was like hey you're funny and we both go to SVA. That was when I really started in comedy. Before that it was just cable access …
…Wait, cable access?
I used to skateboard a lot. It was kind of pre-"Jackass" DIY stuff. We grew out of the DIY sketch comedy stuff that they got Jackass from. I had to do something while everyone else was skateboarding, so I could like belong to this world. I started to record some of it and I realized that if I take these free classes at the cable access station, you get access to all the equipment. The show was called "TV Galactica" and we made a bunch of content but we never put it out there.
Would you put it on YouTube if you were putting it out now?
Yeah, but back then it wasn't as accepted. Part of it was that no one did that in my town. So we would make a shitty "Wayne's World" type show, but no one saw it, because we wouldn't put it out there. It was just a way to keep yourself occupied in a boring town.
But eventually you became a YouTube sensation.
We became a comedy troupe before YouTube. There were no YouTube sensations. It was before Funny or Die. Now there is a place for small sketch groups, but back then there was nothing. Like bands, there was always a place but now they can really get big on their own. YouTube and the web are a revolution in recording for bands who are writing their own music.
So could you have been the comedy Justin Bieber of the YouTube world?
Justin Bieber is the Justin Bieber of the YouTube world. We just saw it as a place to put all the videos we had made. It was a place people where could see all the videos we had made. It wasn't like we needed a million hits it was like we could tell our relatives that they could see them there. Before YouTube, we were hosting them on all our website and it was pay per view basically so we wouldn't put many things up and it was expensive. So YouTube was great because we could put up everything.
Do you actually encourage your relatives to watch the show?
Yeah, some of the guys come from pretty religious family and they are worried about their relatives seeing the sketches. But my family came to a live show and we did this Hot Air Balloon Poop Rope sketch and my grandmother said that was her favorite sketch.
What are some of the sketches you're most proud of?
I really liked John Cleese and the Jaws one where it's just a really simple joke. But my favorite ones to do are the war ones. Because I'm a big fan of war movies and it's a dream to be in a Vietnam film, so the best thing about a sketch show is that whatever you want to do or be, you can just write it and then for five minutes you can live it. Like the Helicopter Door sketch. Or really any sketch where you get to dress up in army green and march around the woods.
What's your writing process like?
It's mostly the five of us getting together and brainstorming. Sometimes we'll have two ideas and sometimes we'll have fifteen ideas and nothing is good. It's a process of just spitting out what you can get out and seeing what works or what gets everyone piling on ideas. When you look at our sketches they are flip floppy and you start out one way and take a big zig zag to take another direction, that comes from the writing process. It's five people collaborating and trying to make each sketch as funny possible. It's an open form.
If you had one product from the show, what would it be?
The Jizzle. Did you see the clean up on that?
What is your favorite sketch from season five of WKUK?
Oceans 2. 0 is my favorite sketch, but I'm really excited about how the Civil War On Drugs came out so I would have to say that.
Where did the idea for the "Civil War on Drugs" movie come from?
We had that idea a long time ago, like even before we were a five-person troupe. We just had the name and then we worked backwards from the name. We had this idea where these buddies were going through the Civil War trying to legalize pot and trying to get to Lincoln. We had a script deal with Paramount and they said it's funny, but no one will ever do it, period. It's a war pot comedy. It's too big, too weird. Actually, I can't remember if it was Paramount who did that or our management, but we were lead to believe that it wouldn't work. With the TV show we were joking that in the second season we should just made a "Dawson's Creek"-type show. We would just make a very serious teen drama and then we would go back to sketch the next season. So we were always up for something really different. So when it came to the fifth season, we thought it would be fun and a way to be fresh and to write something really different. We really needed something different and the first things we thought of was the Civil War.
And you're happy with the result?
Very happy. Not to geek out, but all I ever wanted to do since I was a kid was make a movie. I've just been in love with this sort of storytelling since I was so young. I went to film school, I've made shorts, but this was so much better. I hope this is how we're remembered. I was so psyched that IFC was cool enough to get behind this. It's nothing short of a dream come true.
Based on my interviews with Timmy and Trevor the production of the movie sounded crazy.
Yeah, to do this we had unheard of days. The production was such a crazy cram. It was a fun idea. We all really wanted to do it and all the crew and the art department and the camera and wardrobe were all into it. I think people got really excited about what we were doing. We made it something that they wanted to work on. A longer schedule and, well, a budget would have been a welcome change, but hats off to the crew for helping get this together. They believed in it almost as much as we did. I think they really wanted it and they worked so hard. It wasn't just another job for them.
If you had to be one of your characters for the rest of your life, who would it be?
I kind of am a character. The Sam that I play on the show is like a heightened dumber version of me. The Sam in the film is also a version of me.
Trevor said that whenever he is laughing on camera it's because you are dressed up as a woman. Why is that so funny?
Because I am so ugly! I make the worst woman. Not just the least convincing woman, but the woman that is out there is just a mess.
What's next for you?
Trevor and I have been writing together I've been doing stand up. Hopefully I'm going to be working on projects with the four other guys who make up the WKUK and doing different stuff from what we did as a troupe. I wrote a pilot with a friend, which is a little bit more serious. I don't know what is next.