The 2011 New York Asian Film Festival Lineup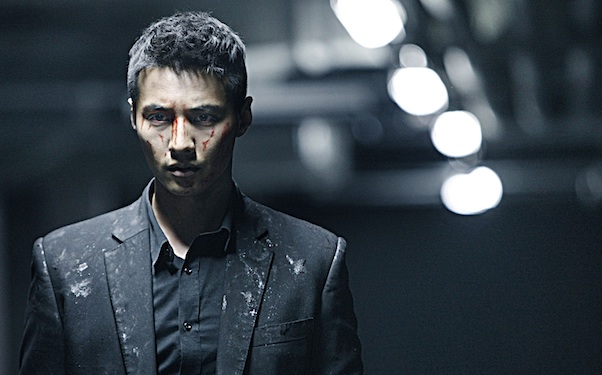 Posted by Matt Singer on
The Tribeca Film Festival has the stars. The New York Film Festival has the award winners. But the New York Asian Film Festival has the coolest, boldest, and strangest genre movies, and that's why it holds a special place in my heart. While most festivals specialize in quote-unquote arthouse fare, NYAFF brings the Asian mainstream — the stuff that would almost never play here otherwise — to America.
We're big fans of the NYAFF at IFC and we're looking forward to another excellent edition this year. The lineup was just announced and it looks stacked. It includes a few superb films I saw at last year's Fantastic Fest, including the entertaining exploitation documentary "Machete Maidens Unleashed" from "Not Quite Hollywood" director Mark Hartley. The stuff I'm jazzed to see for the first time includes the world premiere of Takashi Miike's "Ninja Kids!!!" (their exclamation points, not mine), "Ocean Heaven," a Chinese drama starring Jet Li and shot by cinematographer Christopher Doyle, "Karate-Robo Zaborgar," a Japanese film about a cop and his karate-fighting robot (it also transforms into a motorcycle because, damnit, a karate-fighting that doesn't transform into a robot is a huge waste of time), and a rare big-screen presentation of one of the craziest martial arts movies ever, "Riki Oh: The Story of Riki." There are also sidebars devoted to Chinese wu xia films (aka fantasy martial arts epics), the current wave of Korean revenge films, and Taiwanese director Su Chao-pin. Plus, they're giving awards to "13 Assassins" star Takayuki Yamada and legendary Hong Kong action director Tsui Hark.
The full lineup, divided by country, is below. Because names and titles sometimes aren't enough for these films — because you've probably never heard of most of them — I've also included the synopses from the NYAFF 2011 press release. The festival runs July 1-14.
---
CHINA
"Buddha Mountain"
(China, 2010, North American Premiere, 105 minutes)
Gobbling up festival awards around the world, Sylvia Chang stars as a suicidal landlady who rents an apartment to three irritating young hipsters in this transcendent drama from Li Yu ("Lost in Beijing") one of the only female directors working in China. Popular actress, Fan Bingbing ("Shaolin"), stars as one of the hipsters, but it's Sylvia Chang, the most important woman in Chinese show business in the 70's and 80's, who owns this movie.
"Ocean Heaven"
(China/Hong Kong, 2010, New York Premiere, 96 minutes)
Directed by another female director, this movie sees Jet Li team up with cinematographer Christopher Doyle and composer Joe Hisaishi to make a restrained, heartbreaking movie about a dad (Jet Li) trying to teach his autistic son how to live on his own. Beautifully shot, scored, acted and observed, it's got no action, all heartbreak.
"Detective Dee and the Mystery of the Phantom Flame"
(Hong Kong, 2010, 122 minutes) – Wu Xia Focus
Tsui Hark's return to greatness is a Holmes-ian fantasia about spontaneous combustion and kung fu deer. An exiled detective is returned to favor in the Imperial court to solve a series of mysterious deaths that delay the inauguration of the Empress Wu, played by Carina Lau, who won "Best Actress" at the Hong Kong Film Awards 2011 for her performance. The movie also won top prizes in Art Direction, Costume and Make-up Design as well as in Sound Design and Visual Effects.
"Dragon Inn"
(Hong Kong, 1992, 109 minutes) – Wu Xia Focus
Two of Hong Kong's greatest actresses, Maggie Cheung and Brigitte Lin, take on Donnie Yen's bloodless eunuch in this Tsui Hark-produced swordplay romance. Directed by Raymond Lee, it's a remake of King Hu's 1967 masterpiece. A brand new print of this classic film, struck specially for the New York Asian Film Festival.
"Duel to the Death"
(Hong Kong, 1983, 83 minutes) – Wu Xia Focus
Ching Siu-tung's directorial debut deploys ninjas, poisoned blades and some of the world's most innovative choreography to create a movie that's one part martial arts film, one part exploitation shocker and one part ballet. Screening on a rare 35mm print!
"Punished"
(Hong Kong, 2011, International Premiere, 94 minutes)
The latest movie produced by Johnnie To, this is a hardcore revenge drama featuring a powerhouse turn by Anthony Wong as a real estate billonaire whose wild child daughter has been kidnapped. Bullet-to-the-head action the way Hong Kong used to do it.
"Shaolin"
(Hong Kong/China, 2011, North American Premiere, 131 minutes) – Centerpiece Presentation
It doesn't get any bigger than this. Superstar Andy Lau, Nic Tse and Jackie Chan all star in this swank, blockbuster retelling of the primal martial arts story: the destruction of Shaolin Temple, which is the birthplace of martial arts. It's a movie that's been made many times (hence the alternate title "New Shaolin Tample") but never before has it been this massive, this lavish and this chock full o'action.
"Riki-Oh: The Story of Ricky"
(Hong Kong, 1991, 91 minutes)
The classic Hong Kong midnight action movie about prison privatization and monsters who strangle you with their guts. Rarely seen on the big screen, this is a full-on, ridiculously crazy mind-melter full of crucifixion, flaying, classic kung fu combat and prison wardens who keep breath mints in their glass eyeballs.
"Zu: Warriors From the Magic Mountain"
(Hong Kong, 1983 94 minutes) – Wu Xia Focus
The movie that launched a thousand wu xia, Tsui Hark's surreal phantasmagoria will blow your mind. Recruiting Hollywood special effects technicians just off "Star Wars" and "Star Trek: The Motion Picture," Tsui Hark's film reinvented a genre and kickstarted Hong Kong's entire special effects industry. This is a rare chance to see a 35mm print of this movie in all its big screen glory.
JAPAN
"13 Assassins: Director's Cut"
(Japan, 2010, 141 minutes, New York Premiere)
The complete UNCUT version of Takashi Miike's samurai masterpiece. With 17 minutes of original footage restored.
"Abraxas"
(Japan, 2010, New York Premiere, 113 minutes)
Straight outta Sundance comes this movie about a punk rocker turned Buddhist monk who still yearns to rock out.
"Battle Royale"
(Japan, 2000, 114 minutes)
A celebratory screening of Kinji Fukasaku's masterpiece now that it finally – after 10 years!!!! – has a new distributor who wants people to actually see it.
"A Boy and His Samurai"
(Japan, 2010, North American Premiere, 109 minutes)
The director of "Fish Story" and "Golden Slumber" returns to the festival with this family film about a samurai who winds up in the modern era. Surprisingly, it then becomes an exceptional food movie! This is the father-son movie you've been looking for.
"Dark on Dark"
(Japan, 2011, International Premiere, 17 minutes)
This short film is the directorial debut from Makoto Ohtake, a well-known Japanese comedian and actor since the 80's (he's worked extensively with Takeshi Kitano and the popular City Boys troupe). It's all about a two-bit talent manager and his outrageously endowed adult video talent bringing peace into the world via their various "gifts." Screens with "Horny House of Horror."
"Gantz" and "Gantz: Perfect Answer"
(Japan, 2011, 130 minutes & 150 minutes)
Presented back-to-back it's the uncut, subtitled, live action movies based on Japan's existential sci fi action manga. It's the New York Premiere of the subtitled "Gantz" and the North American Premiere of the subtitled "Gantz: Perfect Answer."
"Heavens Story"
(Japan, 2010, North American Premiere, 278 minutes)
"King of Pink Films" Takahisa Zeze spent almost two years shooting this 4 hour movie about two random murders and the heartbreak, trauma and healing that spills out from them over the next two decades. Monumental and strange, passionate and philosophical, this is an epic in every sense of the word and a towering achievement in film.
"Horny House of Horror"
(Japan, 2010, North American Premiere, 75 minutes)
Japan does the violent porno horror thing better than anyone else and this oddity features butt-walls, wiener-eating and demon hookers. This is the directorial debut from the writer of "Mutant Girls Squad," and it's firmly in the vein of that film and "Robo Geisha." Only, you know, set in a horny house that's full of horror.
"Karate-Robo Zaborgar"
(Japan, 2011, New York Premiere, 106 minutes)
Noboru Iguchi ("Robo Geisha") makes his best film yet. Not just that, but this is the best-looking flick from label, Sushi Typhoon, yet. Slick, big budget and almost family friendly, it's based on an obscure TV show from the 70's about a young, bright-eyed police officer and his karate robot (who transforms into a motorcycle) fighting crime. But in Iguchi's version, the two split up and have to reunite years later after middle-age has taken its toll.
"The Last Days of the World"
(Japan, 2011, World Premiere, 96 minutes)
A return to the trippy, socially-engaged, blackly comic, ridiculously violent revolutionary movies of Japan's 60's. A high school student has a vision that the world is ending and so, faced with no consequences, he abducts a fellow student and goes on a crime spree.
"Love and Loathing and Lulu and Ayano"
(Japan, 2010, North American Premiere, 105 minutes)
Based on a book of interviews with porn film dayworkers, this exuberant, anime-influenced movie about life on the bottom rungs of the adult film business treats life in the porno business as a chance for some actors to escape their humdrum, everyday existences.
"Milocrorze: A Love Story"
(Japan, 2011, North American Premiere, 90 minutes) – Opening Night Movie
Truly trippy, this bizarro musical/variety/samurai/love story from Japan is one solid slab of psychedelia from Yoshimasa Ishibashi, the mad genius behind the Fuccon Family.
"Ninja Kids!!!"
(Japan, 2011, World Premiere, 100 minutes) – Centerpiece Presentation
Takashi Miike has been impressing critics with "13 Assassins" and his 3D remake of "Hara Kiri" that just played Cannes. Whatever. We've got the World Premiere of his insane new kid's flick about feuding ninja schools. People wonder where all the craziness went from Miike's two new films? He put it all in here. Your jaw will drop like an elevator with a snapped cable. We love you, Takashi Miike!!!
"Osamu Tezuka's Buddha: The Great Departure"
(Japan, 2011, North American Premiere, 111 minutes)
The much-anticipated animated epic based on Osamu Tezuka's landmark life of the Buddha.
"Ringing in Their Ears"
(Japan, 2011, International Premiere, 89 minutes)
Yu Irie ("8000 Miles") returns with this ambitious flick about an upcoming concert by a reclusive rock group and the managers, obsessed fans, shut-ins, single moms and kindergarten teachers who are affected by it. A true tribute to the healing power of rock and roll.
"Versus"
(Japan, 2000, 120 minutes)
A tenth-anniversary celebration of the Japanese zombie action film that launched a thousand horror/splatter/action flicks.
"Yakuza Weapon"
(Japan, 2011, New York Premiere, 105 minutes)
Stuntman-turned-director, Tak Sakaguchi, turns in a high calibre, action-heavy riff on Robocop all about a robot yakuza out to put his fist through the skulls of the bad guys. From Sushi Typhoon, purveyor of movies like "Vampire Girl vs Frankenstein Girl."
KOREA
"Battlefield Heroes"
(Korea, 2011, New York Premiere, 118 minutes)
An absurdist satire about war, this movie from Lee Joon-Ik (director of "King and Clown," the highest-grossing Korean film of all time) is like a Terry Gilliam movie gone Korean as a farmer too poor to even have a name gets drafted into one of medieval Korea's eternal wars.
"Bedevilled"
(Korea, 2010, New York Premiere, 115 minutes) – Sea of Revenge Focus
This time, the ladies are doing it. An all-female version of "Deliverance," where a city slicker goes to an insular rural community where she's not wanted. Possibly the greatest women vs. men movie ever made, lead actress Seo Young-Hee took home six "Best Actress" awards for her performance here.
"The Chaser"
(Korean, 2008, 125 minutes) – Sea of Revenge Focus
The thriller that saved the Korean film industry, this mega-hit is what you'd get if you cross-bred Alfred Hitchcock with a pit bull.
"City of Violence"
(Korea, 2006, 92 minutes)
An encore presentation of the best all-out action film from Ryoo Seung-Wan ("The Unjust"). Like a less ironic version of "Kill Bill."
"Foxy Festival"
(Korea, 2010, North American Premiere, 110 minutes)
A "Making Our Neighborhoods Safe & Happy" festival has the vice cops working overtime in this multi-character comedy that's like a Robert Altman flick about fetishes. Love — and handcuffs, and nipple clamps — all conspire to save the day from the forces of conformity.
"Haunters"
(Korea, 2010, New York Premiere, 114 minutes) – Sea of Revenge Focus
50% superhero movie, 50% horror movie and 100% Korean thriller, this bigtime commercial hit is about a troubled kid who can control minds and the simple guy, immune to his ability, who's out to stop him.
"The Man From Nowhere"
(Korea, 2010, 119 minutes) – Sea of Revenge Focus
One part Batman, one part Bourne, Korean mega-star, Won Bin, revamped his image as a hard man of action with this movie about a spy coming out of retirement to take on a ring of organ harvesters. The number one movie at the Korean box office in 2010 (beating "Inception" and "Iron Man 2"), it took home SIXTEEN film awards!
"The Recipe"
(Korea, 2010, New York Premiere, 107 minutes)
A serial killer escapes from prison but is recaptured when he stops to eat a bowl of stew that's so good he loses track of time. What is the secret behind the stew? Korea finally delivers its best food film with this kitchen romance.
"Troubleshooter"
(Korea, 2010, New York Premiere, 99 minutes) – Sea of Revenge Focus
Produced by Ryoo Seung-Wan, this is a classic "wrong man" movie, only this time the wrong man is a hardcore ex-cop (Sol Kyung-Gu from the highly successful "Public Enemy" series) and it's got the black, bleak sense of absurdist humor most thrillers lack.
"The Unjust"
(Korea, 2010, New York Premiere, 119 minutes) – Sea of Revenge Focus
Longtime festival favorite, action director Ryoo Seung-Wan, turns in this epic, sprawling corruption saga that recalls Sidney Lumet back in his "Prince of the City" days.
"The Yellow Sea"
(Korea, 2010, New York Premiere, 156 minutes) – Closing Night Movie, Sea of Revenge Focus
From the director of "The Chaser," and fresh out of Cannes, this is the Korean action movie in excelsis. A North Korean immigrant is sent to Seoul to perform a hit. Soon the Chinese mafia, the Korean mafia and the cops, are after him and hatchets are deployed, trucks are flipped and all hell breaks loose.
MALAYSIA
"Sell Out"
(Malaysia, 2008, New York Premiere, 110 minutes)
One of the best, smartest and funniest movies ever made in Malaysia finally escapes from the clutches of its evil distributor and it was worth the wait. A musical about money, creativity and a reality show focusing on those who are about to die, this is like nothing else in our line-up except (maybe) "Milocrorze."
PHILIPPINES
"Machete Maidens Unleashed"
(Australia, 2010, New York Premiere, 84 minutes)
From the people who made "Not Quite Hollywood," comes this definitive documentary about the Filipino exploitation film bonanza that erupted in the 70's and 80's.
"Raw Force"
(Philippines/USA, 1982, 86 minutes)
One of the strangest Filipino/US co-productions from the 80's, this rarely-screened exploitation fever dream is better known by its other title "Kung Fu Cannibals." With zombies, ninjas, samurai, kung fu, and evil monks, this is the entire 1980's exploitation industry fired into your eyes via firehose.
TAIWAN
"Better Than Sex"
(Taiwan, 2002, 92 minutes) – Su Chao-pin Focus
One of the most hyperactive, funniest movies about sex you'll ever see. Pity this poor teenage porn-addict who just wants to find a real girl. Way ahead of its time, this movie manages to be all about sex without feeling pervy.
"The Cabbie"
(Taiwan, 2000, 94 minutes) – Su Chao-pin Focus
Su's first movie set new trends in Taiwan for actually being entertaining. He wrote this flick based on his experiences driving a cab, and it's a fast-paced black comedy about a cabbie in love with a traffic cop.
"Reign of Assassins"
(Hong Kong/Taiwan/China, 2010, 117 minutes) – Su Chao-pin Focus
Co-directed with John Woo, starring Michelle Yeoh and Korean star Jung Woo-Sung, this massive martial arts hit gives the genre a beating, bleeding, romantic heart.
THAILAND
"BKO: Bangkok Knockout"
(Thailand, 2010, New York Premiere, 105 minutes)
Tony Jaa's mentor, Panna Rittikrai, will school you now. This exploitation stunt-tacular features all his best stuntmen and women unleashing muay thai, capoeira, dirt bike fu, shovel beatdowns, fights on fire, fights in the water, fights under trucks, fights in mid-air, and two back-to-back climactic smackdowns that have to be seen to be believed.
What do you want to see at NYAFF 2011? Let us know in the comments below or on Twitter or Facebook!