The Curious Cameography of Woody Allen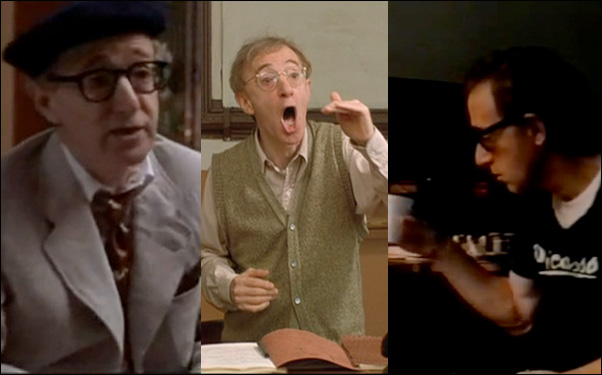 Posted by Stephen Saito on
With reports out of France that Woody Allen is shooting a cameo for the film "Paris Manhattan," a comedy from first-time director Sophie Lellouche in which part of the plot revolves around a pharmacist (Alice Taglioni) so obsessed with his work she prescribes DVDs of his films to patients, the 75-year-old filmmaker continues a tradition of picking peculiar projects to appear in outside of his own.
In a career that's entering its fifth decade, Allen has starred in just six films he hasn't directed ("Play It Again, Sam," "The Front," "Scenes From a Mall," the 1996 "Sunshine Boys" TV remake, "Antz" and "Picking Up the Pieces") and limited himself to a handful of other uncredited cameos. Though he's scarcely performed in anything in recent years – his last role as an actor was in 2006's "Scoop" – some of his most intriguing roles have come in the films in which he's scarcely seen, including these four below.
Jean-Luc Godard's "King Lear" (1987)
Think of a far more languid version of Michel Gondry's "Be Kind Rewind" and you have some idea of what Godard was up to with his adaptation of Shakespeare's "King Lear," which begins with the premise that the fallout of the Chernobyl nuclear disaster wiped out much of the world's art, including the Bard's most famous works and it's up to his fifth generation descendant (Peter Sellars) to recreate his work and as most of the characters mirror those in the play, Allen assumes the role of the Fool, known in this film as Mr. Alien, who shows up at the end as a film editor whose dialogue is mostly pulled from the original Shakespeare text. It's been suggested Allen wanted to be uncredited in the role so he wouldn't be included in the film's marketing materials, but his appearance is so brief, it's understandable, though still rare as an example of Allen doing a thoroughly dramatic reading of Shakespeare. (Cinephiles still might be more interested in "Meeting WA," the interview between Allen and Godard that likely influenced his being cast in "King Lear," filmed a year earlier in 1986.)
"Just Shoot Me" (1997)
Allen's most out of the blue appearance pre-"Paris" wasn't in fact an appearance at all, but a voice cameo for the NBC sitcom "Just Shoot Me" in 1997. The episode "My Dinner With Woody" involved Laura San Giacomo's writer Maya imagined a date with the auteur in the pages of the fictional Blush Magazine, after which an Allen impersonator actually does score a date with her and leaves her disillusioned, making a phone call from the real Allen at the end of the episode a moot point. To facilitate the phone call, the show's executive producer Steve Levitan, who has since gone on to create "Modern Family," wrote to Allen and included a tape of the episode without the ending, hoping that Allen would say the show's final lines. As Levitan told Entertainment Weekly at the time, "There was stunned silence when we got Woody's tape [in return]." His cameo can be heard at 9:25 in this clip:
"The Imposters" (1998)
As Stanley Tucci's producing partner Elizabeth Alexander told Premiere magazine on the set of "The Imposters," "Stanley [Tucci] collects people from different jobs," so it was only a matter of time before the actor parlayed a small part in "Decontructing Harry" into an invitation to Allen to play a theater director in his follow-up to "Big Night." At a point when his legend was accepted and the scandal of the early '90s had subsided, it seems as though the late '90s and early 2000s were the time to ask Allen for a favor – as one can tell from this list, it's the most acting he ever did outside of his own films, even without counting appearances as proper leads in the TV remake of "The Sunshine Boys" and Alfonso Arau's unfortunate 2000 comedy "Picking Up the Pieces" where he scatters Sharon Stone's butchered remains across the New Mexico desert. There's no doubt Allen was more at home with playing a fussy last ditch effort for two down-on-their-luck thespians (Tucci and Oliver Platt) to audition for before they sneak onto a cruise ship during the Depression to lighten the mood.
"Company Man" (2000)
Allen has only worked with three other writers throughout his career on films he's directed himself – his childhood friend Mickey Rose on "Bananas" and "Take the Money and Run," Marshall Brickman during the "Annie Hall" and "Manhattan" era, and Douglas McGrath on "Bullets Over Broadway." And McGrath was the only one to persuade him to spend a day on the set in front of the camera in a film he directed (with Peter Askin), which led to Allen's turn as a U.S. diplomat smitten with France whose dissatisfaction with his reassignment to Cuba seeps into his assessment of the region on the eve of the Bay of Pigs to a CIA agent, played by McGrath. Allen turns in one of the funniest performances in the film, a misfire that was made more of a disappointment considering McGrath's success with "Emma" drew an all-star cast including the likes of John Turturro, Denis Leary, and Sigourney Weaver to this goofy '60s spy spoof. Of course, McGrath has returned the favor repeatedly in bit parts in four of Allen's films (including a turn as a jazz expert version of himself in "Sweet and Lowdown"), so that probably made putting on a beret and hamming it up for Allen a no-brainer.