Projecting the Future of Movies at 48 Frames Per Second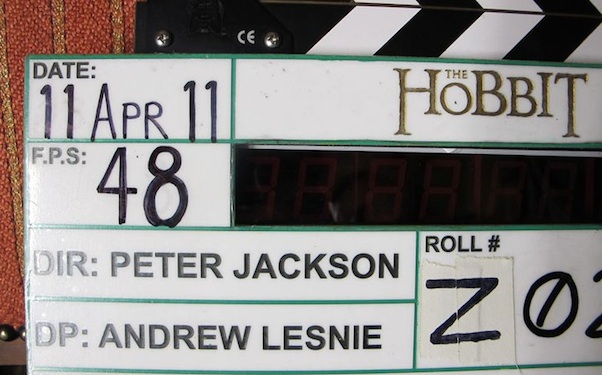 Posted by Matt Singer on
Last night, director Peter Jackson posted a note to his Facebook page entitled "48 Frames Per Second" explaining why he is shooting his upcoming film "The Hobbit" at that frame rate, which is twice the decades old industry standard of 24 fps. Here is an excerpt:
"The key thing to understand is that this process requires both shooting and projecting at 48 fps, rather than the usual 24 fps (films have been shot at 24 frames per second since the late 1920's). So the result looks like normal speed, but the image has hugely enhanced clarity and smoothness. Looking at 24 frames every second may seem ok–and we've all seen thousands of films like this over the last 90 years–but there is often quite a lot of blur in each frame, during fast movements, and if the camera is moving around quickly, the image can judder or 'strobe.'

Shooting and projecting at 48 fps does a lot to get rid of these issues. It looks much more lifelike, and it is much easier to watch, especially in 3-D… Originally, 24 fps was chosen based on the technical requirements of the early sound era… They would have settled on the minimum speed because of the cost of the film stock. 35mm film is expensive, and the cost per foot (to buy the negative stock, develop it and print it), has been a fairly significant part of any film budget. So we have lived with 24 fps for 9 decades–not because it's the best film speed (it's not by any stretch), but because it was the cheapest speed to achieve basic acceptable results back in 1927 or whenever it was adopted.

Actually, if anybody has been on the Star Tours ride at Disneyland, you've experienced the life like quality of 60 frames per second. Our new King Kong attraction at Universal Studios also uses 60 fps. Now that the world's cinemas are moving towards digital projection, and many films are being shot with digital cameras, increasing the frame rate becomes much easier. Most of the new digital projectors are capable of projecting at 48 fps, with only the digital servers needing some firmware upgrades.

Film purists will criticize the lack of blur and strobing artifacts, but all of our crew–many of whom are film purists–are now converts. You get used to this new look very quickly and it becomes a much more lifelike and comfortable viewing experience. It's similar to the moment when vinyl records were supplanted by digital CDs. There's no doubt in my mind that we're heading towards movies being shot and projected at higher frame rates."
As Jackson says in a portion of his essay that I didn't copy, "none of this thinking is new." Since I was a teenager, I've been reading Roger Ebert's testimonials about Maxivision 48, a format that projects film at 48 fps and produces an image that he says is "four times as good as conventional film." A dozen years later, Ebert's still writing about Maxivision; his last piece on the subject was just a few months ago in January 2011. If you do a Google search for "Roger Ebert" and "Maxivision" you can find lots of essays on this topic. He believes in that format.
There's a key difference between Maxivision and what Jackson is doing, though. Jackson is shooting (and apparently plans to project) "The Hobbit" digitally, while Maxivision is a process that still involves passing light through good old-fashioned celluloid. To the best of my knowledge I've never seen something projected at 48 fps (I've definitely never seen anything projected in Maxivision).
I haven't been on the new Star Tours or King Kong rides, either, though Jackson's mentions of them gives me pause. Jackson means to reassure film purists by citing examples they might have already seen and enjoyed of the technology in action. But the comparison only makes me think that the 48 fps revolution is just another way to move cinema one step closer to amusement park rides. And I love amusement park rides. But that's what I go to amusement parks for. When I go to a movie, I want to see a movie.
Also worrisome is the statement that 48 fps "is much easier to watch, especially in 3-D," as if he's throwing good money after bad in an attempt to prolong the latest 3-D craze. In other words, "We've committed ourselves to 3-D, we've gone out and preached about it as the future of movies, and now we're coming to grips with the fact that most people hate it, and we're trying to salvage the situation as best we can." I happen to like 3-D (in some circumstances) and if 48 fps makes 3-D a more immersive experience, I look forward to it. What I don't look forward to is theaters charging an upsell on top of an upsell: $12 to see the movie, $15 to see it in 3-D, $20 to see it in 3-D at 48 fps where it will look really good. If Jackson's note is to be believed, he intends "The Hobbit" to only be projected at 48 fps, but I don't know that he has a final say in the matter. Even if he does, it may mean customers don't even get the choice of how much they want to pay to see it. Viewers may only be that most expensive option, take it or leave it.
After reading for so long about 48 fps, I'm genuinely curious for the chance to sample it myself. What I'm more morbidly curious about is what 48 fps means for the future of movies. As multiplexes lose more and more ground to high end home theaters, they have to look for new ways to distinguish their experience. 48 fps could make the theatrical experience exciting again. Or it could just be another price-gouging gimmick.