Tribeca 2011: "The Union," Reviewed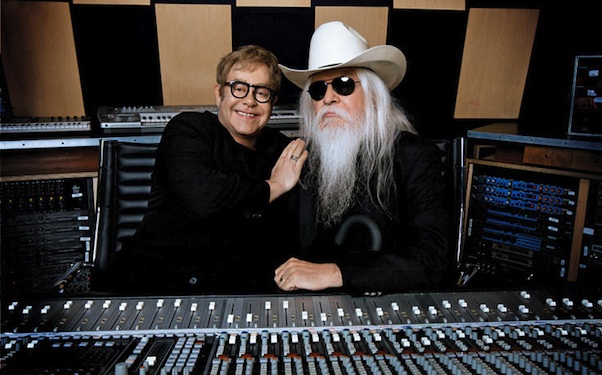 Posted by Matt Singer on
My worry about "The Union," Cameron Crowe's documentary about the musical collaboration between Elton John and Leon Russell, was that it would be just another making-the-album documentary of the kind a lot of bands make these days to upsell Special Edition CDs and ward off piracy. And basically it is; it's just the best possible version of that film, made with the sort of craft and heart that only a director (and music lover) of Crowe's caliber could provide.
Elton John, you know, the prolific singer-songwriter of many hits in the '70s and '80s (including "Tiny Dancer" which was immortalized in a great scene in Crowe's "Almost Famous"). Leon Russell, you might not; I didn't. As a session musician, band leader, and piano player, he was an enormous influence on John's life and career, maybe the biggest, according to "The Union." At a loss for inspiration, John suddenly found it while on safari in Africa (oh, rock stars…). He would make an shared album with Russell. The final product, ultimately called "The Union," would be split 50-50 between them, each providing vocals, piano, and songwriting. Crowe's film is split about that evenly too, a fact reinforced by his rather brilliant use of split-screens throughout. Though John's voiceover guides us through the story and offers insights into the songwriting and recording process, Russell's journey and struggle is given equal narrative weight.
Crowe, the former Rolling Stone journalist turned screenwriter turned director, understands pop music better than almost any filmmaker who's ever lived. Given his affinity for music and interviewing musicians, it's kind of crazy that this is his first documentary about rock and roll. Not so crazy is how good he is at it. His use of technique, like those aforementioned split-screens, is phenomenal. One scene, in particular, which divides the frame between Russell playing a song he wrote for John and John overcome with emotions as he listens in the control room, cuts to the core of what the film is all about: the way the best and truest music comes from the heart and hits people in the same place. And it's clear that John trusts Crowe — even soliciting his opinion about his music at times — in a way that makes "The Union" a much more unguarded portrait of two artists than it would have been in different, lesser hands.
Maybe the most revealing thing, and certainly most poignant, about "The Union"'s portrait is its depiction of the artist in the autumn of his years. With "Almost Famous," Crowe made one of the definitive movies about young rock and rollers. With "The Union," he tackles the same subject from the other side of the hourglass. Russell is 69; in the middle of "The Union" sessions he suffers a "near-fatal health scare" that requires brain surgery. John is 64 and openly acknowledges that his days as one of the biggest rock stars in the world are well behind him (the fact that Michael Jackson couldn't acknowledge it, he says, is part of what destroyed him).
John's got enough money to hang out on African safari for the rest of his life if he wanted to. Rock stars at his age are supposed to settle in to full-on sellout mode. Unlike film directors, novelists, poets, whose creativity often grows with age, pop musicians' relevance peaks around age 35. But John still has a creative fire in his belly that isn't sated by money. So he's still following his instincts wherever they lead, rather than following his record label's advice to make a Motown record or a Christmas album (it will never happen, John vows). The final montage of "The Union," set to a John and Russell song, sums it up nicely. The song is called "Never Too Old."