Tribeca 2011: "Stuck Between Stations," Reviewed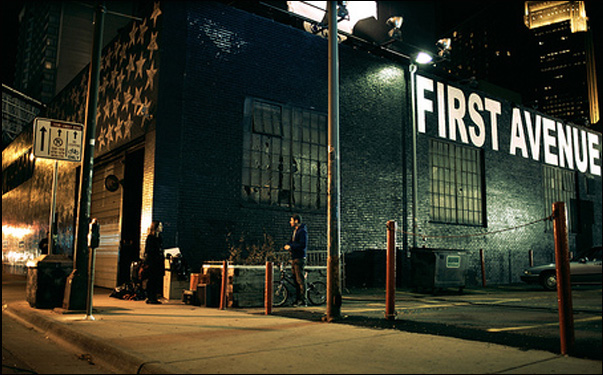 Posted by Stephen Saito on
As someone that only watches films rather than make them, my favorite thing about the RED camera, the digital camera that has democratized high quality imagery amongst low budget filmmakers, is the clarity not only of the imagery, but the specificity it allows for regional writer/directors to bring out the best in their hometown. In recent years, we've seen Portland as it's never been shot before by Aaron Katz and crew in "Cold Weather," the Joe Maggio-directed Tribeca selection "The Last Rites of Joe May" captures Chicago in a different light and then there's "Stuck Between Stations," the feature debut of Brady Kiernan, a Minneapolis native who, with cinematographer Bo Hakala, creates a portrait of the city that wouldn't seem out of place if it were framed in the Walker Art Center.
Ultimately, that's what separates Kiernan's film from the so many others that have been born in the wake of "Before Sunrise," the platonic yet romantic drama that launched a thousand walk-and-talk independent films that make up for limited budgets with lots of profound (or so the filmmakers would think) statements about life. If reading that alone makes you instantly recoil, you may want to stop reading now, though it was to my great surprise while watching "Stuck Between Stations" that there is still a place for them when they have strong performers at their center and an interesting place to stroll.
With the streets, biking trails and bridges of Minneapolis at their disposal, Becky (Zoe Lister-Jones) and Casper (Sam Rosen) spend an evening together after running into each other at a local bar, a first since the two went to high school together, though they actually didn't have much contact except for occasional random pairing in class. In fact, Becky doesn't recognize Casper immediately as he's describing her to a friend on his cell phone as she was once an unattainable dream girl and still is, to some degree, when she stands before him after hearing her name. As it turns out for Becky, Casper is a perfect companion for a night since he's familiar enough to feel comfortable around, particularly if he still feels slightly inferior, and yet won't be dismayed by her recent dalliance with a professor (Michael Imperioli) that's at the forefront of her mind, particularly since she needs to retrieve a computer from the prof's house, which is being guarded like a hawk by his wife (Nadja Dajani).
The two share war stories both literal and figurative since Casper's on leave from a tour in Afghanistan since his father died and grant themselves the diversions of basketball with an aluminum can, makeshift parties with circus performers and trips to psychedelic public access shows on the way to discovering that their shared pain over the years and joy over this evening has resulted in bringing them closer together than they ever were in the 3rd grade. The script, written by Rosen and Nat Bennett, is chock with enough wonderfully playful exchanges to keep the film humming even when it veers towards the grim conventions of the genre such as when exactly each of the pair will launch into a monologue about their self-destructive behavior or ultimately when or if they'll share a kiss, and there's a palpable chemistry between Lister-Jones and Rosen that makes such a transient bond feel possible and full of possibilities.
Still, it's the way Kiernan develops the film's third character of Minneapolis that resounded most, a place not known to be all that romantic but is shot with such specificity, whether it's during a 3 a.m. midnight supermarket run or a bike ride (with a perfectly pitched cameo from locally-bred Josh Hartnett as a frenemy of Casper's) on unpaved territory, that a love for the area and its characters floods off the screen. In that sense, "Stuck Between Stations" has a very homemade feel in the best way possible, even if neither Casper or Becky can ever truly go home again.
"Stuck Between Stations" does not yet have U.S. distribution, but will play the Tribeca Film Festival on April 24th, 25th and 28th.