Tribeca 2011: "Semper Fi: Always Faithful," Reviewed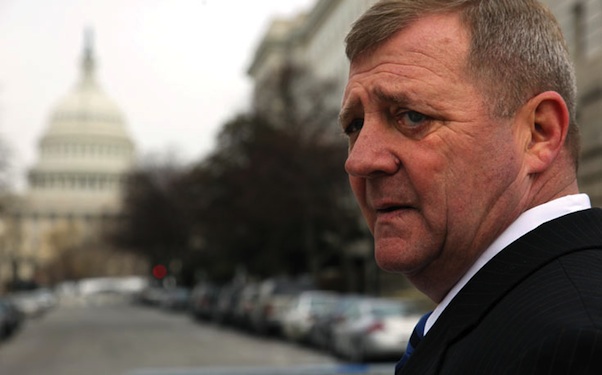 Posted by Matt Singer on
The phrase "The American Dream" calls to mind certain images. When I hear those words, I visualize small but comfortable suburban houses in bucolic surroundings. Yards, fences, kids playing in the street. Basically, I imagine what Camp Lejeune looked like in the middle of the last century. Lejeune is the largest Marine Corps base on the East Coast. In archival footage from "Semper Fi: Always Faithful," Lejeune looks the way we want America to look. But that simple beauty hid a horrifying secret: Lejeune's water was tainted with industrial chemicals. For thirty years. And the military knew about it. Instead of trying to correct it, they covered it up.
"Semper Fi: Always Faithful" is a documentary about the one man who almost single-handedly exposed one of the largest incidents of water contamination in our nation's history. His name is Master Sgt. Jerry Ensminger. He lived at Camp Lejeune during the contamination, and one of his daughters died of leukemia at the age of nine. Despondent over her death, he vowed to find its cause. His search eventually turned up evidence of toxins leaking into the drinking water at Lejeune and, much later, of efforts to keep this information secret. But even after he discovered the truth, and found that his daughter's cancer was merely the tip of an iceberg of disease and tragedy, he would still need to spend years to bring that information to the government's and the public's attention.
If a private company had polluted and poisoned as many people as the Marine Corps did at Lejeune they likely would have been sued out of business. Ensminger can't even get the Marine Corps to warn the families that lived at Lejeune during the contamination. In one hearing, their representative has the temerity to claim they don't know who exactly lived at Lejeune during that period. When a Senator rightfully calls bullshit on that, their response, and I'm paraphrasing here, is "Well, yes, we could do it. But it would be extremely difficult." I haven't served in the military, but I've seen a lot of movies about it. Doesn't the Marine Corps pride itself on its ability to accomplish extremely difficult tasks?
In fact, the only guy who's really living up to the values of the Marines in "Semper Fi" is Ensminger himself. Ironically, the very values the Corps taught him — to continue a fight until you win it or you die in the process — are the same values that fuel his quest to disprove the Marine Corps' lies.
Directors Rachel Libert and Tony Hardmon follow Ensminger as his efforts to expose the truth finally begin to pick up steam. The film assumes the structure of an investigation. Ensminger and his allies interview victims and epidemiologists, compile data, deliver testimony at Congressional hearings, and uncover shocking deception in a sort of "All the Commander-in-Chief's Men." It is true that "Semper Fi: Always Faithful" is a visually and structurally pedestrian documentary (and since semper fi translates to always faithful, it has one hell of a redundant title). But there are elements of Libert and Hardmon's film that are superb. Note how many scenes open with establishing shots that include images of water, that most important of substances and the subject upon which the entire film rests. A lawn sprinkler has never looked quite so sinister as in this movie.
Libert and Hardmon's film is far-reaching and comprehensive, though it would have been nice if they could have convinced someone from the Marine Corps to sit down for an interview. The topics of government corruption and military malfeasance can be just as unpopular with film investors as they are for Ensminger in Congress. It couldn't have been easy to make this movie. Neither is it easy to convince battle hardened soldiers to let down their guard in front of a movie camera. It is not often you see Marines openly weep. It makes an impact. These men fought for our right to pursue our own American Dreams. And as thanks, they had theirs ripped away from them.