Tribeca 2011: "Rabies," Reviewed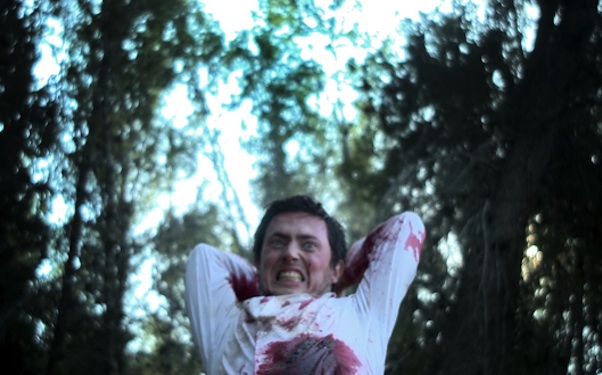 Posted by Matt Singer on
It can be a lot of fun to see American popular culture refracted through the prism of another country. "Rabies," is the first Israeli movie made in that quintessential American genre, the slasher film. And it does feature many of the slasher cliches we've come to know and love: the dog that wanders off too far into the forrest, the killer who can magically sneak up people without making a sound, the car full of nubile hotties that gets lost in the woods. But what starts as a rather typical slasher film with Israeli accents eventually reveals itself to be something a bit more complicated. "Rabies" has a point beyond exploitation, I'm just not sure I agree with it. Or maybe what I really disagree with is the way that point is made.
We'll get to that in a second. First, the plot, which, to my disappointment, does not contain any actual rabies. Mostly it's about several groups of people who wander into the woods of an Israeli "fox preserve" where they encounter a jumpsuit-wearing, animal trap laying serial killer and each other. There's the brother (David Henry) trying to find someone to help him free his sister (Liat Har Lev), a park ranger (Menashe Noy), his girlfriend, and their dog, the lost hotties (Ania Bukstein and Yael Grobglas), and the two cops (Lior Ashkenazi and Danny Geva) who are called in to find them. You know how this movie goes: people head off into the woods alone when they shouldn't, then get picked off one by one until the last virginal woman is left alive to defeat the evil.
But that's not how things turn out this time. Writer/directors Aharon Keshales and Navot Papushado have assembled all these genre elements only to deconstruct them. The real menace here isn't some crazy guy with the knife and some bear traps, but the regular people who, angry and scared and confused, lash out at those around them. In "Rabies," civilization is fragile, and ordinary people are just as prone to violence — or to tacitly condone it — as psychopaths. Keshales and Papushado's faith in humanity is nonexistent and their worldview is bleak. Given the events in Israel in the last two decades, maybe that's not too surprising.
So "Rabies" should be an intense and personal film. But the events in it and the choices the characters make are so consistently absurd that they undermines "Rabies"' entire argument. Keshales and Papushado's concept is rooted in the idea that normal people are capable of unimaginable evil, but no one in this movie acts like a normal person: everyone is depraved and deranged and even the relatively lucid ones in the bunch snap easier than a twig in an ice storm.
I will give you one example. Almost the entire movie takes place in this fox preserve. After order has begun to break down, two of the girls from the lost car are running for their lives from other characters. They stop to rest and notice a fallen sign warning them to beware of landmines. Which, of course, creates great tension in any scene with the girls because we keep waiting for one of them to step on a mine. Fine, it is a horror movie, and the constant threat of death by sudden explosion definitely qualifies as horror in my book. But wait: why are there mines in a fox preserve? We know there's a serial killer setting up all kinds of traps in this place, so maybe he put them there? But if a serial killer was putting mines around to kill people and get his jollies, why would he put up a sign warning people about them? Bloodthirsty and conscientious. What a guy.
Keshales and Papushado do a nice job juggling a large cast and numerous parallel threads of action, but too many dumb convenient plot devices sully their central conceit. In order to arrive at their chosen ending, one improbable event after another has to happen exactly right until the chain of coincidence and misunderstanding transforms the entire film into one enormous Idiot Plot. All of that strains credulity in a movie that is all about arguing that the real world — not the one populated by the fantastical psycho killers of popular culture — is the place we need to fear. The parable could probably only have come from foreign filmmakers. But the goofy, nonsensical narrative is as American as they come.