Tribeca 2011: "L.A. Noire" Makes a Strong Debut for Video Games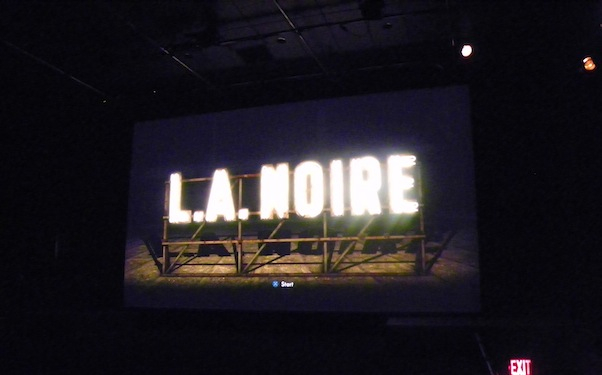 Posted by Evan Narcisse on
Last night saw a bit of history made as Tribeca Film Festival showcased Rockstar Games' "L.A. Noire" in a special event, marking the first time a video game's ever gotten the spotlight at the storied cinema celebration.
At the opening of the Tribeca Talks session, the festival's Chief Creative Officer Geoff Gilmore admitted that he's not a gamer but saw Rockstar's games as a part of a tradition picking up where indie films left off. Gilmore didn't expound on that, but it seems that he saw the same kind of creative agency and freedom in games. In the heyday of indie films, they seemd to spring full-blown out of nowhere, full of fresh reconfigurative energy, and it must be that for someone in Gilmore's position, games looks like they happen in the same way. He made a point to differentiate Rockstar's oeuvre as 'narrative games,' too. While that does imply an unfortunate compartmentalization with what games currently are-most games try for some sort of narrative, or create it emergently-that distinction does apply to Rockstar's heavily authored brand of game-making.
Speaking of narrative, reps from the "GTA" company unveiled a case from the virtual LAPD's homicide desk called the Red Lipstick Murder. You actually get to see the murder in question as the level opens but the screen's all silhouettes and camera cutaways so as not give away the culprit. Nevertheless, you can tell that the beating that takes away a woman's life is brutal. Some scenes in the precinct briefing room showed off the game's approach to period aesthetic and dramatis personae. The dialogue rattled out characters with flourish and the ambiance of late 1940s Los Angeles came alive in the chatter, set design and wardrobe of the gameworld. Fresh to the murder beat, lead character Cole Phelps–brought to life by Aaron Staton of "Mad Men"–gets assigned with the murder case with new partner Galloway.
It was the first time that live gameplay's been shown to such a large audience and the session let viewers in on just how the mechanics of "L.A. Noire" will work. Once players steer Phelps to a crime scene, they can scour the environment for clues. You'll be able to run plate numbers to get addresses, too. A lipstick container, items in a purse and a purloined bar lighter all create new avenues to investigate, leading players to persons of interest. One such person was the owner of a bar where victim Selene Henry hung out. Questioning him ruled him out as a suspect but did reveal an affair with Selene before she got married. Heading to the apartment of the victim's estranged husband, the man claimed innocence. Grilling each of these characters, you need to read their faces and decide from Trust, Doubt or Lie options. These sequences are where the game's revolutionary MotionScan comes into play. Actors' performances get captured and presented with amazing fidelity, so a grieving husband's shifty eyes and hesitant delivery may put the lie to whatever his mouth is saying. As the game goes on, you can expect to encounter better liars whose falsehoods are harder to spot. If you get suckered by a character's lies, you can go astray during your legwork and chase after red herrings. And as you poke into the dark corners of people's lives, all sorts of intriguing details come up, like that fact that Selene Henry was a pilot or the fact that a male suspect in the case may have a taste for wearing womens' shoes.
Watching the case play out highlighted how "L.A. Noire" will differ from other Rockstar games. Phelps feels more introspective, talking to himself as he looks through clues and the proceedings overall come across as slower, quieter and less chaotic than the cacophony of a "GTA" title.
Yet, as innovative as "L.A. Noire" already looks to be, people still want more. One fan asked just how competent Phelps will be as a detective, wanting to know if, "You can play through the game and just be a screw-up the whole time?" He was essentially asking about how emergent the game would be, if infinite possibiities laid within its branching structure. Rockstar's people replied that somebody would need to write all of that. As good as the experiences delivered by "Grand Theft Auto" games and Red Dead Redemption have been, a lot of folks yearn for complete unpredictability. "L.A. Noire" won't deliver that but will likely hold some surprises up its sleeves, as it channels the murky noir energy of "Chinatown," "The Third Man" and "Double Indemnity" into playable form.