Tribeca 2011: "Angels Crest," Reviewed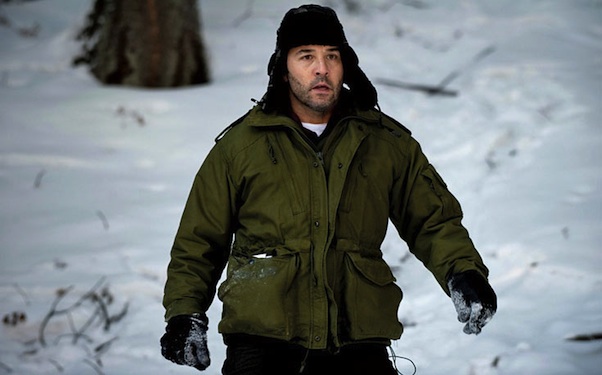 Posted by Matt Singer on
For all the people crying onscreen in "Angels Crest," I never once felt the urge to cry myself. The problem, I think, is not with what's in the film but what's not in the film, and that's specificity: specificity of character and location. Watching this movie feels like watching some very talented actors putting on an acting workshop, "Advanced Grief in Small Town America." On a technical level, their work is superb. But it doesn't resonate on any deeper level.
Based on a novel by Leslie Schwartz, the film is an intense dirge about the residents of a town trying to get on with their lives after a terrible tragedy. Ethan (Thomas Dekker) drives his son Nate out to the mountains to play in the snow, but by the time they get there, Nate's fallen asleep. When a herd of deer passes by, Ethan follows, and leaves Nate locked in their truck for a few minutes. By the time he returns, Nate's vanished. Practically the entire town turns up to help search for him, but by the time they find him it's too late. That's what happens in the first, gut-wrenching ten minutes. For the rest of the runtime we watch Ethan come to grips with what he's done, feud with Nate's distant, alcoholic mother Cindy (Lynn Collins), and deal with the fallout from the local district attorney's decision to charge him with criminal neglect.
From Dekker and Collins down, the cast is fantastic. It seems like every single person who lives in Angels Crest is a terrific actor. Mira Sorvino owns the local diner. Elizabeth McGovern and Kate Walsh play a lesbian couple who are friends of Ethan's. And Jeremy Piven plays the prosecutor, who has a dead child related trauma in his own past.
In individual moments, they're all good. And the cinematography by David Johnson offers the beauty and cruelty of nature in equal measure. What's missing is the fabric that weaves all these stories and images together into an emotional whole. "Angels Crest" is sort of stuck between an in-depth character study and a wide-ranging ensemble piece. There are too many digressions to keep the focus squarely on Ethan and his despair, but not enough to fully understand the relationships between all these characters. And it's never quite clear exactly how big or small Angels Crest really is. It's big enough that Sorvino's character doesn't seem aware of Piven's tortured past until he alludes to it, but it's also small enough that everyone else in the town seems to know each other by name. Almost the entire film takes place in the diner, the woods, and a house, so we don't get a real sense of the place or the people outside the small circle we see. In her post-screening Q&A at Tribeca, director Gaby Dellal said that the novel was much more sprawling. There were more characters, each with a chapter told from their perspective. To fit it all into a movie, she had to whittle down a lot of the details. No wonder "Angels Crest" feels a bit like a CliffsNotes version of a more expansive story.
From its wintry setting to its subject matter to its cast, "Angels Crest" reminded me of David Gordon Green's "Snow Angels," an equally bleak but much better movie. It had the elements "Angels Crest" is lacking: a sharper eye to detail and a real sense of how this tragedy touched the lives of a community. And oh how the end of that film made me cry.